Kalfsniertjes met jonge groenten en mosterdsaus
Kalfsniertjes in mosterdsaus is een erg populair gerecht bij onze zuiderburen. In Nederland wordt niet zoveel orgaanvlees gegeten. Misschien toch wel eens leuk om in een menu te verwerken met jonge groenten en peperjus.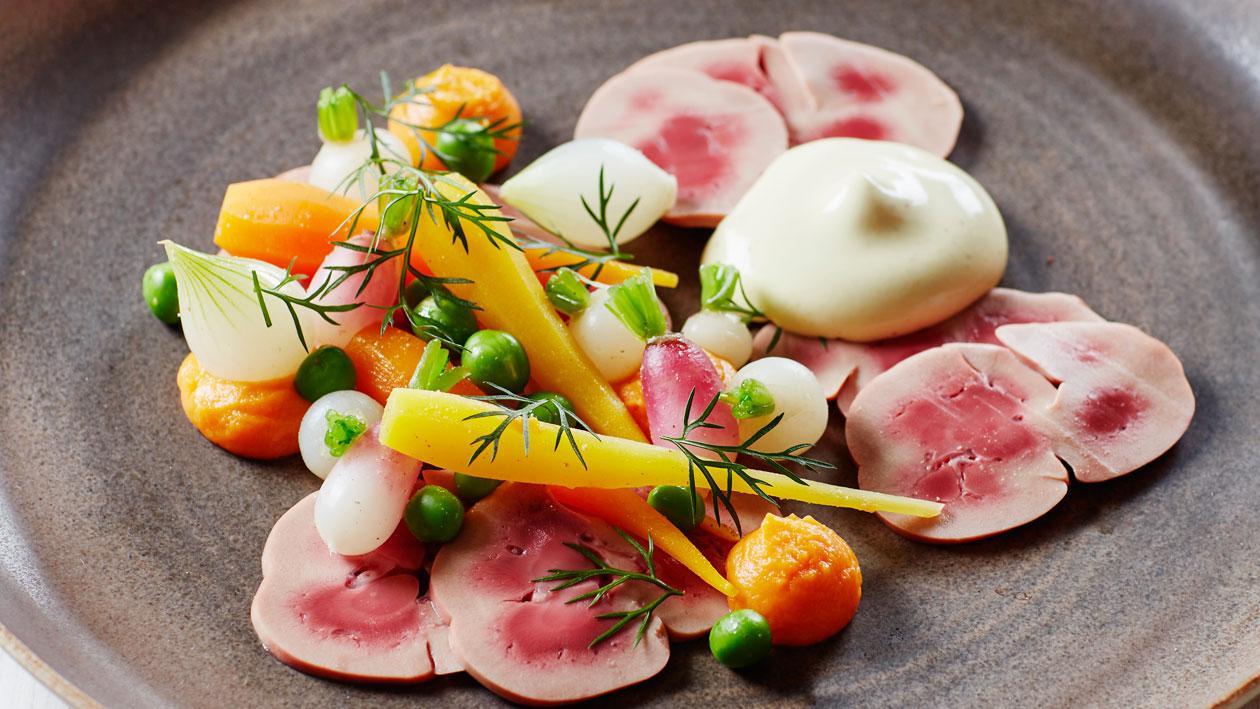 Ingrediënten
Groenten
Gele/oranje bospeen, zilveruitjes, doperwten, radijs

700 g
Kalfsniertjes
Saus
Bereiding
Groenten

Schil, was en snijd de bospeen in stukken. Kook de bospeen gaar en pureer deze glad in een blender met de helft van de boter. Breng de bospeenzalf op smaak met de geconcentreerde bouillon. Maak de groenten schoon en snijd ze in gewenste vorm. Blancheer de groenten en ze breng op smaak.

Kalfsniertjes

Maak de kalfsnieren schoon en snijd ze in plakjes of stukjes of bereid ze in zijn geheel. Kruid ze met zout en peper en bak ze mooi rosé in wat boter.

Saus

Verwarm de Hollandaise saus en voeg de mosterd toe. Passeer de saus en giet het geheel in een siphon. Zet de siphon onder druk met een patroon en houd deze "au bain marie" warm.