Japanse Surf & turf-burger
Dit recept is tot stand gekomen in samenwerking met Burgerz, ambassadeur van Hellmann's en deelnemer van het Hellmann's hotspot programma.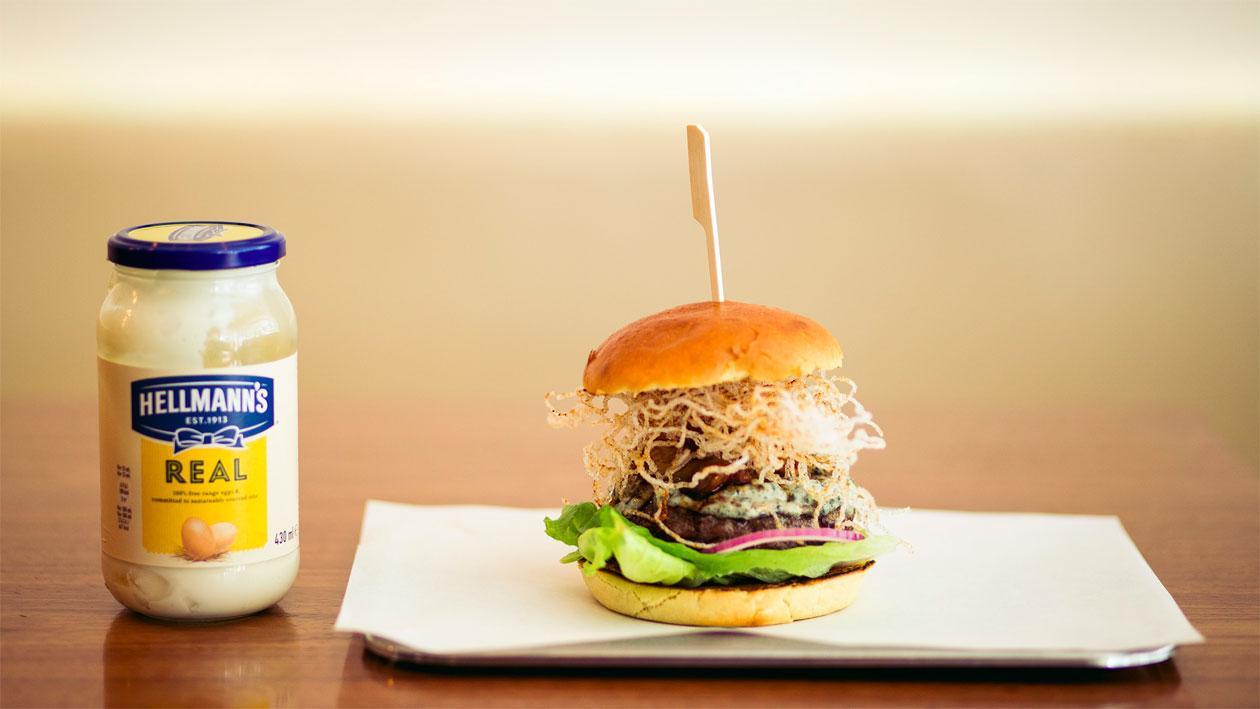 Ingrediënten
Tijgergarnalenmarinade
zwarte tijger garnalen

20 g

gepelde knoflooktenen

4 st

gember, vers fijngesneden

10 g
Nori-mayonaise
Gefrituurde glasnoedels
Burgers
zachte brioche bollen

10 stuks
Bereiding
Tijgergarnalenmarinade

Snijd de knoflook en gember (zonder schil) heel fijn en doe deze in een kom of schaal. Voeg de sojasaus en honing toe en mix het geheel goed door elkaar. Voeg hier de gepelde tijgergarnalen aan toe en laat deze 30 minuten marineren in de ijskast.

Nori-mayonaise

Verwarm de oven voor op 175 graden. Plaats op een bakplaat een vel bakpapier. Leg hierop de 6 norivellen naast elkaar, besprenkel elk noriblad met 2 theelepels sesamolie en rooster deze 8 minuten in de oven. Maal vervolgens de geroosterde norivellen tot kleine stukjes in een keukenmachine of snijd deze tot kleine stukjes met een mes en doe deze in een kom, voeg de Hellmann's mayonaise, sap van 2 limoenen en een snuf grof zeezout toe naar smaak. Meng alles goed door elkaar.

Gefrituurde glasnoedels

Verwarm de frituurpan, of een koekenpan met een dikke laag zonnebloemolie en frituur hierin de glasnoedels in 10 kleine hoeveelheden heel kort tot ze boven komen te drijven. Laat ze uitlekken op keukenpapier en besprenkel ze met chilipoeder tot ze een mooi wit-rood kleurtje hebben.

Burgers

Snijd de briochebollen doormidden en rooster ze kort (3-4 minuten) in de oven tot ze lichtkrokant zijn. Snijd hierna de rode ui in grove ringen en verwijder de hartjes. Verdeel het kilo rundergehakt in 10 delen, draai hier gehaktballen van en druk ze voorzichtig plat tot er mooie burgers ontstaan. Bak deze op een grillplaat of in een koekenpan met een klein scheutje olie aan beide kanten 4 minuten op middelhoog vuur mediumgaar en voeg peper en zout naar smaak toe.

Opmaak

Zet een tweede pan op het vuur, haal de tijgergarnalen uit de marinade en bak deze in 3 minuten per kant op middelhoog vuur gaar en zet dan het vuur uit. Dan is het tijd voor de burger. Beleg de onderkant van de broodjes met een beetje sla en een paar uienringen. Leg hier de burgers op. Doe een eetlepel nori-mayonaise op elke burger en leg hierna op elke burger 2 tijgergarnalen, de gefrituurde glasnoedels en de bovenkant van het broodje.