Naanbrood met korma gehaktballetjes
Naan brood wordt traditioneel bereid met zuurdesem en wordt gebakken in een tandoor of kleioven. Sommige varianten bevatten melk of yoghurt en specerijen zoals komijn en nigella.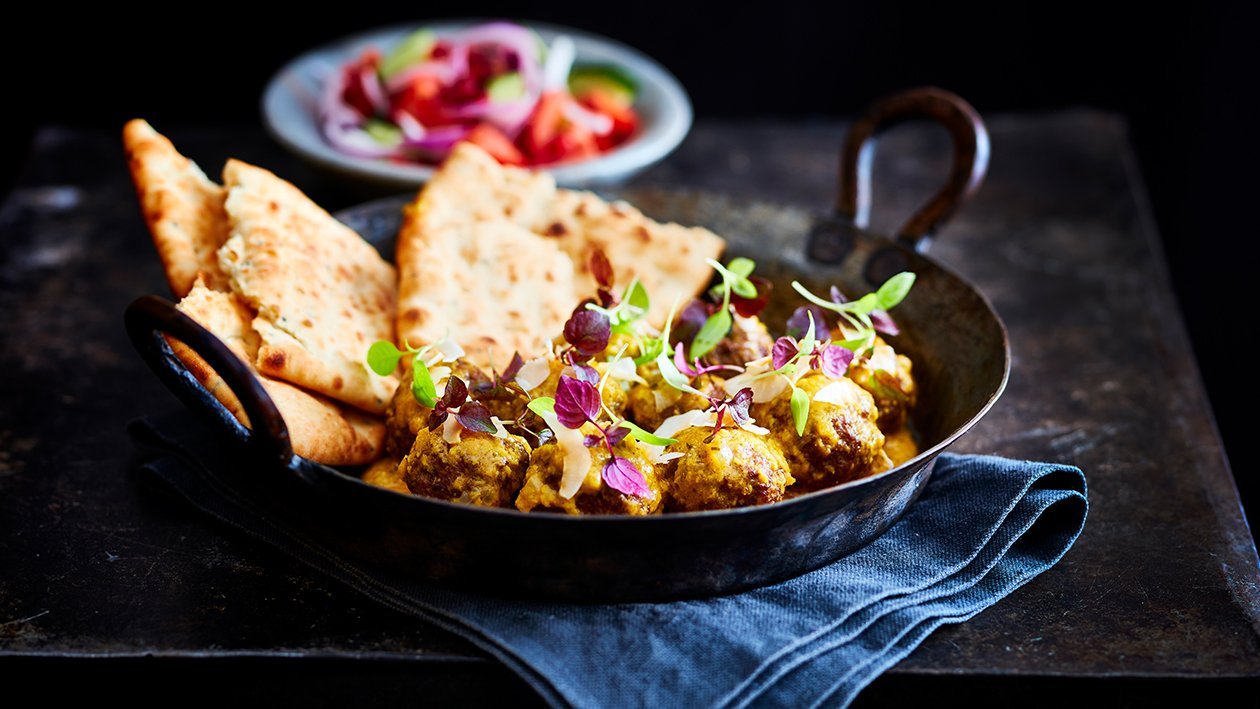 Ingrediënten
Curry
witte uien, blokjes

100 g
Gehakt
Salade
Opmaak
shiso purper cress

0.5 bakje
Bereiding
Curry

Verhit de olie, voeg de uien toe en stoof ze zachtjes gaar. Voeg de korma saus toe en breng het geheel aan de kook.

Gehakt

Maak het lamsgehakt aan met de knoflook, paprika, komijn, kaneel, chili, eiwit en zout en peper. Draai dertig balletjes en braad deze in wat boter bruin. Voeg de gebraden gehaktballetjes aan de kormasaus toe.

Salade

Snijd de tomaten en de komkommer in stukjes en de ui in halve ringen. Voeg de granaatappel toe en maak de salade aan met wat vinaigrette.

Opmaak

Schep de lamsgehaktballetjes samen met de saus op een schaal. Snijd het naanbrood in stukken en serveer deze bij de korma. Maak het geheel af met de geroosterde kokos en de cress.