Tamme eend met schorseneren en dadels
Schorseneren hebben niet voor niets de bijnaam 'keukenmeidenverdriet'. Schillen onder water met handschoenen aan kan het leed verzachten. Kook schorseneren in melk of azijn.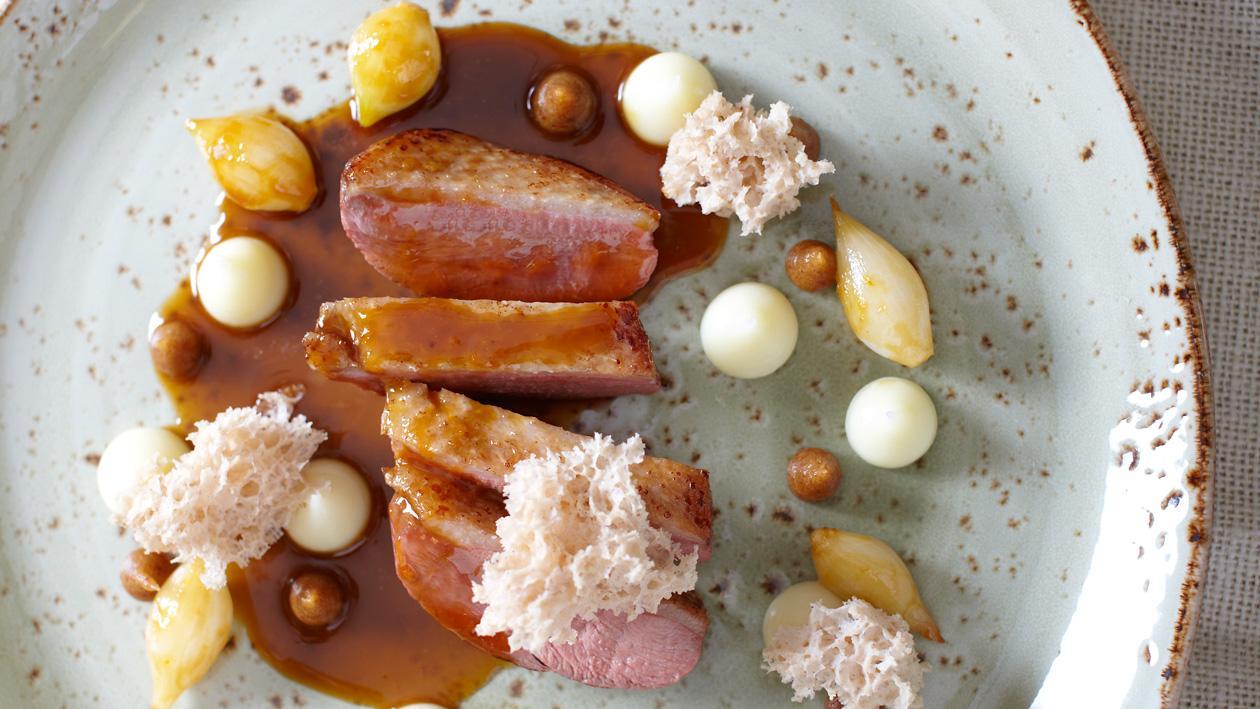 Ingrediënten
Eend
Phase with Butter Flavour
Garnituur
sinaasappelsap (met wat zestes)

80 g
Opmaak
Bereiding
Eend

Snijd het vet van de eendenborst iets in en kruid ze met zout en peper. Bak de eendenborst eerst op de vetkant en vervolgens op de andere kant in wat boter.

Garnituur

Maak de zilveruitjes schoon. Schil de schorseneren en snijd ze in stukken. Kook de schorseneren gaar in water met een scheutje melk en wat zout. Pureer de schorseneren met wat aanhangend vocht glad. Pureer de dadels met wat water tot een smeuïge puree. Stoof de zilveruitjes samen met de gember en de five spices in wat olijfolie. Blus af met het sinaasappelsap en reduceer het geheel. Voeg gevogeltefond toe en reduceer tot gewenste smaak.

Opmaak

Snijd de eendenborst in mooie plakken en verdeel deze over de borden. Spuit de schorsenerenpuree en de dadelpuree er speels bij. Schep de uitjes uit de saus erbij en schep wat saus over het vlees. Maak het geheel af met de spekkoek sponscake.