Het serveren van kleinere gerechtjes, specifiek bedoeld om te delen, is een van oorsprong Zuiders fenomeen. Ondertussen is het sharen ook bij ons doorgebroken. Toch moet je als ondernemer enkele gerichte keuzes maken, wil je ervoor zorgen dat de foodsharing vlotjes verloopt voor jouw gasten. In welke culinaire formule serveer je de sharing dishes en welke setting en presentatie sluiten hier best bij aan?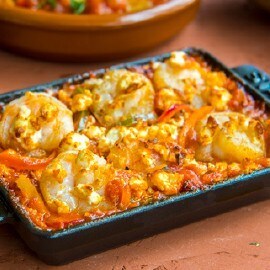 Naar Zuiders voorbeeld
In Spanje en Griekenland zijn de typische bars vanaf 20.00 uur druk. Wandel je daar binnen, dan bestel je net zoals de Spanjaarden en Grieken kleine gerechtjes (warm, koud, uit het vuistje, vloeibaar, …) aan de bar. Vaak snack je hier al staand aan de bar in een vlot tempo. Inspiratie nodig voor enkele zuiderse tomatentoppers op je kaart met sharing dishes?
Het ultieme voorbeeld van een Spaans tapasgerecht is patatas bravas dat je het beste serveert met een heerlijke tomatensaus.
Bekijk hier onze tapas plank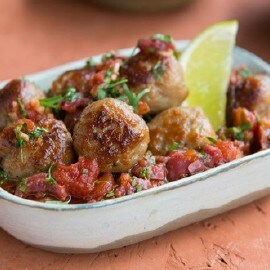 Belgische tapas
Waarom vertrek je niet vanuit onze typische Belgische culinaire identiteit? Sinds een aantal jaren worden er 'bapas' geserveerd waarin lokale productbereidingen (zoals witloof, schorseneer, lokale varkensrassen, Belgische kazen, grijze garnalen) met Belgische streekbieren worden gecombineerd.
Qua smaak wordt er naar een harmoniërend evenwicht gezocht, of naar een interessant contrast (serveer bijvoorbeeld eens een zurig geuzebier bij een zoet gerechtje). Bovendien spreken Belgische klassiekers jong en oud aan, en is het misschien zelfs een idee om één gerecht (Oostende "tatjespap" bijvoorbeeld) op twee verschillende manieren uit te werken: een versie volgens de klassieke regels en een andere volgens de inspiratie van de chef.
Een andere optie is dat je een zomerse variant van een oerklassieker uitwerkt. In plaats van fricandon met krieken te serveren, kan je bijvoorbeeld Spaans gekruide gehaktballetjes ("albondigas") met Belgische krieken combineren.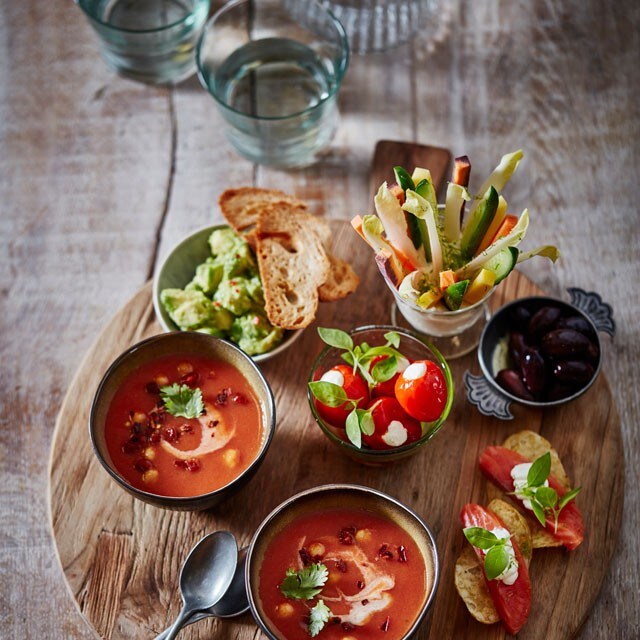 Interne keuken
Geen enkele restaurantservice kan vlot verlopen zonder dat er een duidelijk plan is vastgelegd, dat geldt evengoed voor je interne communicatie als voor de communicatie naar je gast toe. Bied je bijvoorbeeld een aperitief aan met drie keer fingerfood (artisjok, dip en cracker) voor een vaste prijs, of koppel je de bar liever los van je sharinggerechten? Denk vooraf dus goed na hoe je de sharing dishes naar je kaart wil vertalen.
Kies je voor een afzonderlijke sharing kaart die je tijdens het aperitief aanbiedt - naast het standaard menukaart met voor-hoofd- en nagerechten? Een andere mogelijkheid is dat je jouw gasten een tapasmenu aanbiedt waaruit ze tegen één vaste prijs vijf gerechtjes per persoon kunnen kiezen.
Daarnaast kan je net zo goed een sharing-optie integreren in een traditionele menukaart. Heb je bijvoorbeeld een aantal rundrassen op de kaart staan, dan kan je voorstellen om een 'mixed plate' te serveren. Voor een tafel met vier gasten kan je zo aan iedere persoon een bord serveren met vier verschillende rassen. Ook grotere gerechten als een zeebaars in zoutkorst of een hoevekip in een cocotte kunnen zo gemakkelijk met een groep gedeeld worden.

Aan de slag met sharing dishes
Nadat je enkele sharing dishes in je menu hebt verwerkt, moet je het sharing concept blenden met je zaak. Hoe groot maak je je porties en in welke sfeer wil je jouw gerechten aan je gasten aanbieden?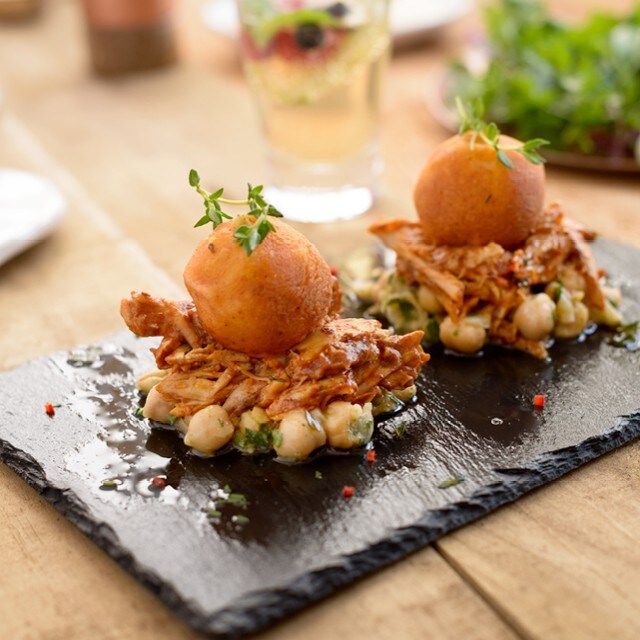 Menu-engineering
Denk ook eens na over je openingsuren en de flow van de keuken wanneer je foodsharing overweegt. Misschien kan je extra marge halen met het doorlopend serveren van eenvoudige tapas. De haalbaarheid vergroot wanneer je bijvoorbeeld geen vaste kaart aanbiedt, maar drie sharing dishes volgens de suggestie van de dag.
Verder is het misschien een idee om een bepaalde keuken(stijl) naar voren te schuiven, of anderzijds enkel wereldbekende gerechten te serveren. Zorg er gewoon telkens voor dat de gast vooraf weet in welke stijl hij het hapje kan verwachten (traditioneel of innovatief?).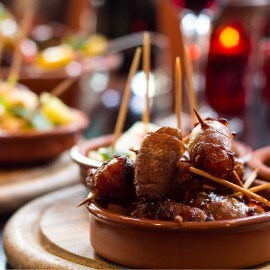 Porties en hoeveelheden
Belangrijk is dat jij er als chef rekening mee houdt dat je sharing-gerechten in de praktijk makkelijk te delen vallen zonder dat er extra gesneden of gepriegeld moet worden. Hoe groot je de porties maakt, hangt af van de filosofie van je zaak. Is het de bedoeling dat jouw gasten kleine gerechtjes blijven bijbestellen, of wil je ze subtiel naar een hoofdgerecht van de reguliere kaart loodsen?
Begeleid je gasten daarom in hun keuze door expliciet het aantal stuks per sharing gerechtje te vermelden of verwijs hen naar bepaalde formules in het geval van keuzestress. Een leuk tekstje op de menukaart of de website kan dikwijls al wonderen doen. Moedig steeds je gasten aan om rustig te bestellen, ze kunnen achteraf altijd nog een extra hapje bijbestellen.
Gemiddeld voorzie je vier gerechtjes om te delen per twee personen. Ter aanvulling kan je ervoor zorgen dat er steeds (gratis) brood op tafel staat. Anderzijds kan je ook nog enkele sidedishes (krielaardappeltjes, witloofsalade, tabouleh, etc.) aanbieden die voor extra omzet kunnen zorgen.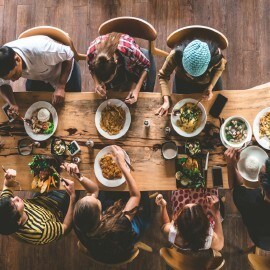 Informele setting
Ook de sfeer van je zaak kan in een aanzienlijke mate bijdragen tot het sharingconcept. Zo is het opmerkelijk hoeveel gasten tegenwoordig de interactie met de chef(s) willen voelen. Daarom zie je ook zoveel bars, eettogen en grote familietafels in nieuwe restaurants verschijnen. We beleven de overgang van klassieke en formele gastronomie naar spontane, leuke en gezellige gastronomie.
In veel sharingconcepten worden daarom gerechtjes vaak aan tafel afgewerkt of wordt de snijmachine tot voor de neus van de gast gerold om bijvoorbeeld de ham live te versnijden. Bovendien mag de vibe iets losser – en de muziek iets luider – wanneer je een sharingkaart aanbiedt, aangezien deze kleine deelgerechtjes dikwijls scherp geprijsd staan en samen geserveerd worden aan tafel – in tegenstelling tot de klassieke opvolging van een meergangenmenu. In een aantal sharingconcepten is het zelfs toegestaan om duimen en vingers af te likken 😉