Borrelhapjes met Spaanse tomatensoep
Wij vroegen chefs wereldwijd naar hun favoriete soeprecepturen en-ervaringen.
Ontdek samen met ons 'swerelds bijzonderste soepen.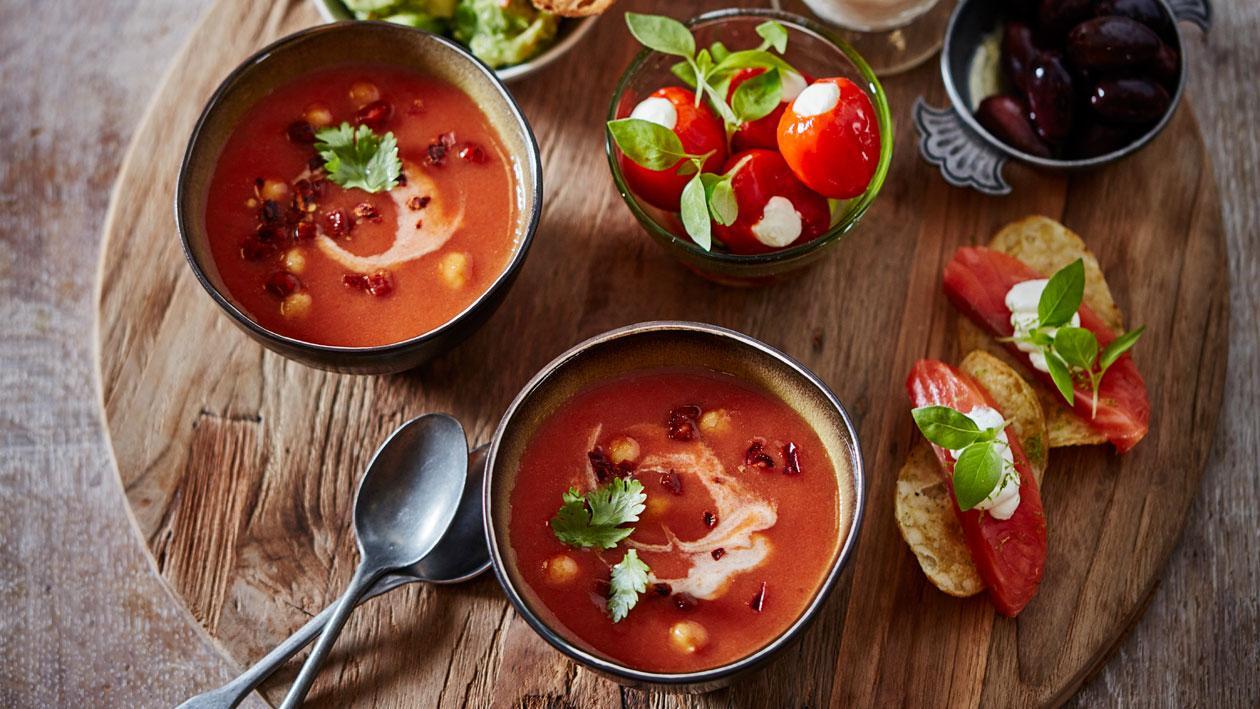 Ingrediënten
soep
kikkererwten uit blik, afgespoeld

450 g
Opmaak
Peppadews
Avocadodip
Knorr Professional Chilipuree

3 g
Gerookte zalm
chips met zwarte peper

10 stuks
Mosterd mayonaise
paarse, gele oranje winterwortel, komkommer en witlof

200 g
Bereiding
soep

Breng twee liter water aan de kook en voeg al roerend het afgewogen soeppoeder toe. Laat de tomatensoep gedurende vijf minuten rustig doorkoken. Snijd de chorizoworst in blokjes en bak deze kort in een droge koekenpan. Spoel de kikkererwten af en voeg ze samen met de gebakken chorizo aan de soep toe.

Opmaak

Schep de soep in de soepkommen en maak ze af met de zure room chili flakes en de koriander.

Peppadews

Doe de roomkaas in een spuitzakje en vul hiermee de peppadews. Leg ze in een beetje olijfolie met wat basilicumblaadjes.

Avocadodip

Maak de avocado's schoon en snijd ze in achten. Blancheer de avocado's in water met wat zout en een scheutje citroensap of azijn. Dompel de avocado in ijswater en laat deze vervolgens goed uitlekken. Pureer of prak de avocado met de rest van de ingrediënten.

Gerookte zalm

Doe de roomkaas in een spuitzakje en snijd de zalm in plakjes. Beleg de chips met de zalm en spuit hierop wat roomkaas. Garneer met de limoencress.

Mosterd mayonaise

Meng alle ingrediënten samen in een kom. Snijd de groenten in battonets (reepjes) en steek ze speels in de mosterdmayonaise.

Opmaak

Serveer alles samen op een plank.