Borrelplank Mexico
Peppadews zijn kleine rode pepertjes afkomstig uit Zuid Afrika. De smaak is zoet en pittig tegelijk. Ze zijn veelzijdig te gebruiken maar we zien ze het meest gevuld met roomkaas.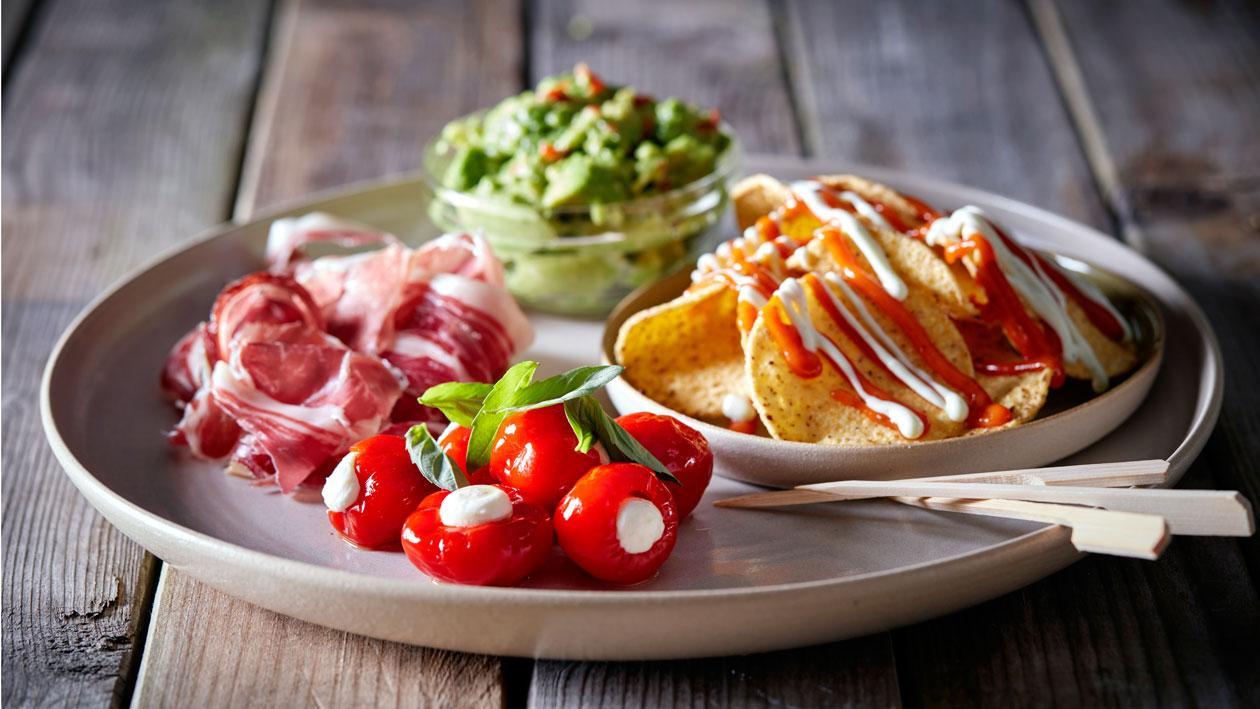 Ingrediënten
Peppadwes
Taco's
CALVÉ Dressing Yoghurt 1 L

1 dl

taco of tortilla chips

150 g
Advocadedip
Knorr Professional Chilipuree

3 g
Opmaak
Bereiding
Peppadwes

Doe de roomkaas in een spuitzakje en vul hiermee de peppadews. Leg ze in een beetje olijfolie met wat basilicumblaadjes

Taco's

Meng/pureer de yoghurtdressing samen met de koriander, munt en de xanthaangom in de blender. Doe de sausen afzonderlijk van elkaar in een spuitflesje. Verdeel de taco chips in een bakje en verdeel hierover de beide sausen.

Advocadedip

Maak de avocado's schoon en snijd ze in achten. Blancheer de avocado's in water met wat zout en een scheutje citroensap of azijn. Dompel de avocado in ijswater en laat deze vervolgens goed uitlekken. Pureer of prak de avocado met de rest van de ingrediënten

Opmaak

Rol de ham op en serveer deze samen met de avocadodip, taco chips en de peppadews met roomkaas op een plank.