Na zijn carrière bij Villa Augustus in Dordrecht opende Michael van der Struis in april 2017 samen met zijn vrouw Claire Schoo een nieuwe zaak. Paviljoen Struis is een laagdrempelig en betaalbaar restaurantconcept met een groot terras pal aan het water. Hij kookt er eenvoudige, eerlijke seizoensgerechten, zonder al te veel poespas maar met verfijning. 

1. Hoe is jouw voorliefde voor groenten ontstaan?
"Van jongs af aan heb ik altijd een moestuin gehad. Daardoor heb ik altijd lekkere groenten kunnen eten. Die tuin in combinatie met mijn opleiding tot kok hebben ervoor gezorgd dat ik veel met groenten heb geëxperimenteerd." 

2. Wat is voor jou de magie van het zelf telen?
"Het is fijn om zeker te weten dat er niet mee is gerommeld: dat je weet dat de groenten en kruiden uit je eigen tuinkomen en op pure en eerlijke wijze zijn verbouwd. Daarnaast is het enorm interessant dat je zelf de rassen kunt selecteren die je gaat oogsten. Het ras maakt een enorm verschil in smaak of aroma. Dat vind ik magisch."
3. Zou iedere chef zich wat jou betreft in groenten moeten verdiepen?
"Nee, zeker niet. Voor mij moet zoiets echt uit jezelf komen, vanuit een persoonlijke passie. Je ziet veel concepten die met alle trends mee willen gaan en doen wat nu hip is. Daar geloof ik niet in, want daar zit geen visie achter. Je moet het nooit doen enkel omdat je 'erbij wilt horen'. "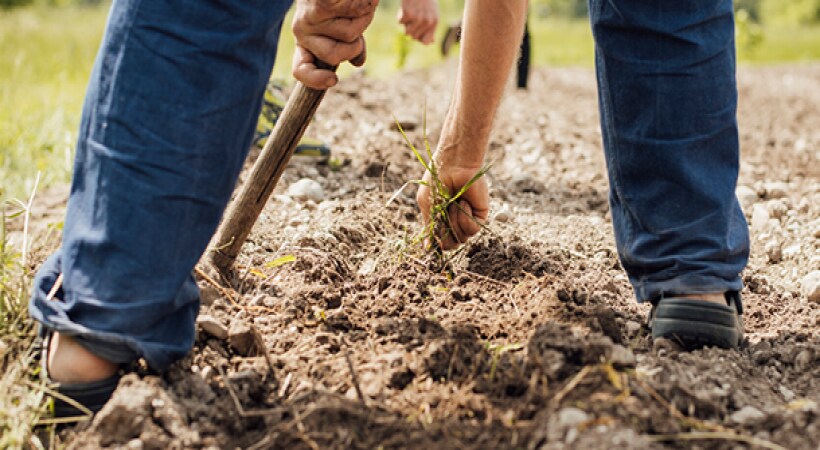 4. Wat is het moeilijkste aan groenten om onder de knie te krijgen?
"Om aan de juiste soorten te komen, dat vind ik het moeilijkst. Ook als je als chef een eigen moestuin hebt moet je groenten bijkopen, omdat de opbrengst niet toereikend is voor je restaurantkeuken. Je bent dus altijd op zoek naar de juiste ingrediënten. Die buitengewone groentesoorten, daar moet je als chef naar op zoek. En als je die vindt, dan kun je echt de meest waanzinnige groentegerechten maken."
5. Kun je een aantal tips geven voor bijzondere eigentijdse groentebereidingen?
"Groenten maken momenteel echt een enorme ontwikkeling door in de horeca, het is allang geen bijzaak meer. Op groentegerechten kun je als chef helemaal losgaan. Je kunt er echt alles mee: roosteren, fermenteren, pekelen, roken, inmaken. Zelf maak ik ook veel sauzen op groentebasis."
6. Welke groentesoorten en bereidingswijzen zijn zeer geschikt voor in de mise-en-place?
"Traditionele ingemaakte groentegerechten zoals zuurkool en kimchi liggen natuurlijk voor de hand en soep op basis van groente laat zich ook perfect voorbereiden. Maar denk ook aan geroosterde groenten. Je maakt ze in de mise-en-place tot tweederde gaar – door het roosteren karamelliseren de natuurlijke suikers en krijgen de groenten een heerlijke intense smaak. Op het moment van serveren maak je ze in twee á drie minuutjes af. Of denk aan hartig konfijten van groenten in olijfolie met enkel wat zout en kruiden." 

7. Wat vind jij de meest ondergewaardeerde groente?
"Zonder twijfel knolselderij! Dat is echt zo'n te gekke groente. Dat komt door alles: de structuur, smaak, geur, vorm, kleur. Een zeer dankbare groente, want je kunt er alle kanten mee op en hij combineert perfect met tal van andere ingrediënten."
8. Hoe zorg je voor slimme verwerking van groenteresten?
"Zelf verwerk ik eigenlijk alles. Behalve als het bedorven is natuurlijk. Maar verder: van de afsnijdsels of resten maak ik chipjes, ik kook pureetjes of verwerk resten tot overheerlijke groentebouillon. Je moet er soms wel een beetje extra moeite voor doen, maar weggooien is voor mij echt geen optie."
9. Wat staat er in het voorjaar zeker op de kaart?
"Er staan sowieso veel vaste elementen die ik zelf lekker vind: soep, pizza, een ovenschotel, een visgerechtje, iets van de barbecue en een gerecht uit de houtoven. Bij die bereidingswijzen combineer ik wat er op dat moment in het seizoen is. Denk bijvoorbeeld aan pizza met courgettebloemen. Of geroosterde asperges van de barbecue. En rabarber, daar gaan we ook zeker iets mee doen."
10. Ga je in je nieuwe zaak ook weer zelf groenten verbouwen?
"Op onze terrassen telen we fruit, kruiden en eetbare bloemen om spannende toevoegingen aan onze gerechten te kunnen geven." Ook teelt Michael zowel binnen als buiten het hele jaar door peulvruchten in potten zoals kapucijners, erwten en bonen. "Daarnaast telen we binnen in een speciaal daarvoor ontwikkelde kast het hele jaar door microgroenten, kiemen en spruiten. Licht, luchtvochtigheid en temperatuur zijn optimaal geconditioneerd en de gast kan precies zien hoe alles groeit."