Gepaneerde steenbolkfilet met hollandaisesaus
Steenbolk of steenwijting moet zeer vers ingekocht en geserveerd worden. Het visvlees is kort houdbaar. Deze visvariant wordt ook veel gebruikt om te frituren en als lekkerbekje verkocht te worden.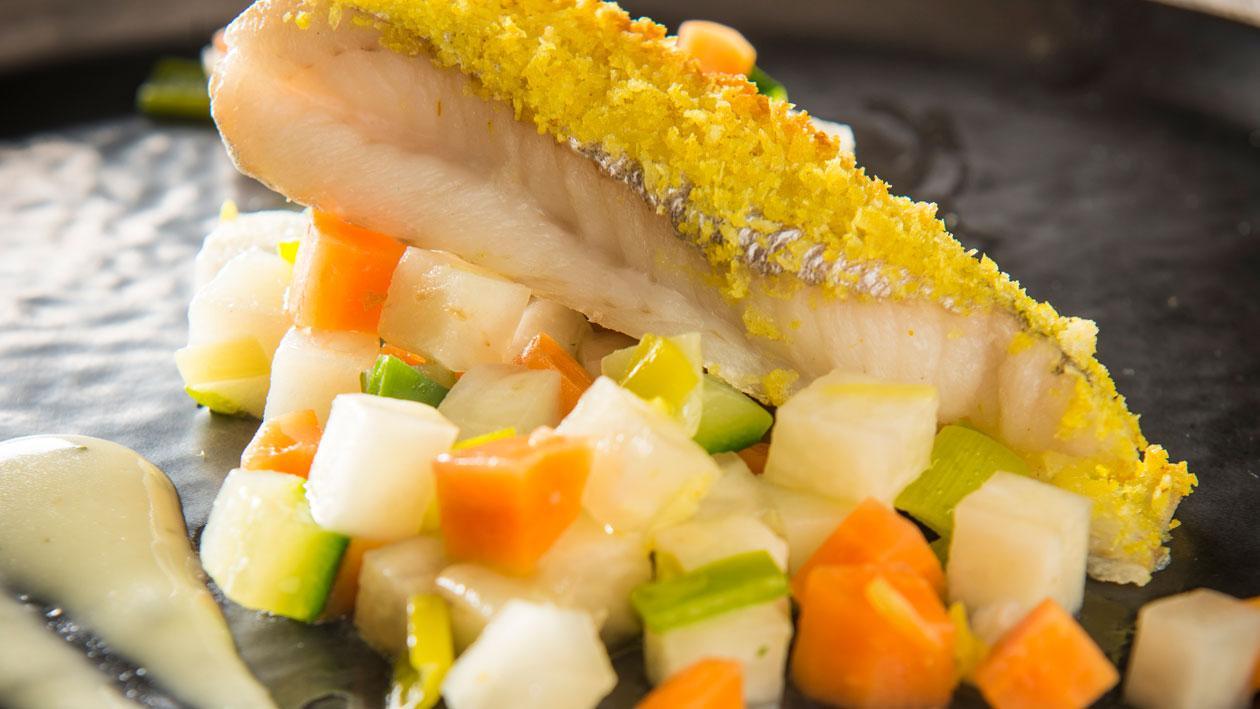 Ingrediënten
Steenbolk
Garnituur
aardappelblokjes geblancheerd

1.2 kg

gemengde groenten (broccoli, courgette, rode ui, paprika etc)

1.2 kg
Saus
Bereiding
Steenbolk

Meng de panco met de Currypuree in de magimix. Smeer de bakplaat in met de boter, bestrooi met zout en peper en leg de filets op elkaar op de bakplaat. Bestrijk de bovenkant met de boter en strooi er de currypanco overheen. Gaar de vis in de hete luchtoven van 160°C, 8 à 10 min. of tot een kern van 75°C.

Garnituur

Breng het water met deboter en de Groentebouillon aan de kook, stoof hierin de aardappel en groenteblokjes en bind af met de maïzena.

Saus

Breng het water met de roomaan de kook. Zet het vuur laag en voeg al roerend de Hollandaise Saus toe met een garde. Laat 5 min. zachtjes koken, voeg de tuinkruiden toe, haal de pan van het vuur en roer er de boter door

Opmaak

Serveer de gegratineerde steenbolk met de groenten en saus.