Asperges met zalm en geroosterde amandelen
In dit recept maken we gebruik van "saty fingers" een mooi klein plantje met een ziltige smaak die langs de kusten van tropisch America en Azie groeit. Deze kunnen goed vervangen worden voor verse zeekraal of lamsoren.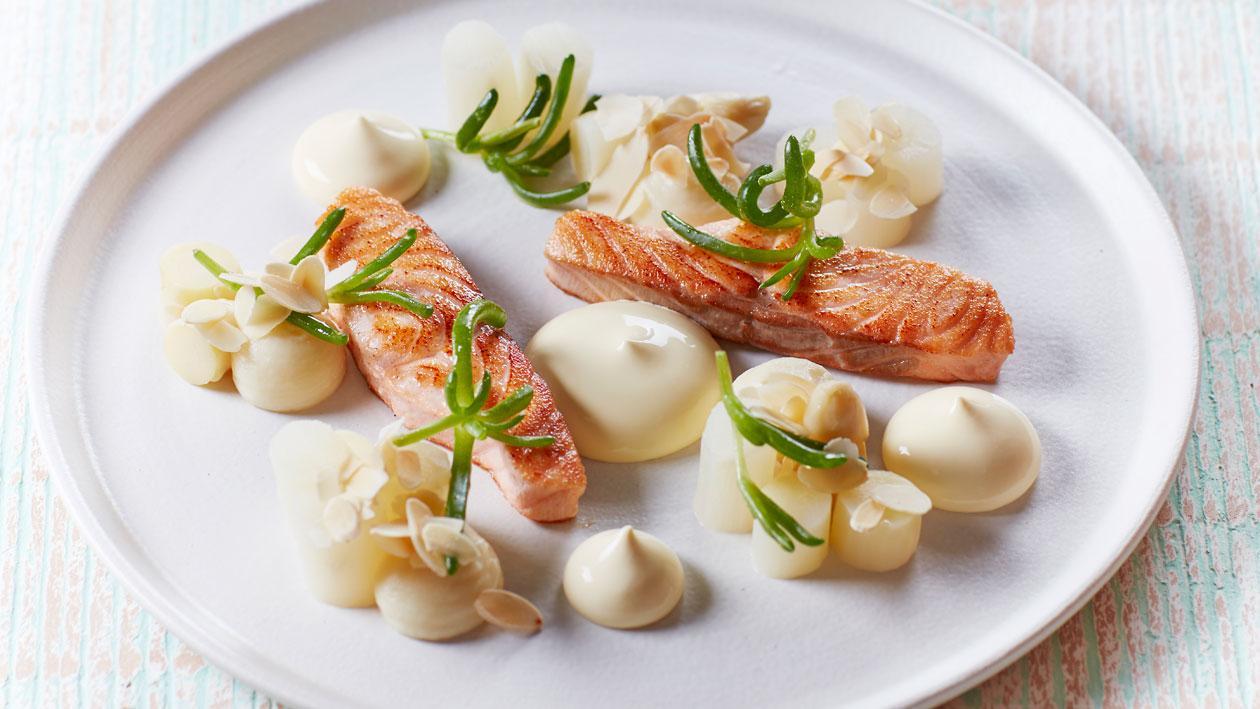 Ingrediënten
Asperges
Zalm
Garnituur
bereide aardappelpuree

400 g
Saus
Opmaak
geschaafde amandelen, geroosterd of gebruineerd

150 g
Bereiding
Asperges

Schil de asperges. Kook de asperges met wat zout en laat ze in het kookvocht afkoelen. Snijd de asperges en verwarm ze in het kookvocht.

Zalm

Snijd de zalmfilet in twintig gelijke mootjes. Bak de zalmmootjes mooi rosé in de boter en kruid deze na met de aromat.

Garnituur

Verwarm de aardappelmousseline en doe deze in een spuitzak. Bereid de zeekraal met wat boter en kruid deze met wat peper.

Saus

Verwarm de Hollandaise saus en giet deze in een siphon. Zet de siphon onder druk met een patroon en houd deze "au bain marie" warm.

Opmaak

Leg de zalm op de borden en verdeel de aardappel mousseline, asperges en de zeekraal eromheen. Spuit de Hollandaise saus erbij en maak het geheel af met geroosterde amandelen.