Smaak is belangrijk, maar het oog wil ook wat. "Gasten willen vernieuwing zien en visueel getriggerd worden", vertelt Aurélie Hurlet, verantwoordelijk voor marketing & PR bij Serax. "Door te spelen en experimenteren met je servies verras je je gasten én laat je als chef lef en karakter zien."

Servies to surprise
De trend in servies is volgens Hurlet het gebruik van verschillende stijlen door elkaar. "Je hoeft niet meer één dezelfde klassieke collectie te gebruiken van soepkom tot dessertbord. Durf te mixen met kleuren, collecties en materialen. Een heel simpel gerecht kan totaal anders overkomen op een avontuurlijk bord. Wij hebben recent een nieuwe serviescollectie gemaakt van beton, daar imponeer je gasten mee."
Upgrade je gerecht
Met gewaagd servies kun je je gerecht volgens Hurlet eenvoudig opwaarderen. "Uit onderzoek blijkt dat mensen bereid zijn om meer te betalen voor een gerecht dat gepresenteerd wordt op een spectaculair bord. Dat biedt net een stukje extra beleving. Zo kun je een gerecht van €18 prima upgraden naar €21 puur omdat je gasten positief verrast zijn door de presentatie met je servies." Ook bedoelde imperfectie, zoals een asymmetrische vorm van je bord, of een bijzondere structuur of mooi reliëf in je servies maakt je presentatie net wat opvallender en origineler.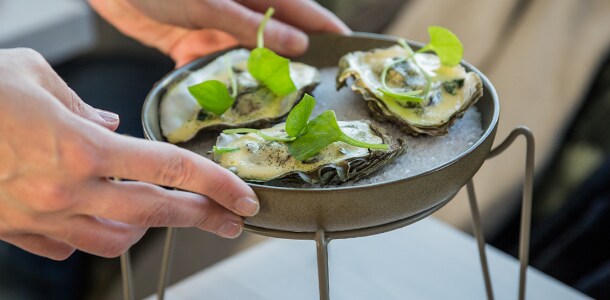 Durf te kiezen
De stijlkeuzes die je maakt voor je servies zijn dezelfde als de keuzes in je interieur: je wilt geen standaardhotel of -restaurant zijn, dus uitstraling telt. "Het allerbelangrijkste is dat het servies matcht met de persoonlijkheid van de chef of uitstraling van de zaak. Natuurlijk drukt een chef zijn persoonlijkheid in eerste instantie uit in het gerecht zelf, maar evengoed door de bordopmaak en manier van presenteren. Als je als chef kiest om een gerecht te serveren op een strakke marmeren plaat in plaats van in een bord, dan zegt dat iets over je identiteit. Want voor originele keuzes in servies heb je lef nodig. Het maakt je innovatief, uitgesproken en uniek."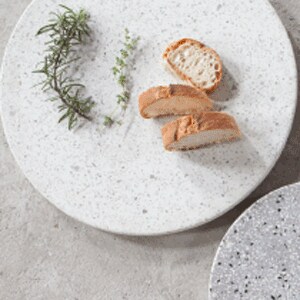 Serax is het geesteskind van broer Serge en Axel Van Den Bossche.
Wat in 1986 begon als een kleinschalige handel in een garage, groeide in dertig jaar tijd uit tot een multinational. Het van assortiment Serax biedt een grote diversiteit aan meubilair, tableware, verlichting en decoratie. Elke collectie wordt ontworpen in samenwerking met een designer: van internationaal bekende designers tot jonge talenten. De producten van Serax zijn verkrijgbaar bij diverse groothandels, keukenwinkels, concept stores, interieurwinkels en tuincentra.