Gedurende het prachtige seizoen wil je gasten natuurlijk wel blijven verrassen met asperges. Met deze vijf variaties bereid je het witte goud net even anders.

Borrelhapje
Lekker als aperitief of bij de borrel: aspergekroket of -bitterbal. Maak van gepureerde gekookte asperges, boter en bloem een roux. Vul het geheel aan met gekookte ham, gekookte eieren, peterselie, zout, peper en nootmuskaat. Dit mengsel spuit je in de gewenste vorm en dikte. Na het opstijven paneer je de borrelhapjes en daarna bak je ze af in schoon vet.
Wecken
Asperges wecken? Waarom niet! Voeg voor een extra smaaksensatie nog een bouillonblokje of kruiden toe aan het water. Weck ze vervolgens in een inmaakketel gedurende 120 minuten op 100 ℃. Als je ze wilt serveren moet je ze eerst 10 minuten koken. Tip: presenteer ze in de weckfles.
Grillen
Asperges zonder water garen, dat kan: op de Big Green Egg. Schil de asperges, verwijder de onderste stukjes en bestrijk ze licht met zonnebloemolie. Leg de asperges haaks op de spijlen van het rooster en sluit de deksel. Gril ze 10 minuten en draai ze tussentijds om. Controleer of ze gaar zijn door erop te drukken: ze moeten zacht aanvoelen maar wel weerstand bieden.
Wokken
Als ze eenmaal gekookt zijn lenen witte  asperges lenen zich, net als groene asperges, prima voor de wok. Na 3 tot 5 minuten wokken krijgen de asperges een heerlijke bite. Lekker voor een Oosters aspergegerecht met noodles, teriyaki, kip, ei, wortels en paprika.
Dessert
Eindigen met asperges? Dat kan! Verras je gasten met een aspergesorbet. Eenvoudig te maken met eidooiers, melk en room. Goed glad draaien in de termoblender. Daarna zeven en verdelen over Pacojetbekers. Tot slot vries je het mengsel in en pacoseer je het.
Social media voor chefs
Deze gids bevat tips en tricks om van je horeca gelegenheid ook een online succesverhaal te maken tijdens het aspergeseizoen.
Download nu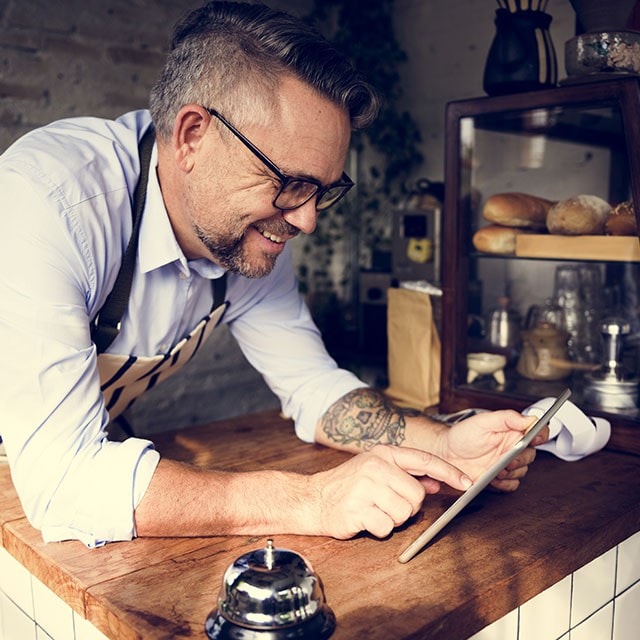 Op de hoogte blijven? Schrijf je in voor onze gratis nieuwsbrief.
Schrijf je nu in