Het is altijd een uitdaging om genoeg variatie aan te brengen in je menukaart en er toch voor te zorgen dat je niet teveel derving hebt. Zeker in het nieuwe normaal, waar de vraag naar gezonde gerechten toeneemt en jij met minder middelen voor meer omzet moet zorgen.
De omschrijving van een gerecht speelt voor een groot deel mee in de keuze van jouw gast. Je kunt jouw gasten hierin meer sturen dan je denkt!

Smakelijke gerechten worden het meest gekocht
Om erachter te komen wat de invloed van de naam en de omschrijving van een gerecht is, voerden onderzoekers diverse experimenten* uit. In die experimenten beschreven ze dagelijkse groenten op vier verschillende manieren:
 Hierin werd er niks extra's gezegd dan de groente, bijvoorbeeld 'wortels'.
Deze optie legt extra aandacht op de 'gezonde' component, bijvoorbeeld 'wortels met suikervrije citrusdressing'.
Hierbij wordt er vooral gekeken naar de positieve eigenschappen van het ingrediënt, zoals 'wortels voor meer energie'.
Deze omschrijving zegt vooral iets de smaak van het gerecht, bijvoorbeeld 'gebakken worteltjes met verse gember en citroen.'
Een groot deel van jouw gasten zal ongetwijfeld aangeven dat zij gezonder willen eten. De uitkomsten van het onderzoek laten een ander beeld zien. Producten die het label 'gezond' krijgen, worden duidelijk minder aantrekkelijk gevonden. Zet je twee exact dezelfde producten op tafel en label je er één als gezond, dan wordt dat product minder aantrekkelijk, minder lekker, minder smakelijk en minder voedzaam gevonden. De resultaten liegen er niet om: de smakelijke variant werd 25% vaker gekozen na de neutrale, 35% vaker dan gezond met een positieve twist en 41% vaker dan de groenten die als puur gezond waren omschreven.  
Dit klinkt natuurlijk allemaal heel logisch, maar hoe kun je dit het beste toepassen op jouw menukaart?

*Bradley P. Turnwald, Dan Jurafsky, Alana Conner, and Alia J. Crum. Online First Publication, May 25, 2017.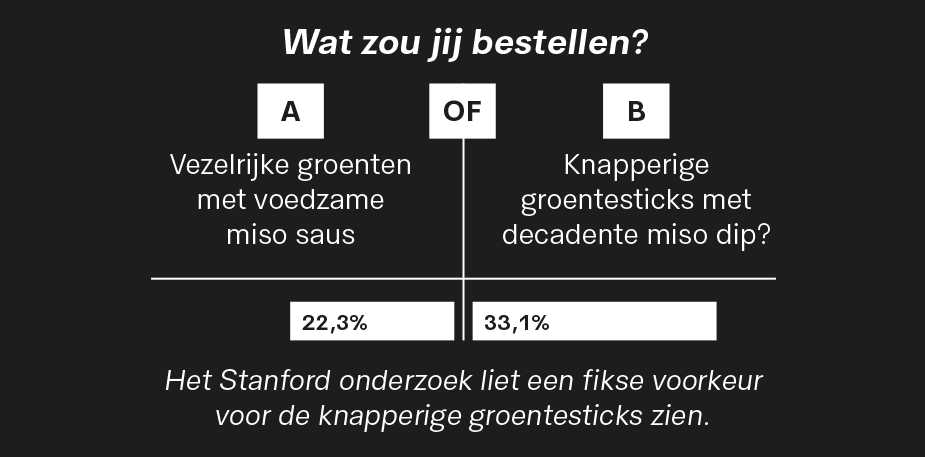 'Vezelrijke groenten met voedzame misosaus' of 'Knapperige groentesticks met heerlijke misodip'? Het Stanford-onderzoek liet een fikse voorkeur voor de knapperige groentesticks zien: 33,1 procent resp. 22,3 procent.

Aan de slag: 5 tips
Tip 1:
Stop de gerechten die je het liefst verkoopt niet weg op je menukaart of buffet; geef ze genoeg ruimte voor uitgebreide beschrijvingen en voorzie ze online van mooie fotografie.
Tip 2: 
Beschrijf de gezonde keuze niet als gezond, maar geef juist aandacht aan een verleidelijke omschrijving van de smaak. Leg de focus dus op de smaak van het gerecht, bijvoorbeeld 'knapperig' in plaats van 'vezelrijk' of zeg iets over de manier van bereiden: 'kort gegrilde tonijnsteak' in plaats van 'magere tonijn'.
Tip 3:
Geeft de productinformatie (vegan, glutenvrij, suikervrij etc.) niet weer in tekst, maar in heldere icoontjes.
Tip 4: 
Leg de nadruk op de smaak en de manier van bereiden. Zorg ervoor dat je in de omschrijving dingen 'toevoegt', in plaats van de focus te leggen op wat het 'niet' heeft. Dus bijvoorbeeld 'kort geglaceerde worteltjes' in plaats van 'worteltjes'.
Tip 5:
Gebruik de juiste woorden die een gerecht overheerlijk laten klinken. Knapperig, fris, vers, huisgemaakt… zoek de juiste term om net dát te beschrijven waar een gerecht zich mee onderscheidt.
Hopelijk helpen deze tips om de keuze van jouw gast te laten vallen op een gerecht met veel marge, of om op jouw najaarskaart de laatste puntjes op de i te zetten. Over najaar gesproken, dat betekent natuurlijk ook de intrede van een margerijk (voor)gerecht: soep! Meer weten waarom soep onmisbaar is op jouw kaart? Lees dan hier het hele artikel.
Ben jij chef op een locatie met een banqueting afdeling? Vergeet dan niet dit artikel over marge te lezen!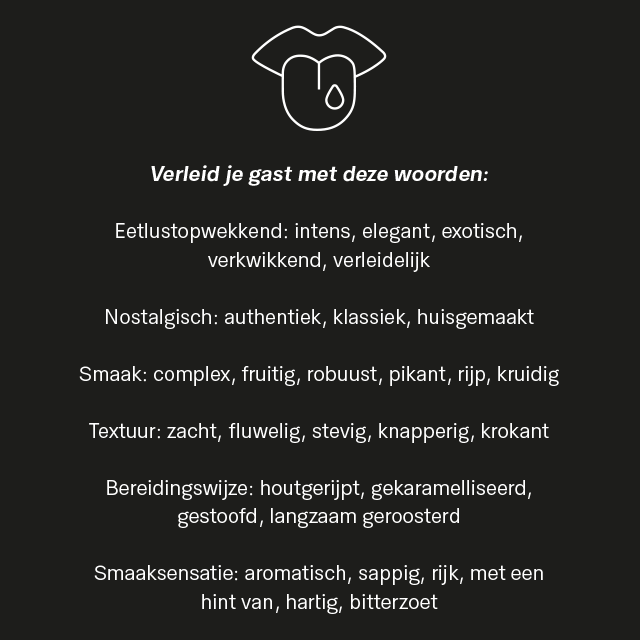 Jij wilt toch ook op de hoogte blijven van de laatste tips & tricks, verrassende receptinspiratie, gratis sparen voor cadeaus én als eerste op de hoogte zijn van promoties?

Ik wil geen update missen!