Je kunt de consument meer sturen dan je denkt. Met de kaartjes en labels op het buffet, of de benaming van gerechten, kruip je in het hoofd van je gasten. De Californische Stanford University onderzocht hoe omschrijvingen van een gerecht de keuze van de consument sturen.

Smakelijke gerechten worden het meest gekocht
Om erachter te komen hoeveel impact de gerechtnaam en -beschrijving op de verkoop van gerechten hebben, voerden de Stanford-onderzoekers* diverse experimenten uit in hun grootste campusrestaurant. In die experimenten beschreven ze de dagelijkse groenten op vier verschillende manieren:
 Neutraal: bijvoorbeeld 'wortels'.
Gezond met focus op restrictie: bijvoorbeeld 'wortels met suikervrije citrusdressing'.
Gezond met positieve twist: bijvoorbeeld 'een gerecht met wortels voor meer energie'.
Smakelijk: bijvoorbeeld 'gebakken worteltjes met verse gember en citroen'.
Hoe hard we ook allemaal roepen dat we gezond willen eten, het onderzoek van Stanford laat een ander beeld zien. Producten die het label 'gezond' krijgen, worden duidelijk minder aantrekkelijk gevonden. Zet je twee exact dezelfde producten op tafel en label je er één als gezond, dan wordt dat product minder aantrekkelijk, minder lekker, minder smakelijk en minder voedzaam gevonden. De resultaten liegen er niet om: de smakelijke variant werd 25 procent vaker gekozen na de neutrale, 35 procent vaker dan gezond met een positieve twist en 41 procent vaker dan de groenten die als puur gezond waren omschreven.  

*Bradley P. Turnwald, Dan Jurafsky, Alana Conner, and Alia J. Crum. Online First Publication, May 25, 2017.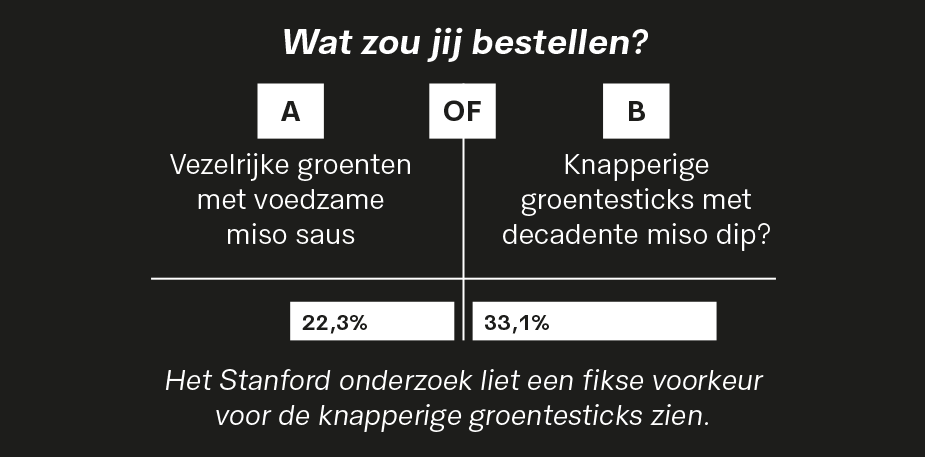 'Vezelrijke groenten met voedzame misosaus' of 'Knapperige groentesticks met heerlijke misodip'? Het Stanford-onderzoek liet een fikse voorkeur voor de knapperige groentesticks zien: 33,1 procent resp. 22,3 procent.

Aan de slag: 5 tips voor jouw menukaart en buffet
Stop de gerechten die je het liefst verkoopt niet weg op je menukaart of buffet; geef ze genoeg ruimte voor uitgebreide beschrijvingen en mooie foto's.
Beschrijf de gezonde keuze niet als gezond, maar geef juist aandacht aan een verleidelijke omschrijving van de smaak.
Geeft de productinformatie (vegan, glutenvrij, suikervrij etc.) niet weer in tekst, maar in heldere icoontjes.
Leg de nadruk op de heerlijke smaak.
Gebruik de juiste woorden die een gerecht overheerlijk laten klinken. Knapperig, fris, vers, huisgemaakt… zoek de juiste term om net dát te beschrijven waar een gerecht zich mee onderscheidt.