Er zijn tal van redenen om meer groenten en minder vlees te serveren. Het is beter voor het milieu en beter voor je marge. Toch ervaren behoorlijk wat chefs een barrière om daadwerkelijk die stap te zetten. Ze zijn bang dat het meer tijd kost, nemen aan dat de gast er niet op zit te wachten of ze zijn sceptisch over de veronderstelde effecten. Maar zijn die bezwaren terecht? Dat vraagt om onderzoek*.

Het experiment
Een klassiek Nederlands-Frans restaurant in de binnenstad van Utrecht was het decor voor dit experiment. Het onderzoek werd uitgevoerd onder reguliere restaurantgasten die zoals normaal bestelden van de menukaart, zonder dat zij vooraf wisten van het experiment. Pas na afloop van de maaltijd werd gevraagd of de restaurantgasten deel wilden nemen aan het onderzoek met behulp van een vragenlijst. In totaal namen 340 restaurantgasten deel in het 'real-life experiment'.
De studie vond plaats in de winterperiode. In de maanden oktober en november werd een eerste meting gehouden met een controlegroep, die de voor het restaurant gebruikelijke verhouding vlees/vis en groente kreeg geserveerd. In december en januari werd een tweede meting gehouden, maar nu kreeg de interventiegroep dezelfde gerechten geserveerd met minder vlees of vis en meer groente. In beide perioden werd hetzelfde menu geserveerd, met diverse klassieke gerechten zoals biefstuk, hert, eend, varken en zalm. 
De resultaten
Dankzij het experiment steeg de groente-inname met maar liefst 33%, terwijl de geconsumeerde hoeveelheid vlees en vis gemiddeld 11% lager lag. En dat terwijl de overall maaltijdwaardering op hetzelfde niveau bleef. Ofwel: het resultaat was een margerijker en duurzamer menu en een net zo tevreden gast.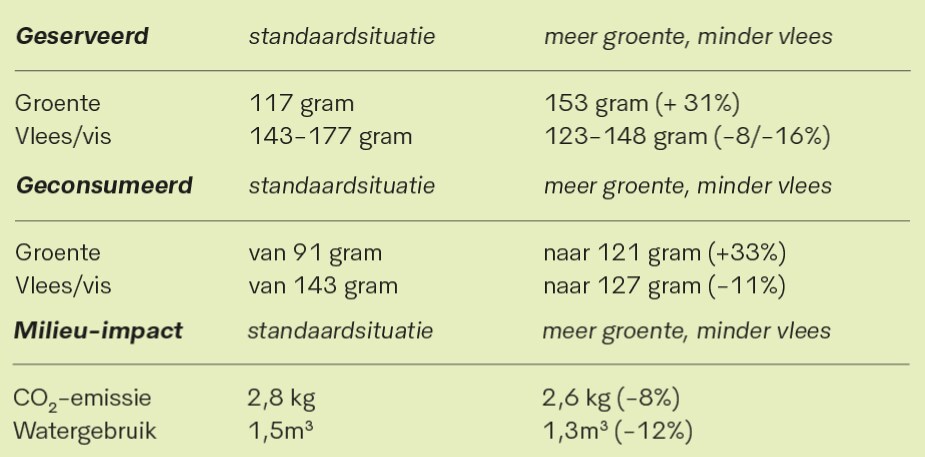 Milieuwinst
Met behulp van openbare bronnen wordt de milieubelasting van het menu in CO2-emissie en watergebruik uitgerekend. De resultaten laten zien dat in de periode waarin meer groente en minder vlees en vis worden geserveerd de milieubelasting fors lager ligt.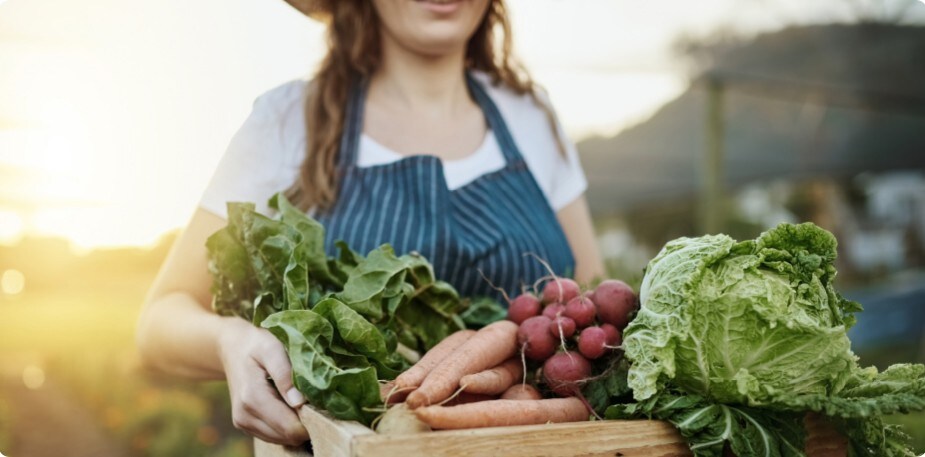 *Unilever Food Solutions, Stichting Variatie in de Keuken en Wageningen Economic Research sloegen de handen ineen en deden eind 2017 een gezamenlijke praktijkstudie. De onderzoeksvraag: wat is het effect van het serveren van minder vlees en meer groenten op de voedselinname, de waste en de gasttevredenheid? Door de wetenschappelijke opzet van het experiment zijn de resultaten van de twee groepen goed met elkaar te vergelijken. Alle resultaten zijn zorgvuldig gecontroleerd en statistisch getoetst. De getoonde resultaten zijn significant en berusten dus niet op toeval.