Veel voedingsmiddelen hebben gezonde eigenschappen en worden sinds mensenheugenis gebruikt voor een goede gezondheid. Het zijn de superfoods van vandaag kan je wel stellen. Wij hebben een lijstje gemaakt van de ingrediënten die momenteel het meest in trek zijn. Lees verder om ze te ontdekken.
Kurkuma
Gele kurkuma is een specerij die gebruikt wordt in de Aziatische en Midden-Oosterse keuken. Het is populair in sappen en je ziet het steeds vaker op restaurantmenu's, in dressings, zoete of hartige wrongel, ovengerechten, over popcorn gestrooid of op geroosterde vis of groenten gesmeerd.
Avocado
Deze romige groene vrucht bevat naast gezonde enkelvoudig onverzadigde vetzuren ook vitamine E, kalium en vezels. Avocado is momenteel immens populair en op het internet krioelt het van de hartige en zoete recepten. Van kaastaart met avocado en limoen en de perfecte avocado op toast tot koude maar verrukkelijke avocadosoep met krab.
Peulvruchten
2016 werd door de Verenigde Naties uitgeroepen tot 'Internationaal Jaar van de Peulvrucht'. Peulvruchten (kikkererwten, bonen, linzen, gedroogde erwten) bevatten veel vezels en eiwitten en hebben geen grote milieuvoetafdruk. Ze zijn onmisbaar in allerlei vormen van hummus en combineren perfect met schaal- en schelpdieren. Tot bloem gemalen worden ze gebruikt als vezel- en eiwitrijk alternatief voor traditioneel brood en gebak.
Granen
Volkorengranen (en andere meervoudige koolhydraten) hebben ook een plek veroverd op de restaurantmenu's. Granen als kamut, bulgur, farro, boekweit, quinoa, gierst, amarant, sorghum en teff hebben allemaal een hoger vezelgehalte dan veredelde granen. Zij zijn een goed alternatief voor aardappelen of pasta en kunnen gebruikt worden voor risotto of pilaf of kunnen dienen als een lunchsalade.
Noten
Er bestaan vele verschillende soorten noten met elk hun eigen voedingseigenschappen. Zo zijn amandelen bijvoorbeeld rijk aan calcium en zijn paranoten een goede bron van selenium. Een handvol ongezouten, ongesuikerde noten past binnen een evenwichtig voedingspatroon. Last but not least zijn noten zeer veelzijdig: geroosterd verlenen zij een complexe smaak, gemalen kunnen ze worden gebruikt in gebak en rauw gemixt kan je er heerlijke romige dressings van maken.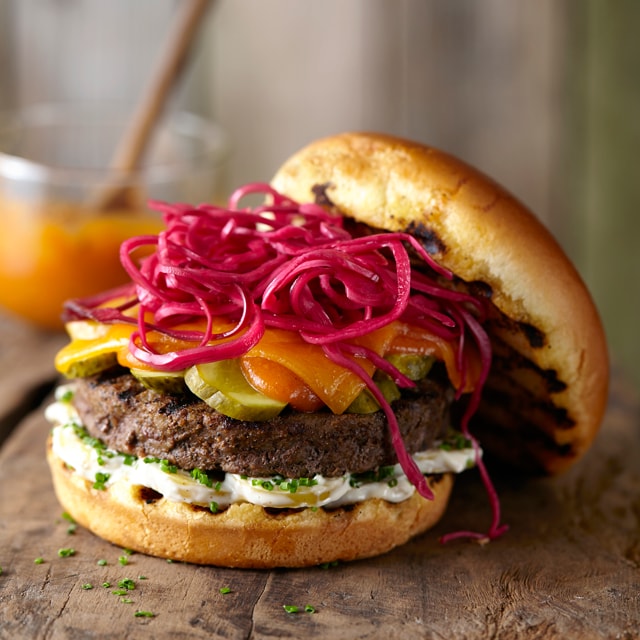 Goudbruin en krokant van buiten en zacht van binnen. Met echt goed roosteren maak jij van je sandwich een meesterwerk.
Lees meer