Vegetarische teriyaki
Shiso is een Japanse plant die ook wel eens Japanse basilicum of Japanse netel wordt genoemd. Er bestaan twee varianten, de paarse en de groene shiso. De bladeren hebben iets weg van een brandnetelblad en bevatten een veelheid aan vitamines en mineralen.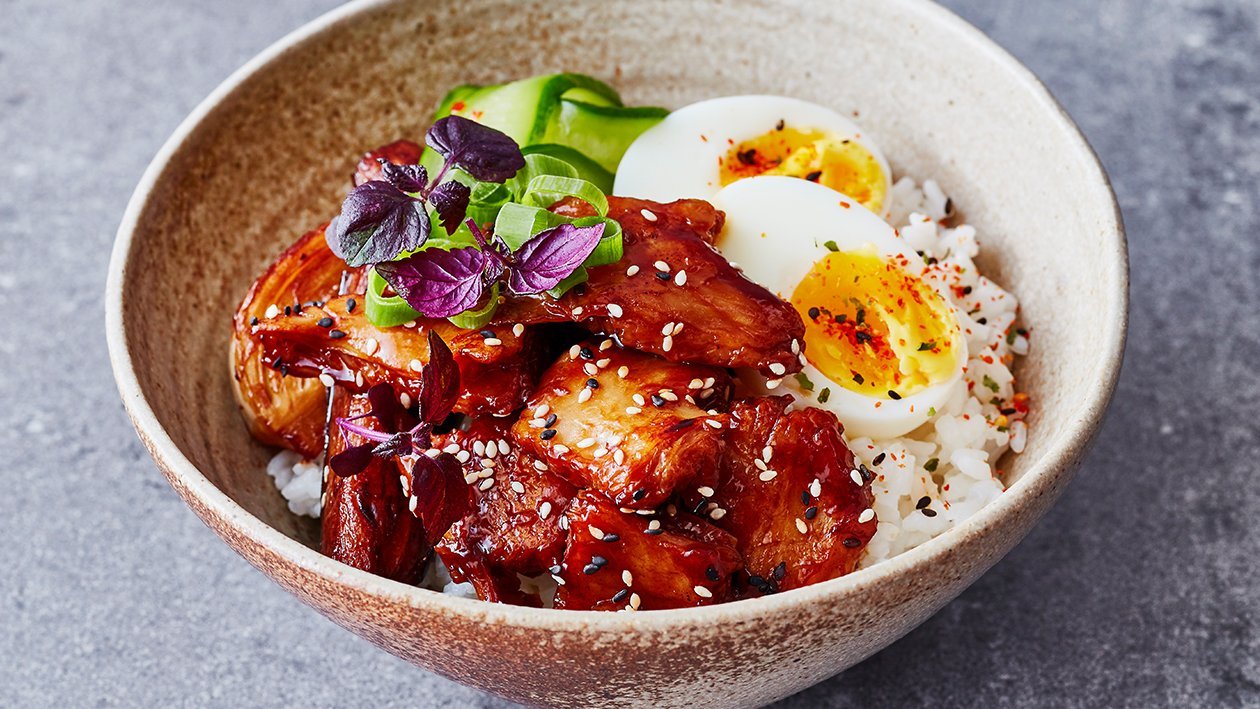 Ingrediënten
Rijst
Garnituur
Teryaki
Opmaak
zoet zure mini komkommer*

200 g

bosui, ringen gesneden

100 g

shiso purper cress

0.5 bakje

geroosterde sesamzaadjes

20 g

togarashi, Japans kruidenmengsel

1 g
Bereiding
Rijst

Kook de sushi rijst in 9 dl water beetgaar. Breng de gekookte sushirijst op smaak met wat sushi rijst azijn.

Garnituur

Snijd de aubergine in batonettes, kruid ze met wat peper en bak ze bruin in wat olie. Voeg de sojasaus toe en gaar de aubergine rustig verder onder een deksel of in de oven. Kook de eieren, pel ze en halveer ze.

Teryaki

Bak de vegetarische kipstukjes, bij voorkeur ontdooid, in wat olie bruin en voeg op het laatste moment de teriyaki saus toe.

Opmaak

Schep de rijst in de kommen. Verdeel de aubergine samen met de komkommer, eieren en de vegetarische teriyaki over de bowls. Maak het geheel af met de bosuitjes, shiso, sesamzaad en wat togarashi.