Rendangburger
Een hamburger maken kan vrijwel iedereen. Maar probeer deze klassieker eens te combineren met een ander traditioneel recept; zoals Indonesische Rendang. De zelfgemaakte Boemboe geeft je burger die heerlijke kruidige Aziatische smaak.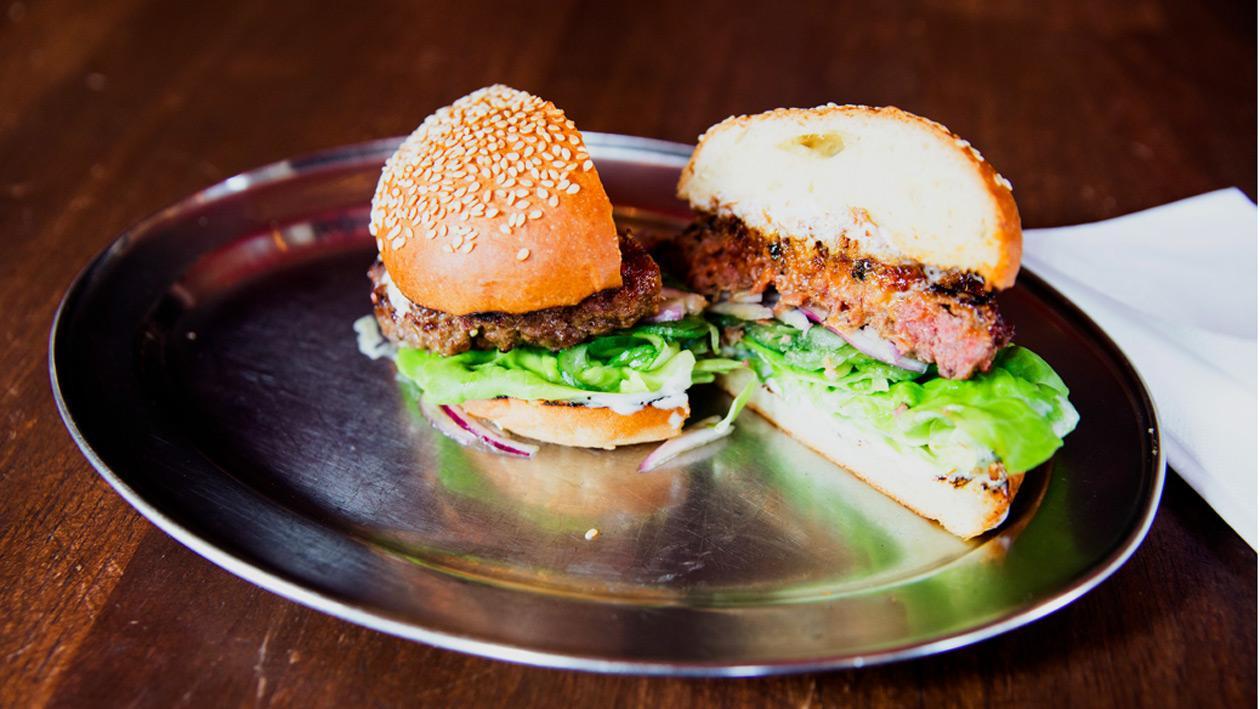 Ingrediënten
Kokosmayonaise
Zoetzure komkommer
rode peper zonder zaad

0.5 stuks
Kruidenpasta
kemirienoot, geraspt

0.5 st
Opmaak
Bereiding
Kokosmayonaise

Giet de kokosmelk samen met het limoenblad en de citroengras in een kleine kookpan en kook deze in tot er ongeveer een derde van de melk overblijft. Laat het mengsel afkoelen. Als het afgekoeld is, verwijder het limoenblad en de citroengras. Voeg dezelfde hoeveelheid mayonaise toe (ongeveer 100 ml / 3à 4 eetlepels). Voeg wat limoensap toe naar smaak.

Zoetzure komkommer

Doe het water, de natuurazijn, suiker, gember en rode peper in een kleine kookpan. Breng aan de kook, vuur uit en dan vijf minuten laten staan. Haal van het vuur en giet het nog warme vocht over de komkommer. Laat afkoelen.

Kruidenpasta

Hak alle ingrediënten van de kruidenpasta in grove stukken en meng door elkaar. Doe het mengsel in een kleine pan en bak op middelhoog vuur, ongeveer twee minuten. Roer voortdurend goed door. Zet de kruidenpasta aan de kant en laat afkoelen. Eens afgekoeld, vermaal de pasta in een vijzel of keukenmachine tot een glad geheel.

Burgers

Snijd het witbrood in stukjes van ongeveer een halve cm en meng met het ei, de ketjap en de afgekoelde kruidenpasta. Doe het gehakt erbij en meng goed. Verdeel het gehakt in vijf of zes stukken en kneed elk stuk tot een hamburger van gewenste grootte. Dit kan bijvoorbeeld in vijf stukken van ongeveer 180 gram. Bestrooi de geknede hamburgers met peper en zout naar smaak. Als je een houtkoolgrill hebt, bak ongeveer twee minuten aan beide kanten boven de grill, smeer er vervolgens een laagje sambal overheen en bak daarna voor garing vier minuten in de oven. Als je geen houtskoolgrill hebt, bak de burger op middelhoog vuur, ongeveer drie à vier minuten aan beide kanten. Smeer de burgers na het bakken in met een laagje sambal als je van pittig houdt.

Opmaak

Besmeer beide broodhelften met kokosmayonaise en beleg de onderkant met sla. Leg daarop de in dunne ringen gesneden rode ui, gevolgd door de zoetzure komkommer. De burger kan hier bovenop. Bestrooi de burger vervolgens met seroendeng en leg daar de andere broodhelft bovenop.