Pasteitje van Noordzeevis
Dit klassieke pasteitje kan zowel als voor of als hoofdgerecht geserveerd worden.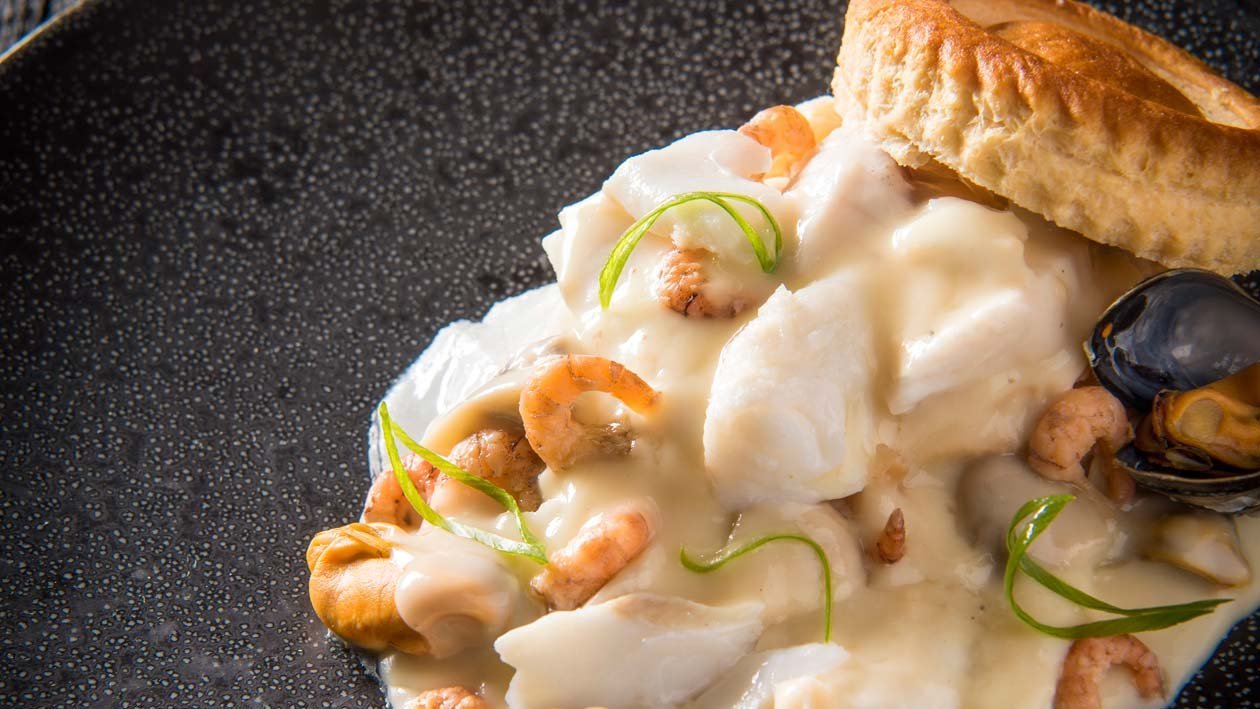 Ingrediënten
Ragout:
Parijse champignons, in vieren gesneden

3.75 kg

scholfilet zonder vel , in stukken

2 kg

kabeljauw, in stukken

2 kg

wijtingfilet, in stukken

2 kg

mosselvlees gekookt, uit de schelp

2 kg
Aardappelpuree:
Opmaak:
Bereiding
Ragout:

Breng het water en de witte wijn aan de kook en voeg de Visfond toe. Bind met de Roux tot de gewenste dikte en voeg de room toe, breng verder op smaak met Geconcentreerde Visbouillon, de 3 Peperspuree en citroensap. Kook de champignons in water met wat citroen, giet af en voeg toe aan de bereiding. Stoom de vis en mosselen op 70°C en voeg deze bij de ragout.

Aardappelpuree:

Breng het water aan de kook en voeg van het vuur de Aardappelpuree toe. Werk deze verder af met roomen boter. Breng verder op smaak met nootmuskaat, peper en wat visbouillon.

Opmaak:

Verwarm de pasteitjes, vul deze met de ragout, bestrooi de ragout met de grijze garnalen en de peterselie. Dit serveren we als hapje of snack. Laten we het pasteitje weg, en serveren het als ragout, met de aardappelpuree en worteltjes als hoofdgerecht.