Lamsfilet met bietjes en zoete aardappel en peperjus
Salad pea of creazy pea heeft een subtiele smaak van verse rauwe doperwten. De smaak is  zoet en nootachtige en heeft een knapperige bite.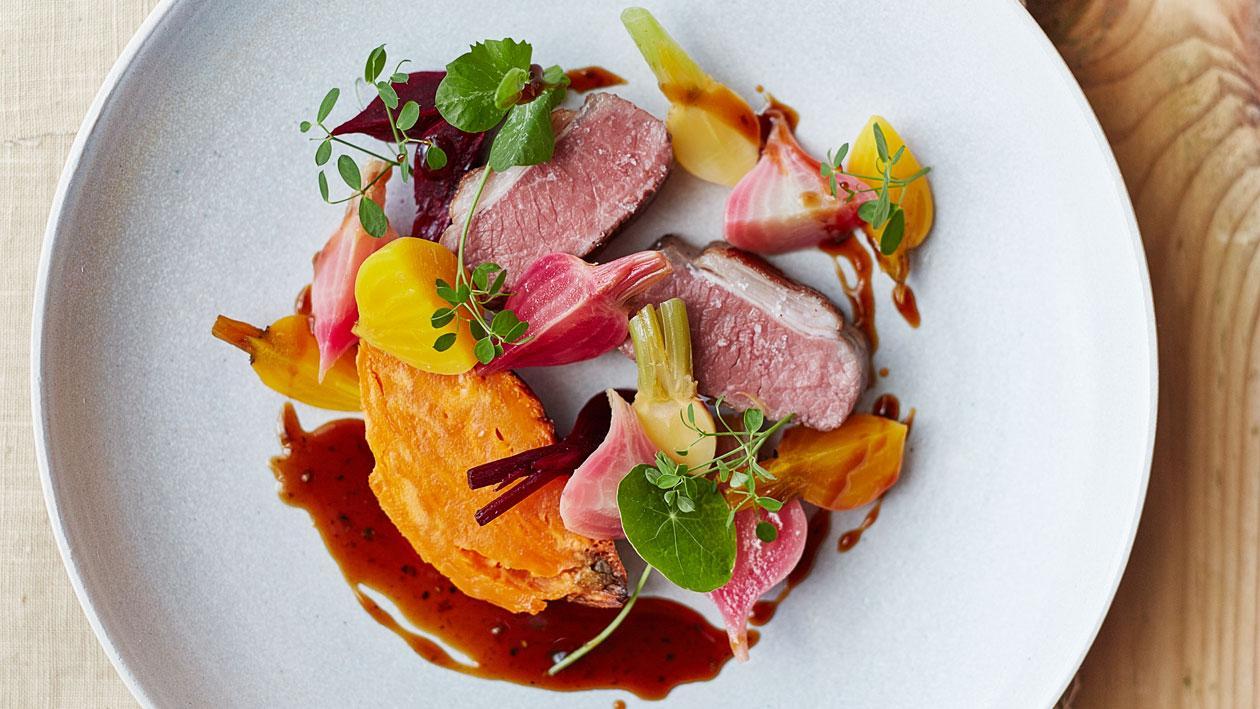 Ingrediënten
Zoete aardappels
Bietjes
Lam en peperjus
Opmaak
Bereiding
Zoete aardappels

Was de zoete aardappels en prik ze in. Pof de zoete aardappels op ca 200 ºC gedurende ca. 60 minuten op een rooster in de oven. Halveer de zoete aardappels en lepel ze uit of pel ze.

Bietjes

Was de bietjes en schil ze. Trek de bietjes per soort vacuüm met wat sinaasappelsap, boter en zout en peper. Kook de bietjes naar gelang de grootte ca. 60 minuten op 100 ºC stoom in de combi steamer. Haal de bietjes uit het vacuüm, halveer ze en stoof ze nog even op in het kookvocht

Lam en peperjus

Kruid ze de lamsfilets met zout en peper en bak ze mooi rosé in wat boter. Haal ze uit de pan en houd ze warm. Zet de sjalot aan in de pan en voeg de peperpuree toe. Blus het geheel af met de appelsap, voeg de kalfsjus toe en reduceer het geheel iets. Snijd de lamsfilets in mooie plakjes

Opmaak

Leg de gesneden lamsfilet samen met de gepofte aardappel en de bietjes speels op het bord. Schep de saus erbij en garneer met wat takjes crazy pea.