Je kunt er natuurlijk voor kiezen om de soep al volledig te garneren. Maar het geeft je gast extra beleving als hij zijn soep zelf naar wens op smaak kan maken. Serveer een plank met de kom soep en verschillende garnituren in schaaltjes erbij. Zorg voor verschillende structuren en typen ingrediënten zoals knapperige groenten, verse kruiden, cressen en croutons. Of kies vlees of vis als extra smaakmaker. Mosterdsoep gaat bijvoorbeeld goed samen met uitgebakken spekjes, preiringetjes en verse koriander.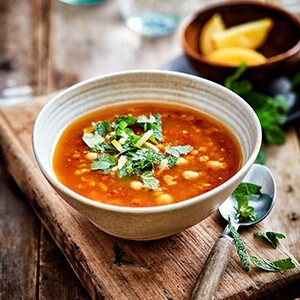 Marokkaanse Harira
In Marokko is het tijdens de ramadan de traditie om deze rijk gevulde maaltijdsoep te eten bij het verbreken van het vasten. Door de combinatie van ingrediënten – vaak zijn dat in ieder geval tomaten, kikkererwten, linzen en selderij - vult de soep goed en is hij erg smaakvol. Tip: Serveer de soep met fijngesneden koriander en voeg voor extra structuur geroosterde kikkererwten toe. Ook stukjes dadel geven een bijzondere smaakcombinatie. (vegetarisch) Bekijk hier het recept!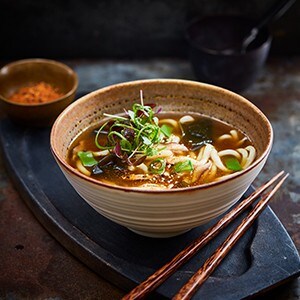 Japanse Soep
Deze Japanse Soep haakt aan op de trend om gasten een smaakvolle bouillon te serveren die ze verder personaliseren met verschillende verse ingrediënten. Denk hierbij aan shiitake, een gekookt eitje, bosui, paksoi, babymais en taugé. Maar ook reepjes rundvlees, verse zalm en tofu behoren tot de mogelijkheden. De soep heeft zeewier, miso en sojasaus als smaakmakers. Tip: door ook noedels toe te voegen, maak je van de bouillon een maaltijdsoep (veganistisch, uiteraard afhankelijk van de garnituur) Bekijk hier het recept!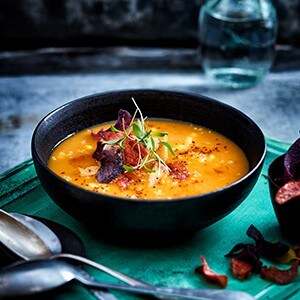 Peruaanse Zoete Aardappelsoep
Deze volle soep is gemaakt van Peruaanse zoete aardappel, aangevuld met een garnituur van quinoa en mais. De soep wordt gebonden door de zoete aardappel, waardoor deze geschikt is voor gasten met een glutenintolerantie of -allergie. Tip: Garneer deze soep met cashewnoten, gegrilde courgette, zwarte boontjes en blokjes feta. (vegetarisch) Bekijk hier het recept!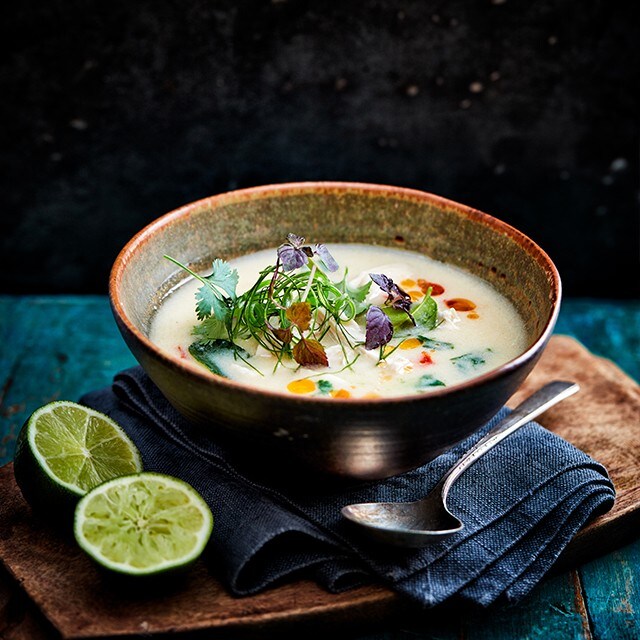 Thaise Tom Kha Kai
Tom Kha Kai betekent letterlijk Kip galangal-soep. In Thailand eten ze deze soep als maaltijd met een bordje pandanrijst ernaast. Het is een frisse en romige Thaise soep op basis van kokosmelk, galangal (familie van de gember), kaffir limoenblad en koriander. Voeg verse garnituren zoals (gefrituurde) Spaanse pepers, bamboescheuten, champignons, en stukjes gegaarde kip toe. Tip: Strooi als laatste wat koriander over de soep voor extra smaak en kleur. Bekijk hier het recept!