Het zijn onrustige tijden. De nieuwe maatregelen zorgen opnieuw voor nieuwe uitdagingen. Maar wat niet hoeft te veranderen is het bieden van dezelfde service en kwaliteit. Want gastvrijheid heb jij, als chef-kok in je hotel, vanzelfsprekend hoog in het vaandel.
Je kunt je gasten nog steeds in de watten leggen. Het kan zelfs de hele dag door. Met een efficiëntere manier van werken en een flexibele instelling kan je dezelfde service en kwaliteit bieden. Daarom helpen we je graag op weg met handige tips: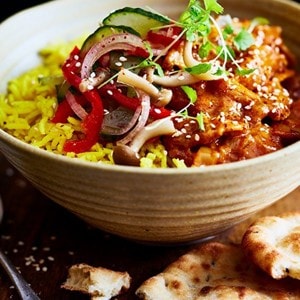 1. Het voeren van een compacte menukaart
Voer een kleine kaart zodat je je kunt focussen op de kwaliteit van je gerechten. Daarnaast zorgt een compacte kaart voor minder waste, sneller werken en een bredere inzetbaarheid. Denk aan meer roomservice of een take-away balie.
Zorg voor slimme cross-overs tussen de gerechten en laat bepaalde ingrediënten terugkomen. De saus van de kippenvleugeltjes gaat bijvoorbeeld ook op het broodje van de hamburger. De geroosterde biet of pompoen van de herfstsalade gebruik je ook als ingrediënt in de pickles voor bij de borrelplank of op de flammkuche Denk ook aan items die je inzet voor de lunch om te gebruiken voor het diner. Klik hier voor receptinspiratie.
Kies voor gerechten die makkelijk zijn voor te bereiden en in te vriezen, zoals curries en soepen. Deze gerechten zijn met wat simpele garnituren snel af te maken en ideaal voor gasten die laat arriveren. Klik hier voor receptinspiratie voor de populaire vegan Tikka Masala.
Gebruik je website om je roomservice nog beter onder de aandacht te brengen. Vanwege het lager aantal gasten kun je door goede, snelle roomservice juist iets extra's bieden.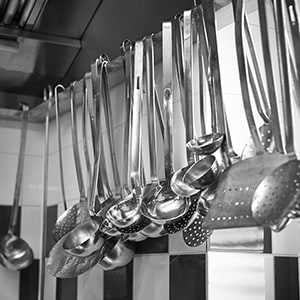 2. Voorbereiding in de ochtend geeft lucht gedurende de dag
Pas je mise-en-place aan en zorg dat dat alle voorbereidingen in de ochtend worden gedaan. Op deze manier kan je de hele dag door maaltijden aanbieden. Van ontbijt tot brunch en late night snack.
Zo hoeft het keukenpersoneel niet de hele dag door beschikbaar te zijn en kan ook het barpersoneel of bedienend personeel kleine gerechten afmaken. Denk daarbij aan het samenstellen van een borrelplank, of een curry opwarmen en afmaken met simpele garnituren. Klik hier voor receptinspiratie!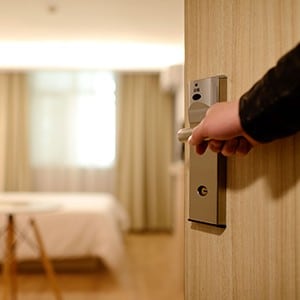 3. Benut de ruimtes in je hotel anders
Het binnenlands toerisme zal blijven groeien. Tijdens de vakantie in eigen land willen gasten zich kunnen ontspannen, plezier maken en verwend worden.
Hoe kan jij inspelen op deze kans?
Omdat thuiswerken nu weer verplicht is, zal de vraag naar werkruimtes stijgen. Via een site als voordethuiswerkers.nl kan je hotelkamers op deze manier aanbieden. Denk daarbij ook aan het toevoegen van extra aankleding en bijv een koffie/thee of luncharrangement.
Eerder zag je al initiatieven waarbij roomservice meer werd aangekleed. Probeer je hierin te onderscheiden. Bijvoorbeeld met de aankleding van de kamer, een extra luxe ontbijtoptie, of een geheel 4-gangen diner. Denk ook aan de mogelijkheid om een barman met mobiele cocktailbar te bestellen die speciaal voor de gast aan het shaken gaat. Ook valt te denken aan de samenwerking met lokale restaurants of chefs om een extra service te bieden.
Nu er minder boekingen voor de feest- en vergaderzalen zijn, kan je deze ruimtes ook anders benutten. Bijvoorbeeld door de samenwerking te zoeken met lokale horeca en hen te helpen hun overschotten te verkopen, en voor de gasten een lokale food market te organiseren. (indoor of outdoor)