Shoarma van knolselderij met gezouten citroen en chipotle
Onze variant naar een bereiding van Noma's Rene Redzepi. Een shoarma van knolselderij die zowel aan het spit als in de oven bereid kan worden.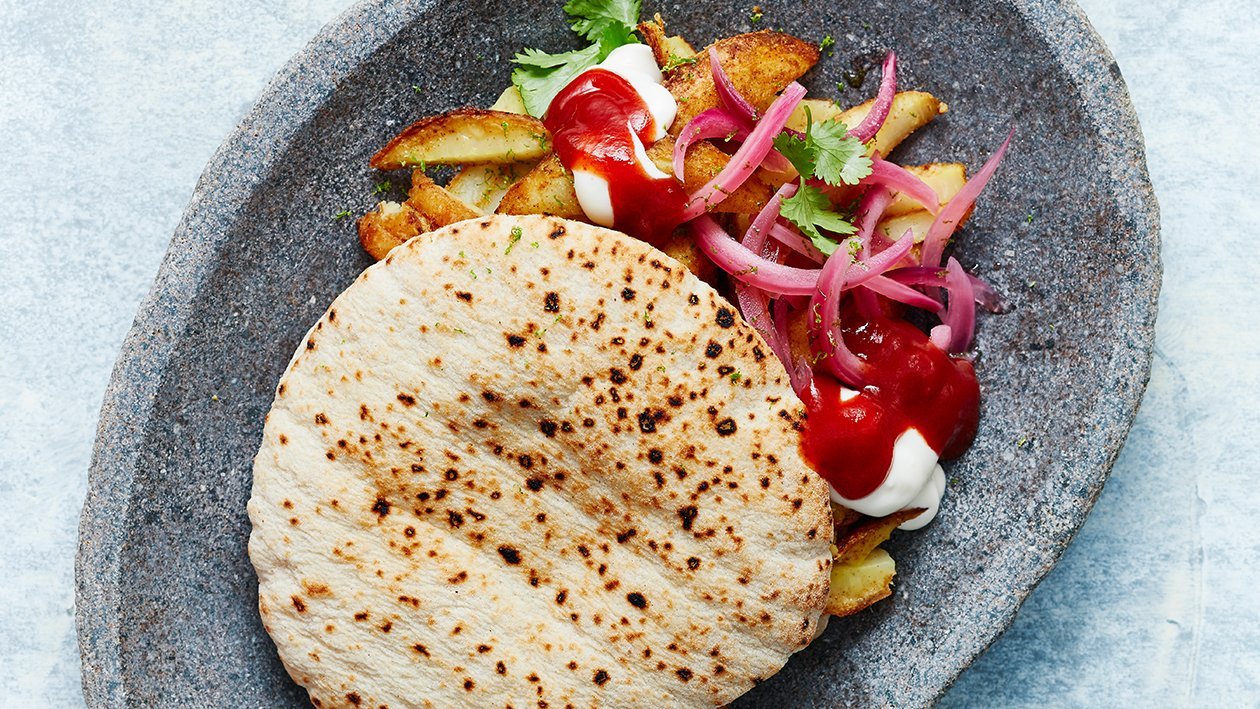 Ingrediënten
Knolselderij:
Zoetzuur:
Yochurt mayonaise:
Griekse yoghurt of zure room

75 g

gezouten citroen (ragfijn gesneden)

5 g
Hellmann's ketchup:
chipotle peper puree (gerookte peper)

10 g
Garnituur:
Opmaak:
Bereiding
Knolselderij:

Was de knolselderij en bereid de groentebouillon. Kook de knolselderij gedurende 1 uur in de groentebouillon. Laat de knollen afkoelen in de bouillon. Snijd de knolselderij in plakken op de snijmachine (dikte 21). Meng de shoarmakruiden met de gelburger. Bestrooi de plakken met wat van het shoarmakruiden mengsel en bouw de knolselderij weer op. Doe de boter in een pan en laat deze smelten. Bestrijk de knollen met de gesmolten boter en braad ze in de oven op 170ºC . Arroseer de knollen tijdens het braden met de boter en braad ze bruin. Snijd de buitenste laag van de knol en zet de aangesneden knol weer terug in de oven. Herhaal het arroseren met boter en braad, snijd totdat de knollen op zijn.

Zoetzuur:

Breng de sushiazijn met de suiker, gember en citroengras aan de kook. Snijd de rode ui in reepjes, doe ze in een bakje en giet het azijnmengsel erop. Koel het geheel terug.

Yochurt mayonaise:

Meng de ingrediënten voor de mayonaise.

Hellmann's ketchup:

Meng de ingrediënten voor de ketchup.

Garnituur:

Snijd de koriander grof.

Opmaak:

Rooster de pita broodjes in een tostiapparaat of grill en snijd ze aan de bovenkant in. Bak de knolselderij nog even op en rasp er eventueel wat limoen over. Vul de pita broodjes met de shoarma en maak ze af met de sauzen, rode ui zoetzuur en wat koriander. En serveer ze in bijvoorbeeld een koffiefilter zakje.