Chefs uit heel de wereld zijn geïnspireerd door de authentieke smaak van streetfood en creëren hun eigen versies. Lees verder om meer te weten te komen over deze dynamische beweging in de markt.
De magie van streetfood
Het culinaire niveau van streetfood is enorm gestegen en wordt zelfs erkend door Michelin. Waarom is streetfood zo populair en waarom stappen steeds meer chefs erop over?
Streetfood is een bruisende trend binnen foodservice; het belang ervan wordt zelfs door Michelin erkend. In hun Hong Kong gids 2016 hebben ze zelfs een categorie streetfood toegevoegd om de lokale culinaire aanbod in de kijker te plaatsen. De kooktradities en ingrediënten van daar, alsook hun authentieke smaak, zijn een grote bron van inspiratie voor chefs. Treffende smaken worden omgevormd tot elegantere gerechten. Een zware pindasaus wordt een subtiele roomsaus, een rustieke empanada komt verfijnder over met een vulling van gestoofde octopus.
Streetfood is "what you see is what you get". Het is eenvoudig en rechttoe rechtaan en dat is precies wat mensen tegenwoordig willen. Ze zijn niet meer geïnteresseerd in ingewikkelde gerechten met veel ingrediënten. De gebroeders Adrià hebben dit goed begrepen toen zij hun wereldberoemde moleculaire restaurant El Bulli sloten en een reeks succesvolle ongedwongen restaurantconcepten openden in Barcelona, zoals Tapasbar Tickets, of het 'haute' Mexicaans restaurant Yauarcan. Zij bieden eenvoudige gerechten van hoge kwaliteit aan.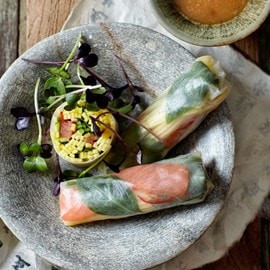 Streetfood is een heuse smeltkroes van exotische smaken en ingrediënten. Neem bijvoorbeeld de legendarische Amerikaans-Koreaanse chef David Chang, die zijn fine-dining ervaring combineerde met zijn kennis van Aziatische streetfood en nu een reeks succesvolle restaurants uitbaat in New York, waaronder de noedelbar Momofuku, de Momofuku Ko met Michelin sterren en de jongste telg, Fuku, een restaurant gespecialiseerd in broodjes met gebraden kip. De keuken van Chang is een culinair kruispunt waar gerechten worden geserveerd als Japanse eivla met cantharellen, Aziatische peren met bruine boter, of varkenskop met Thaise basilicum, meloen en Mexicaanse verse kaas.