Welke gerechten leveren het meeste op en welke het minste? Hoeveel tijd kost het maken van de gerechten? Hoeveel gerechten heb je op de kaart en zijn deze allemaal onmisbaar? En waar hebben jouw gasten behoefte aan nu ze weer bij je kunnen komen dineren? Geef je menukaart een opfrisbeurt die past bij de nieuwe economie. Zo ben je er klaar voor als de horeca straks weer opengaat. Onderstaande tips van onze chef Edwin van Gent (SVH Meesterkok en Culinair Adviseur bij Unilever Food Solutions) helpen je op weg: 

Stel een margerijke menukaart samen 
- Analyseer je menukaart: welke gerechten zijn hardlopers en welke leveren het meeste op? Neem in je nieuwe menukaart gerechten op die populair zijn én een hoge marge hebben.
- Kijk of je kunt besparen op inkoop, bijvoorbeeld door te werken met producten uit de droogvoorraad of de vriezer. Let daarnaast ook op aanbiedingen van je groothandel of op lokale schaal. Heeft de boer uit jouw dorp bijvoorbeeld oogst over? Neem contact met hem op. Zo help je de boer een handje en heb jij verse, lokale producten waar jouw gasten blij van worden.
- Door deze crisis hebben jouw gasten zich gerealiseerd wat ze missen. Houd daarom juist jouw klassiekers en signatuur gerechten op je nieuwe kaart. Dit is hetgeen waar ze terug voor zullen komen!

Efficiënt en snel 

- Daarbij kun je denken aan een kleine kaart waarbij de kans op weggooien geminimaliseerd wordt. Een kleinere kaart maakt kiezen voor de gasten makkelijker, waardoor je de doorloopsnelheid van een gast kan verkorten. Hiermee kan je een tafel op een avond meerdere malen bezetten en kun je ook vaker wisselen van menu om je gasten te blijven verrassen, zodat ze binnen korte tijd terug zullen komen. 

- Kijk naar snelle, efficiënte gerechten waarvoor weinig handelingen nodig zijn. Hierbij kunnen bepaalde basis-convenienceproducten een uitkomst bieden en jou veel tijd besparen. Denk daarbij aan kwalitatieve fonds, basissauzen en soepen.  

- Je zal wellicht je concept iets moeten aanpassen in verband met de nieuwe 1.5m economie. Bedenk bij elk gerecht hoeveel handelingen dit op het bord zijn en hoe dicht je op elkaar staat. Bij het maken van je menukaart is het belangrijk om te bekijken wie of welke partie verantwoordelijk is voor welke handelingen tijdens het servies.  Dit zodat niet iedereen op hetzelfde moment aan hetzelfde bord aan het werk is. Maak een goede route voor je gerechten en creëer daarin bijvoorbeeld een "treintje".

- Zorg ervoor dat alles op het bord een functie heeft, dit heeft als consequentie dat je wellicht minder garneringen en krokantjes zal toevoegen om het bord mooi te maken en jouw creativiteit los te laten. Ga hierin terug naar de basis.  

Ga voor gezond, lokaal en duurzaam

- Nu gezond eten nog belangrijker is geworden, is het goed om kritisch te kijken naar hoe 'groen en gezond' je menu is. Zorg dat groenten goed vertegenwoordigd zijn en je ook voldoende vegetarische gerechten aanbiedt. 

- Je gasten hebben na de crisis meer dan ooit behoefte hebben aan veiligheid. Serveer je gasten herkenbare klassiekers en houd het simpel. Speel in op de behoefte door klassiekers op je kaart te houden. Het stukje vlees of vis mag na deze periode wel iets kleiner en de portie groente groter. Denk daarbij ook weer aan herkenbare, lokale Hollandse groenten.

- Pas je menu aan naar seizoensgebonden ingrediënten die herkenbaar en wellicht goedkoper om in te kopen zijn. Zo kun je makkelijker gebruik maken van lokale producten als asperges en aardbeien van het land. 

- Bekijk welke (alcoholvrije) drankjes je op het menu kunt zetten – daarbij kun je ook denken aan het zelf maken van kombucha en kefir. Gezond, goedkoop en helemaal van deze tijd.

Bezorgmaaltijden een blijvertje?

Grote kans dat je bent overgegaan tot het maken van
afhaal- of bezorgmaaltijden
. Aangezien de markt van dit soort maaltijden zal blijven groeien, is het slim om alvast na te denken over hoe je een bezorg- of afhaalmenu kunt laten lopen naast je gewone menukaart.
Klik hier voor meer tips over bezorgmaaltijden
.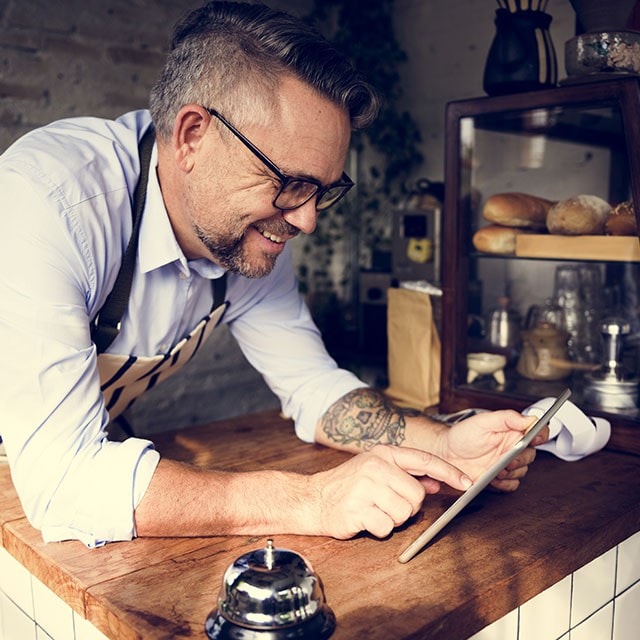 Blijf vooral in deze uitdagende tijden op de hoogte van de laatste tips & tricks. Ontvang automatisch verrassende receptinspiratie, trends en praktische tips, de nieuwste producten én unieke acties!
Inschrijven