Jaren geleden riepen we het uit tot de ultieme trend: bistronomie. Maar in tegenstelling tot de meeste trends die binnen no time weer overwaaien,
hield dit stand. Hoog tijd voor een update. Want kunnen we nog wel spreken over een trend, of is het al een stijl? We vragen het aan Jorik Degenkamp, chef-kok van Bistro Flores in Nijmegen.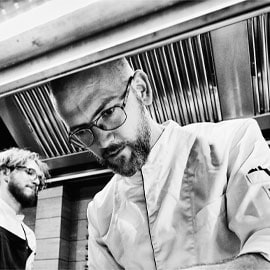 De term bistronomie wordt te pas en te onpas gebruikt. Wat is het volgens jou?
Het kenmerk van bistronomie is dat de gerechten betaalbaar zijn, maar van gastronomisch hoog niveau en creatief. Ze worden geserveerd in een ongedwongen sfeer. Daarbij draait het om een goede balans tussen ontspannen en correct. Dat geldt niet alleen voor de bediening, maar ook voor het interieur: natuurlijk is het leuk als je zaak een ruw randje heeft en zijn kristallen kroonluchters overbodig, maar we hebben wél comfortabele stoelen en goed glaswerk. 
Hoe verklaar je het enorme succes?
De kennis van eten is flink toegenomen. Mensen snappen wat er in een restaurantkeuken gebeurt, kennen verschillende bereidingstechnieken en hebben productkennis. Daardoor verwachten ze meer en zijn ze minder snel onder de indruk. Bovendien hebben ze geen zin meer om in een stijve sfeer te zitten. Ik merk dat bij mezelf ook: formele restaurants zijn misschien leuk voor een zakenlunch, maar in dat soort zaken zit ik niet voor mijn plezier. Daarnaast denk ik ook dat veel chefs hun brood niet meer konden verdienen met de ouderwetse manier van werken en belangrijker: er minder lol in kregen. Dat is ook niet zo gek. We hebben jarenlang eindeloos veel gangen geserveerd. Op een gegeven moment kun je niet verder, niet dieper, niet nóg uitgebreidere menu's gaan serveren. Dan kun je nog maar één kant op: terug. En dat sloeg aan – zeker bij de gasten. Want zo'n heel spektakel met 85 amuses is leuk, maar op een gegeven moment wil je gewoon een bord lekker eten.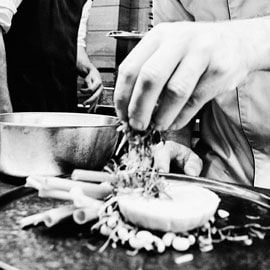 Hoe verschilt jullie manier van werken ten opzichte van die van sterrenrestaurants?
We koken losser, creatiever, intuïtiever. We richten ons minder op de klassieke Franse keuken en zitten daardoor veel minder in een keurslijf, werken vaak ook zonder receptuur. Dat laatste vind ik zelf heel prettig werken; als je met een receptenkaart in de keuken staat, loop je toch het risico dat je voorbij gaat aan hoe iets moet smaken. Daarnaast gebruiken we goedkopere producten dan sterrenchefs. Dat betekent niet dat we mindere kwaliteit inkopen, maar wel dat we een anders soort producten kiezen.
We werken van kop tot staart en gebruiken daarom ook minder courante delen. En we serveren bijvoorbeeld eerder schelvis dan tarbot. Dat moet wel, want betaalbaarheid en bistronomie zijn onlosmakelijk met elkaar verbonden - en je moet je marge ergens vandaan halen. Daarnaast zijn er bij ons vaak minder handelingen per bord dan in veel klassieke sterrenrestaurant. Daar ligt misschien wel de grootste uitdaging. Als chef heb je vaak de neiging om toch nog een krokantje of zuurtje toe te voegen. Je moet dus constant op de rem trappen. Inmiddels weet ik: als ik bij een gerecht dat ene extraatje mis, is het gewoon geen goed gerecht. Dan begin ik van voor af aan, vlieg ik er anders in. Dat moet ook wel: bij bistronomie kun je je niet verschuilen achter bloemetjes en streepjes.
Bestaat bistronomie over vijf jaar nog?
De stijl wel, maar de term denk ik niet meer. Het is namelijk allang geen trend meer; bistronomie is de nieuwe basis. Natuurlijk zullen er altijd toprestaurants blijven bestaan die op een vierkante centimeter een pirouette proberen te maken, en dat is fanatisch. Maar voor alle zaken die onder dat niveau zitten, is bistronomie de norm geworden. Want nu mensen hebben gezien dat je ook echt goede en creatieve gerechten kunt eten voor relatief weinig geld, kom je niet meer weg met minder. Kortom: bistronomie is de nieuwe standaard en daarmee de trend voorbij.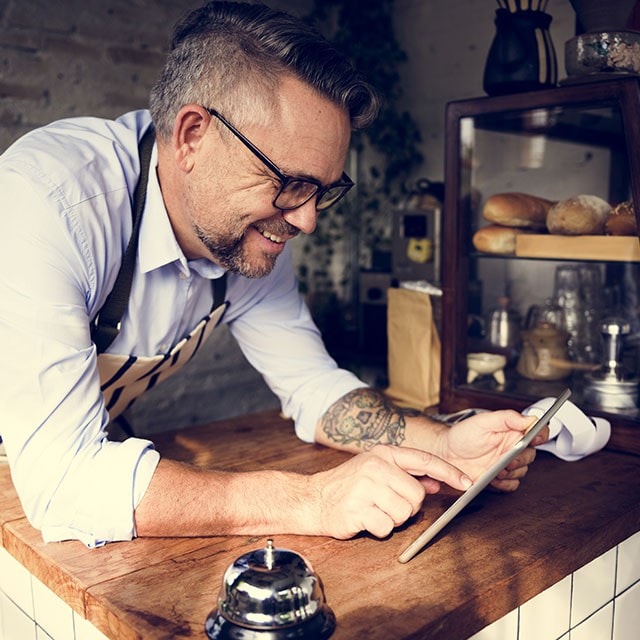 Op de hoogte blijven? Schrijf je in voor onze gratis nieuwsbrief.
Schrijf je nu in