Eenzaamheid onder ouderen is een groot probleem, denk mee als chef!
Unilever Food Solutions en Frans Gerrits richten zich weer helemaal op de zorg markt in Nederland. We hebben veel interviews gehouden onder chefs in de zorg markt om een beeld te krijgen wat er nu echt nodig is. We gaan nu alles uitwerken maar als eerste hebben we nu een leuke inspiratie brochure vol nieuwe recepten. Download hem nu snel hieronder!
Kippencrèmesoep, stevige gehakt- schotels en broodpuddingdesserts.  Namens Unilever Food Solutions  inspireer ik u graag met de recepten uit de brochure. Want eten is feest!
Bekijk de tips

De sociale functie van het restaurant in de instelling groeit
Van de 75- tot 85-jarigen voelt bijna 50 procent zich emotioneel eenzaam. De verwachting is dat het aantal eenzame mensen de komende jaren zal stijgen. Meer dan ooit wordt er een beroep gedaan op chefs. Allereerst om een voedzame maaltijd te serveren, maar ook op sociaal vlak. Want eten verbindt.

Van eetmoment naar feestmoment
Als chef kun je verwennen én verbinden. Organiseer bijvoorbeeld een high tea, brunch of een bakworkshop. Hiermee kun je de bewoners in de watten leggen en het contact onderling versterken. Bovendien melden bewoners van de nabijgelegen aanleunflats of zorgwoningen zich makkelijker aan bij dit soort activiteiten. Laat het restaurant een culinaire ontmoetingsplaats zijn want als chef kun je verwennen én verbinden.
Organiseer bijvoorbeeld een high tea of presenteer de eerste asperges of de nieuwe haring geheel in stijl. Nodig familie en buurtbewoners uit en maak er een gezellige middag of avond van. Organiseer deze bijeenkomsten samen met de activiteitenbegeleiding en de restaurant medewerkers en vrijwilligers. Zo is er nog meer draagvlak om dit initiatief tot een gezamenlijk succes te maken. Zoals bijvoorbeeld Martijn Bloos, chef van Grand Café de Swaen bij zorghotel de Wartburg in Utrecht. Hij organiseerde vorig jaar een aspergemenu op locatie. Zijn reactie: "Eten verbindt. De gasten genieten samen, de mensen eten gezond – ook heel belangrijk – en hebben gewoon een heel leuke avond." Andere thema's die Martijn Bloos aanraadt zijn:
Musicalmenu
Laat muzikanten tijdens het eten de grootste hits uit bv The Sound of Music ten gehore brengen. Serveer een proeverij, zodat er genoeg ruimte is om mee te zingen.
Tour de France
Speel in op de actualiteit. Serveer tijdens de Tour de France een menu passend bij de streek waar de etappe gehouden wordt. Begin in Normandië en zak af naar de Middellandse zee. Zo reis je als ware met de renners mee.
Storytelling
Laat een verhalenverteller tijdens het eten de mooiste mythen, sprookjes en legenden vertellen. Gaan de verhalen over Parijs? Stem het eten er op af. Nodig bv ook een lokale accordeonist uit voor de muzikale ondersteuning of werk samen met de lokale muziekvereniging.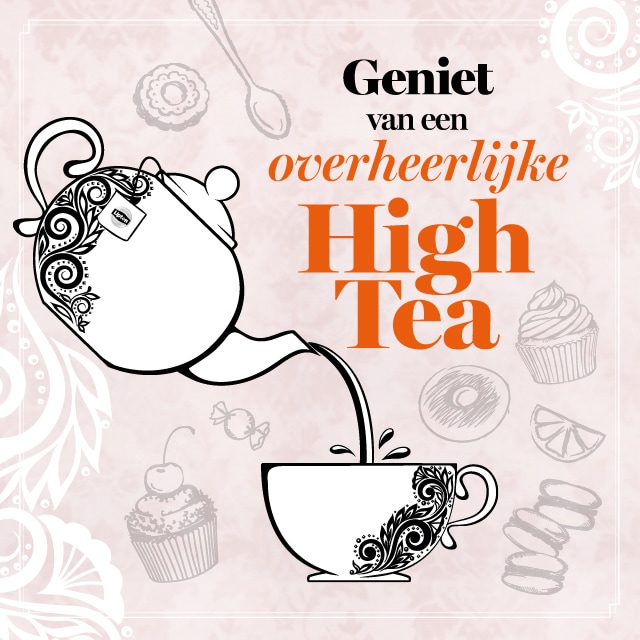 Verras je gasten – en hun familie en vrienden – en pak eens uit met een gezellige high tea. Direct een goede manier om extra bezoekers aan te trekken.
Lees meer