De manier waarop we wonen, werken, vergaderen en eten verandert. En dat heeft gevolgen voor het aanbod in de horeca. Ook op het gebied van banqueting. We werken niet meer in het ritme van negen tot vijf. We spenderen onze werkdagen vaak niet meer op een vaste plek op kantoor. Werken, leven, leren en ontspannen, het loopt allemaal door elkaar.
Al die ontwikkelingen maken dat we ons steeds minder aantrekken van de traditionele onderverdeling in ontbijt, lunch en diner. Wij eten als het ons uitkomt, vaak on the go en soms wel zes keer op een dag kleinere hoeveelheden. Hoe kun je deze gasten goed bedienen met je banqueting?

Flexibel
One size? Doesn't fit all. De ene gast kiest voor een stevig ontbijt met donkerbruin brood. De ander eet juist zes keer per dag iets lichts met trage koolhydraten om de hele dag door scherp te blijven. En de volgende kiest voor een soepsmoothie om zijn dagelijkse portie binnen te krijgen. Wat werkt, is heel persoonlijk. Daarom moet het banquetingaanbod dat ook zijn: veel afwisseling en een goede balans in soorten en maten. Zorg dus voor zoet én hartig, grote en kleine porties en voor direct nuttigen en to-go-opties.

Keuzevrijheid
Meer dan drie eetmomenten op één dag vraagt om een nieuwe banquetingmap. Het standaard aanbod van breaks en buffetten is niet toereikend om de moderne gast tevreden te stellen. Iedereen wil graag dat er rekening gehouden wordt met zijn of haar eigen, persoonlijke ritme. Dat betekent meer en kleinere eetmomenten. Biedt daarom meer combinatiemogelijkheden en bijvoorbeeld de hele dag door ontbijtopties. Zo krijgt de gast een aanbod op maat.
All day everything
Het ontbijt is de belangrijkste maaltijd van de dag. Daarom zou je het dus de hele dag door moeten kunnen bestellen. Overal duiken all-day breakfast en brunchzaken op in het straatbeeld. Dat is ook voor banqueting een belangrijke ontwikkeling. Net als de grote keuzes uit kleinere porties van de streetfood- en food truck-trends. Gasten van nu willen kunnen kiezen wát ze willen, wannéér ze dat willen. Bied bijvoorbeeld de hele dag door je populairste ontbijtgerechten aan of laat je inspireren door de wereldse kleine gerechtjes en snacks van hippe foodtrucks. Wat dacht je van een hotdog to-go? Of een gezonde wrap tijdens een break?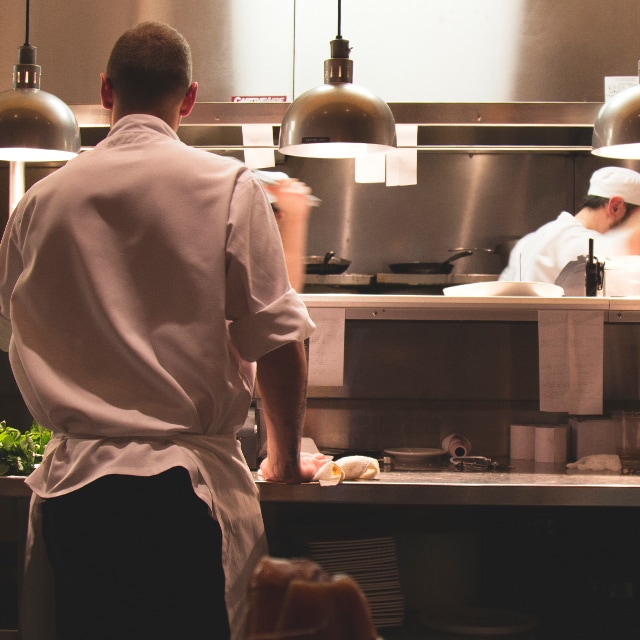 Ontdek hoe je met deze 6 trends en tips helemaal klaar bent voor de toekomst.
Ga naar de trends