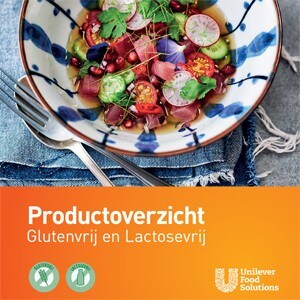 Bekijk ons gluten- en lactosevrije assortiment
Een handig overzicht in het geval je ingrediënten zonder gluten of lactose zoekt.
Download de brochure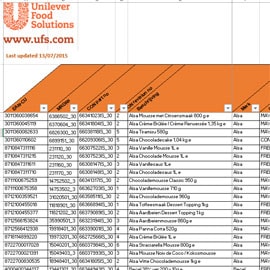 De 14 allergenen in UFS producten
Excel-bestand is een filter van bepaalde gegevens (14 wettelijk verplicht te declareren allergenen) uit de GS1-databank. Deze informatie wordt regelmatig aangepast.
Free from: allergeen x zit niet in ingrediënten
May contain: geen wettelijk verplichte, maar wel belangrijke waarschuwing voor kruisbesmetting met allergeen x
Contains: allergeen x zit in de ingrediënten
Glutenfree: product bevat minder dan 20 ppm gluten per onbereid product (ppm : mg gluten/kg product), en is glutenvrij
Lactosefree: product bevat minder dan 2,5 mg/100 kJ or 10 mg/100 kcal lactose in finale product
Download het allergenenoverzicht
Deze informatie wordt verleend door Unilever Food Solutions, en is bedoeld om je te helpen de Verordening Voedselinformatie voor Consumenten die op 13 december 2014 van kracht gaat, te begrijpen. Deze website is met zorg samengesteld. Unilever Food Solutions staat er echter niet voor in dat de website geen informatie bevat die onjuist, verouderd of incompleet is. Er kunnen geen rechten aan de informatie op deze website worden ontleend. Unilever Food Solutions is niet aansprakelijk voor schade die is of zou kunnen ontstaan als gevolg van (in)direct gebruik van informatie op deze website.