Festivals en markt hallen
Genieten van streetfood kan tegenwoordig op steeds meer plekken in Nederland. Foodtrucks blijven vooralsnog buiten het centrum van steden op food festivals, zoals Rollende keukens in Amsterdam en TREK in de grote steden.
Maar ook op bestaande culturele festivals wordt streetfood steeds belangrijker. Naast een goede line-up met artiesten, verwachten bezoekers ook een bomvol programma met kwalitatief streetfood.
Foodies kunnen ook hun culinaire hart ophalen in de overdekte markthallen in Amsterdam en Rotterdam. De markthal in Rotterdam is de eerste overdekte versmarkt in Nederland. Het dak van de markthal wordt gevormd door een boog waarin zich 228 appartementen bevinden. De Markthal biedt in 96 versunits en 20 winkel- en horeca-units plaats aan vers- en horecaondermers, van Rotterdamse ondernemers en marktkooplieden tot namen zoals Schmidt Zeevis, Dudok, Fellini en Wah Nam Hong. Het aanbod dat zij brengen is gevarieerd: van dagverse vis tot bijzonder gevogelte, van ijscokraam tot streekproducten, van goedkoop tot exclusief.
De foodhallen in Amsterdam zijn gevestigd in de voormalige tramremise De Hallen. In de hallen is plek voor ongeveer 20 tot 25 ondernemers. Bekende namen uit de festivalwereld, zoals Bulls & Dogs, The Rough Kitchen en Meneer Tamaki serveren hier dagelijks overheerlijks streetfood. In het midden van alle stands staat een grote bar.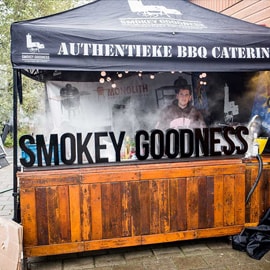 Barbecueën, een vak apart
Jort Althuizen en Derk van Westenbrugge van Smokey Goodness serveren avontuurlijke gerechten met smaken die ze in de VS ontdekten. Dit duo laat het vuur op de streetfoodfestivals oplaaien.
Intens, ongepolijst en met een ruig randje. De ondernemers ervaarden barbecueën in de VS als een authentieke belevenis die ze graag wilden delen met Nederland. In 2010 startten de twee hun cateringbedrijf, met hun 'wilden westen'-ervaring als belangrijke drijfveer. Althuizen verteld zonder omwegen. "Uitgangspunt was een cateringbedrijf vorm te geven waar we zelf graag te gast zouden zijn." Als twee cowboys probeerden zij ons land te veroveren met hun filosofie 'barbecue is een belevenis'. Efficiëntie kwam pas op de tweede plek.
Smokey Goodness werkt uitsluitend met duurzame producten van ambachtelijke oorsprong die met de hand bewerkt worden. "Onze inkoop is duurder dan gemiddeld, maar net zoals in de restaurantkeuken begint de kwaliteit bij de beste ingrediënten", motiveert Derk hun aanpak.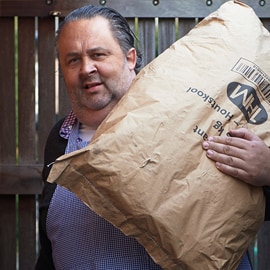 Eenvoudig en herkenbaar
Televisiekok en ondernemer Julius Jaspers laat zich inspireren door streetfood. In zijn restaurant Julius Bar & Grill in Amsterdam kom je bijvoorbeeld Vietnamees spek en oosters gemarineerde kippenboutjes tegen. Ook de sauzen in de plastic spuitflessen op tafel zijn duidelijk door 'eten op straat' geïnspireerd. 
"Streetfood kenmerkt zich door een of twee basis ingrediënten die op een eenvoudige manier op smaak worden gebracht. Het resultaat: eenvoudige en herkenbare gerechten. En dat is precies wat de mensen nu willen. We zijn de schilderijtjes met 35 verschillende ingrediënten zat," aldus Jaspers.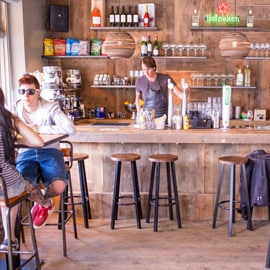 Haute Dogs
Eén van de eerste chefs die het roer volledig omgooide was Ron Blaauw. De topkok die zijn tweesterrenzaak transformeerde tot Gastrobar serveert nu uitsluitend eenvoudigere gerechten.
"De sterrenchefs van vijf jaar geleden keken neer op jongens die normaal aan het koken waren. Nu zijn de rollen omgedraaid: er is steeds meer respect voor de eenvoud. De gast heeft het gevoel: dit kan ik thuis ook. Dat vinden veel mensen op dit moment prettig. Logisch dus, dat streetfood steeds meer aandacht van chefs krijgt."
Blaauw opende mede daardoor in het voorjaar van 2014 The Fat Dog in de Amsterdamse Pijp. Blaauw: "Het is een cocktailbar en hotdogtent in één; the best of both worlds. De worst die wij gebruiken is ambachtelijk gemaakt door mijn slager in Ouderkerk aan de Amstel. Ons broodje worst heeft niets te maken met de hotdogkarren die je in Amsterdam op straat ziet; ik wil laten zien dat het ook op een ander niveau kan."