Twee stukken brood. Een stuk vlees ertussen. Klaar. Niks klaar! Een hamburger is veel meer. Er is het groen en al de extra's ertussen die je kunt verzinnen. Van de simpele krop- of ijsbergsla + tomaat uit de jaren 80 tot de bonte potpourri van zwarte bonen, aardappel of kip/kalkoenburgers op paleo-brood van vandaag de dag. Ja, ja… de weg van de hamburger is  ondoorgrondelijk. En we volgen ze allemaal.
Nou ja, bijna allemaal.
Daarom gaan we hier, in de Burger anatomie, alle mogelijkheden langs om de perfecte hamburger te creëren: soorten brood en vlees, kazen en slasoorten, dressings en alle andere denkbare toppings en toevoegingen.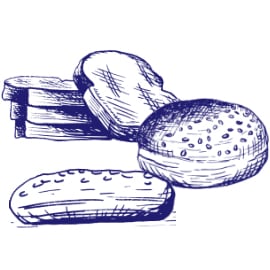 Broodjes
Hét hamburgerbroodje bestaat niet. Daarvoor zijn de mogelijkheden te groot. Toch zijn er regels waaraan een hamburgerbroodje moet voldoen:
Nooit te hard, want aan een hamburger moet je niet trekken, maar in bijten.
Je broodje is je basis voor je vulling. Kies dus nooit een al te hoog broodje, wil je er nog smaakvol in kunnen bijten. 
Vergeet de bovenstaande twee regels. Iedere hamburger is uniek, net als jij!
Klassiek hamburgerbroodje - zacht wit broodje met sesamzaadjes
Kaiserbroodje - van oorsprong een Duits krokant broodje
Ciabatta - krokant Italiaans broodje. Altijd even opwarmen in de oven
Kampioentje - meergranenbroodje met diverse granen en zaden. Geroemd om zijn bijzondere smaak
Vikornbolletje - multivitaminen meergranen bol. De basis voor een extra gezonde hamburger.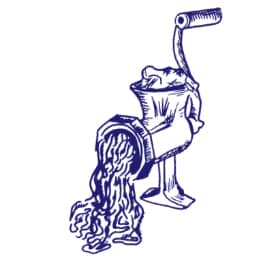 Vlees & Meer
De klassieke hamburger bestaat uit gemalen rundvlees. Maar eigenlijk kun je gebruiken wat je wilt. Paarden,- of varkensvlees, geit of lam, kip of kalkoen, vis of vegetarisch… ja, zelfs een steak van rode bieten of quinoa bestaat. Je fantasie bepaalt de mogelijkheden.
Oh ja… Voor sommigen bestaat een hamburger niet zonder bacon.
Beefsteak - mals en mager spiervlees van het rund of kalf. Kan zowel rauw, medium of doorgebakken worden bereid. Kruiden met peper en zout
Lamsvlees - Mooi en mager en een typische eigen smaak. Perfect te combineren met de kruiden tijm, marjolein en oregano
Varkensvlees - Sappig en neutraal van smaak. Laat zich goed combineren met diverse kruiden en groenten
Kip/kalkoenvlees - Misschien wel een van de meest  veelzijdige vleessoorten. Smaakt  voortreffelijk in combinatie met zowel zout als zoet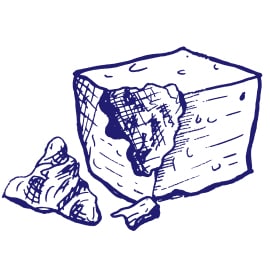 Welke kaas?
Een must voor velen: een heerlijke plak gesmolten kaas boven op je hamburger. Veelal cheddarkaas, maar afhankelijk van je smaak, kun je vrijwel alle soorten kaas gebruiken.
Cheddar - De klassieker voor op de hamburger. Smelt optimaal en geeft de hamburger een duidelijke smaak. Engelse Cheddar smaakt een beetje zout en nootachtig.
Blauwe kaas - Er zijn verschillende soorten. Sommige zijn romig en consistent, andere droog. Ze smaken echter allemaal erg sterk en een beetje bitter. Bekende blauwe kazen: Roquefort, Gorgonzola, Saint Agur en Castello.
Geitenkaas - Geitenkaas is een milde kaassoort. Na het smelten verliest het vaak een beetje van zijn bitterheid. Geitenkaas smaakt voortreffelijk in combinatie met tomaat, sla en andere soorten groenten.
Mozzarella - Dit is een milde kaas zonder al te veel smaak. Hij smelt goed en zorgt voor een romige textuur. Een echte allemansvriend die te gebruiken is voor allerlei soorten hamburgers.
Gruyere - Deze kaas heeft een ronde, milde en nootachtige smaak. En hoe jonger, hoe milder. Hoe ouder, hoe zouter en meer korrelig van structuur. Gruyère is zeer geschikt om te smelten en smaakt  optimaal in combinatie met rundvlees.
Feta - Feta is een stevige kaas met een ietwat zoute smaak. Feta smelt niet op dezelfde wijze als Cheddar, maar behoudt gedeeltelijk zijn stevigheid. Heerlijk in combinatie met groenten. Feta zorgt voor die typische verse mediterrane boost!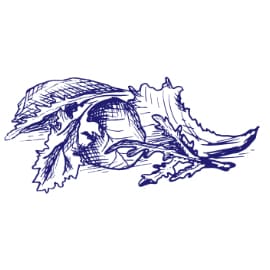 Sla en meer
Een hamburger zonder sla of andere groenten is geen hamburger! Het geeft de hamburger namelijk zijn frisse en knapperige smaak. Daarnaast houdt de sla de dressing en het vlees van elkaar gescheiden.
Rucola - heeft een bittere peperige smaak
Babyspinazie - smaakt jong en fris
Lollo Rossa - zorgt voor een beetje scherpte
Kropsla - de milde en zachte slasoort
IJsbergsla - heeft een scherpe, frisse smaak en is erg knapperig
Komkommer - geeft een frisse smaak
Tomaat - fris en vers. Zorgt voor een extra bite!