Instagram en burgers zijn voor elkaar gemaakt. Daar spelen slimme chefs wereldwijd handig op in door hun burgers niet alleen great, maar ook gorgeous te maken. Check onze top 8 van de meest Instagrammable burgers en maak jouw burger een ster op social media.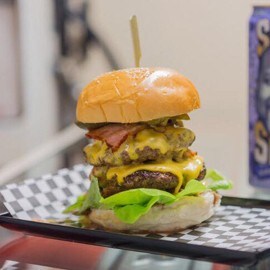 1. Get your freak on
1. Kustom Burgers in het Australische Melbourne maakt next level burgers. Het is eigenlijk een burgervariant op de bekende freak shake: een "over the top" milkshake met pretzels en donuts en getopt met kleurrijke siropen. Ook bij hun freak burgers zijn de looks duidelijk belangrijker dan wat handig eet. Maar wat ziet het er fantastisch uit op Instagram!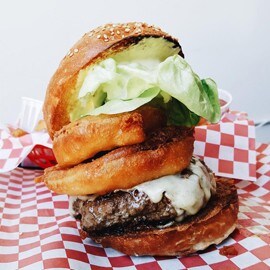 2. Crunch time
De Slow Bar in het Amerikaanse Portland bedacht dat hun burgers nog een extra bite konden gebruiken. Hun oplossing? Een extra laag van knapperige uienringen om de burger extra lekker te maken. En het ziet er natuurlijk waanzinnig uit.
©Meatballsmama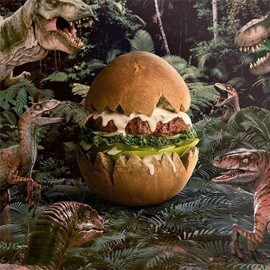 3. Fat & Furious
De twee Franse designers achter het kookboek Fat & Furious bedachten een aantal van de meest over-the-top burgers die je kunt bedenken. Van een burger die gestyled is als dinosaurusei  tot een sneeuwmanburger met geglaceerde kastanjes en 'sneeuw' van gekonfijte peer. Hun burgerdesign bewijst dat alleen je fantasie je ervan weerhoudt van je burger een beleving te maken.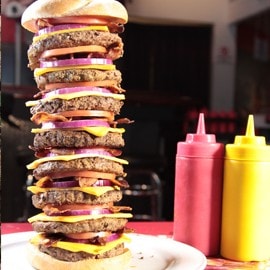 4. The bigger the better
The Heart Attack Grill in Las Vegas is één en al marketing. Zo vet en fout mogelijk gaat deze burgerketen volledig over the top met het concept. Met het motto Fighting anorexia since 2005 en menu-items als de reusachtige Quadruple Bypass Burger weten ze heel effectief reclame te maken voor hun zaak.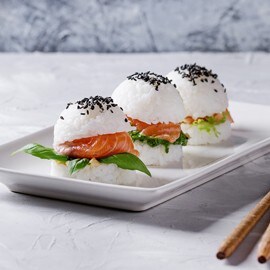 5. Hybride burger
Wil je eens iets anders serveren als bun voor je hamburger? De mix van sushi en burgers, ook al uit Japan, is een manier om twee populaire gerechten te combineren. Ook handig voor je gasten die liever geen gluten eten.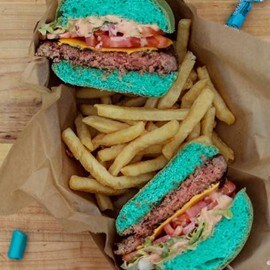 6. Themaburgers
Zoveel feestdagen, zoveel burgers. Burger King lanceerde voor Halloween al een black burger. Gratis voor wie verkleed als horrorclown langskwam (natuurlijk een pesterijtje richting Ronald McDonald). En wat te denken van de American Football team Jacksonville Jaguars. Zij maakten blauwe hamburgers om te vieren dat ze in de play-offs speelden.
©Delaware North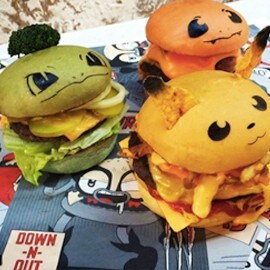 7. Down with the hype
Wie een buzz wil creëren kan met burgers heel veel kanten op. Het enige dat je tegenhoudt is je fantasie. Kijk bijvoorbeeld naar de Australische burgerzaak Down n' Out. Zij haakten in op de Pokémon Go hype met speciale Pokeburgers. Gotta eat 'em all!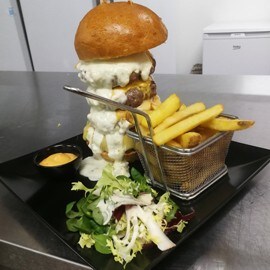 8. Made in Belgium
Wat je van ver haalt is lekker, maar ook dichter bij huis creëren ondernemers monsterachtig mooie burgers! Zoals Burger 66 in Ath met hun Monster truck triple fromage. Een watertandwekkende waterval van kaas die over drie patties van 100% beef stroomt.