Steakhouse en buffetrestaurant De Steakerij heeft begin 2019 de knoop doorgehakt: zij zijn volledig glutenvrij gegaan. Chef-kok Henk Sikkens benadrukt dat je niet te bang moet zijn om glutenvrije opties op de menukaart aan te bieden. "Veel chefs zien het als gedoe. Maar het is niet meer werk dan normaal. Je moet gewoon heel gedisciplineerd zijn en goed oppassen." Hier lees je zijn tips voor een glutenvrije(re) keuken:

1. Train je personeel. 
Maak zowel de witte als zwarte brigade erop attent dat ze een intolerantie of dieetwens altijd serieus moeten nemen. Het gaat niet alleen om het serveren van de juiste producten, maar ook om een ijzeren discipline in schoonmaak, mise-en-place en persoonlijke hygiëne. De gevolgen voor een gast met een intolerantie kunnen heel groot zijn wanneer zij verkeerde producten binnenkrijgen. 
2. Zorg voor aparte materialen en apparatuur. 
Schaf bijvoorbeeld een extra oven aan voor het glutenvrije brood. En zorg dat je friet en bittergarnituur in aparte frituren bereidt. 
3. Controleer de etiketten van de producten die je inkoopt. 
Zo leer je snel en gemakkelijk waar gluten in zitten en waar niet. Zorg wel dat je het etiket blijft controleren, fabrikanten willen de ingrediënten nog wel eens wijzigen. Glutenbevattende granen zijn 1 van de 14 allergenen die wettelijk verplicht benadrukt worden op het productetiket (bijvoorbeeld door hoofdlettergebruik of dikgedrukte tekst).
4. Let extra op met producten zoals bloem. 
Bloem stuift gemakkelijk op en belandt zo alsnog in de glutenvrije sectie van je keuken. 
5. Maak op het buffet een aparte glutenvrije sectie. 
Producten met en zonder gluten moeten op een buffet echt een flink stuk uit elkaar worden gezet. Mensen spetteren en knoeien gemakkelijk of wisselen opscheplepels per ongeluk. Om dat te voorkomen is een fysieke scheiding aan te raden.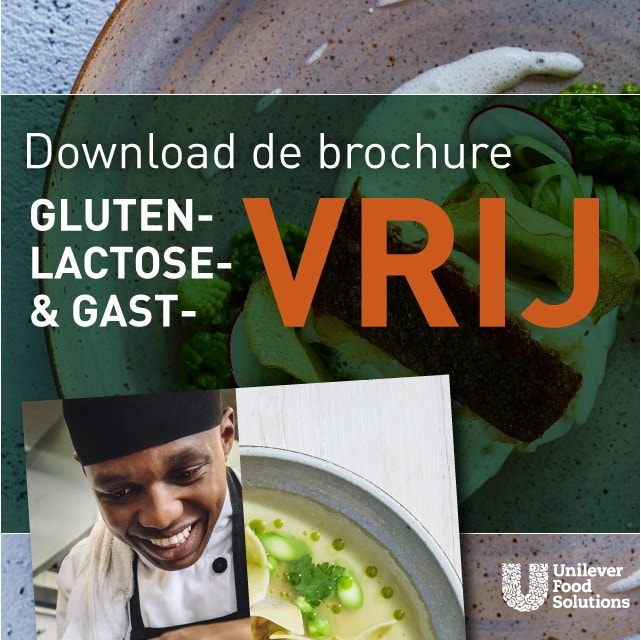 Deze 2 tips waren nog maar een voorproefje! Benieuwd naar meer tips & tricks om in te spelen op gluten- en lactose allergieën en intoleranties?
Download de brochure