De tijd van de ijsbergsla is voorbij. Tegenwoordig worden donkergroene groenten als boerenkool, spinazie en rucola steeds vaker als basis voor een salade gebruikt.
Het eten van een groene salades is een van de beste dingen die je kunt doen om je gezondheid te verbeteren. Maar ondanks dat het groene in de salade erg gezond is, spelen de overige ingrediënten zoals toppings en dressings vaak de hoofdrol. Door de veranderende trends is er een nieuwe rol te zien die de groene basis speelt in een salade. De tijd van de ijsbergsla is inmiddels over. Tegenwoordig spelen de donkergroene elementen zoals boerenkool, spinazie en rucola een steeds grotere rol in de basis van een salade. Hierdoor komt er een authentiekere smaak in het smaakprofiel van je salade. Zoet, bitter, knapperig, zacht en delicaat, verwelkt of gescheurd, de groene salades van tegenwoordig zijn compleet veranderd.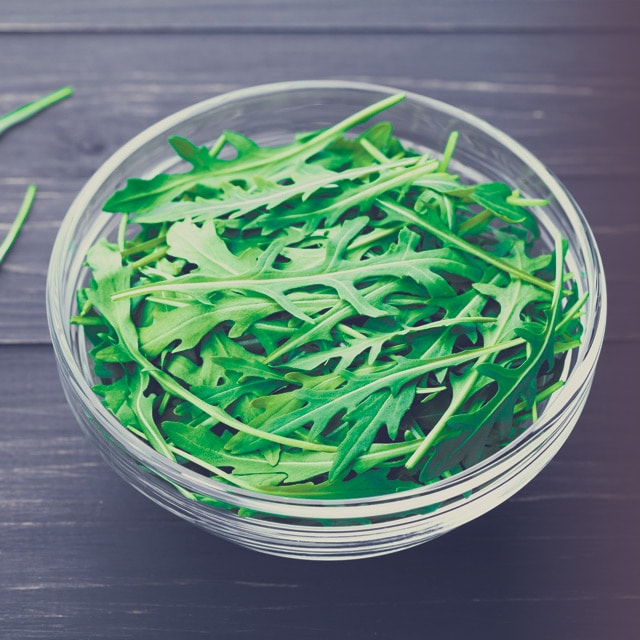 Kijkje in de groene keuken
Donkergroene groenten kun je prima als basis gebruiken voor je salade. Probeer een van deze 3 eens! 
Boerenkool – laag in calorieën en rijk aan voedingswaarde maakt boerenkool een ideale schuldvrije vuller. Daarnaast bevat boerenkool ook een grote variatie aan vitamine en mineralen, met name Vitamine A, K en C zijn sterk aanwezig. Daarnaast gaat de smaak van boerenkool goed met kip, rund, lam en varken. Feit: een kop boerenkool bevat meer vitamine C dan een hele sinaasappel.

Keukentruc: Koop een hele boerenkool in plaats van de gesneden babyboerenkool. Dit scheelt in de kosten en de bladeren kunnen gemakkelijk wat zachter gemaakt worden door deze 2 uur te laten marineren in bijvoorbeeld citroensap, olijfolie, knoflook en rode peper.
Spinazie – rijk aan voedingswaarde en veel vitamine A, C, K, ijzer, calcium en foliumzuur. Babyspinazie lijkt populairder vanwege de zachtere textuur, terwijl chefs in Aziatische salades vaak verwelkte of gekrompen volwassen spinaziebladen gebruiken. Spinazie geeft extra smaak aan salades met bijvoorbeeld zeevruchten, rund, lam, kip of varken.
Rucola – tegenwoordig wordt rucola veelal gebruikt in combinatie met andere groentes om meer pit aan de salade te geven. Zo past rucola goed bij salades met bijvoorbeeld bacon, chorizo, rund, kip, zeevruchten en/of lam. 
Zoek je uitdaging in het creëren van een fris zomerstoofpotje dat niet moet onderdoen voor de populariteit van salades op de menukaart. Denk daarbij zeker aan tuinbonen en doperwten, die zijn dit seizoen op hun best. 
Bekijk de groentekalender