Niks zo no-nonsense als een gewoon biertje. Totdat je de vertrouwde drank een ruige make-over geeft. We spreken dan niet meer over pils, maar een complex bier dat zich kan meten met het eten. We gaan langs bij brouwerij Bax, waar ze dat soort gastrobier maken. En vragen meteen een biersommelier welk bier jouw gerecht naar een hoger niveau tilt. 

De laatste jaren is het aantal microbrouwerijen in Nederland flink gegroeid (in Amsterdam alleen al zitten nu zo'n 35 kleine brouwerijen). Speciaalbieren en bebaarde microbrouwers zijn niet meer weg te denken. Ze verrijken het bierlandschap met een verscheidenheid aan lokale brouwsels, die behoorlijk culinair aandoen. Pale ale met een vleugje korianderzaad, witbier met een hint van citroengras, hoppige I.P.A met chocoladetonen - dit betere gerstenat veegt wijn als traditionele spijsbegeleiding van tafel en past de bistronomiekeuken als gegoten. Wat arbeidsfilosofie betreft, vertonen de microbrouwer en de bistronomiehouder ook gelijke trekken. Beide willen een eerlijk product leveren. Duurzaam en lokaal waar mogelijk, onderscheidend, homemade, van de hoogste kwaliteit en zonder kapsones.
Win-winbier
Zo ook Jeroen Bax en Sepp Janssen. Ze verwezenlijkten hun natte jongensdroom en startten een eigen brouwerij. Wat begon als een hobby in de keuken bij pa, schoot al snel door tot professie. Ze produceerden eerst bij een brouwerij in België en de Amsterdamse Zeven Deugden, alvorens hun eigen brouwerij in Groningen te betrekken. Hier brouwen ze bieren waar ze zelf voor zouden omfietsen en blazen ze oude biertrends nieuw leven in, bijvoorbeeld door weer bier te maken met gerookte mout.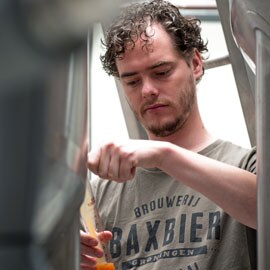 Bierbrouwers zonder baard
Je kunt Bax nauwelijks nog 'micro' noemen, nog geen drie jaar bezig en nu al leveren ze op zeshonderd plaatsen in Nederland. Wat verklaart hun succes en wat maakt dit bier 'uut Grunn' zo bijzonder? Ten eerste zijn ze zo ongeveer de enige bierbrouwers zonder lange baard, maar dat terzijde. "Het verhaal erachter", antwoordt Jeroen.
Hij doelt op hun olijke biernamen. Zoals 'Kon Minder' (voor de niet-Groningers: dat betekent zoiets als
'schitterend') of 'Oma's Pruim' (naar de pruimenboom van zijn oma waar Jeroen onder zat toen hij een bockbier met gedroogde pruimen bedacht). Na wat doorvragen blijkt echter vooral de combinatie van Jeroen als ex-kok en Sepp als biomedisch wetenschapper een symbiotisch bier op te leveren. Jeroen is een meester in proeven die weet waar hij met de smaak heen wil. Sepp weet hoe hij daar moet komen door te sleutelen aan de receptuur. Resultaat: win-winbier. Zo werd hun smoked porter bekroond tot beste rookbier ter wereld op de 'World Beer Awards' in Londen en wonnen ze de zilveren
medaille op de 'Brussels Beer Challenge'. Ze maken seizoensbieren waar ze lokaal oergraan per emmer in verwerken, hun najaarsquadrupel rijpt op sherry- en rumvaten, waardoor totaal verschillende smaken ontstaan.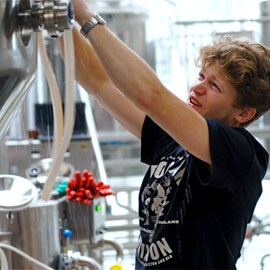 Brouwkunde
Smoked porter, quadrupel? Op het oeroude principe van bier maken met gerst, water, hop en gist is in de loop der tijd veel gevarieerd. Er zijn inmiddels zoveel stijlen dat je door de bieren haast het bos niet meer ziet. En dat bierbos blijft groeien, het is in voortdurende ontwikkeling. Er worden boeken vol over geschreven, er zijn periodieke systemen ontwikkeld door biernerds om al die variaties inzichtelijk te maken.

Om die stijlen te begrijpen is het handig te weten hoe bier gemaakt wordt. We brouwen even kort door de bocht: granen worden gemout (geweekt in vocht waardoor ze ontkiemen), daarna gedroogd en vervolgens vermalen. Er wordt water toegevoegd en het geheel wordt langzaam verwarmd, waardoor het zetmeel in de granen zich omzet in suikers. Het gefilterde vocht wordt gekookt en er gaat hop bij, de plant die zorgt voor conservering en bittere smaak. Dan start de vergisting. Suikers worden omgezet in alcohol en koolzuur en daarna volgt rijping (lagering in bierterminologie).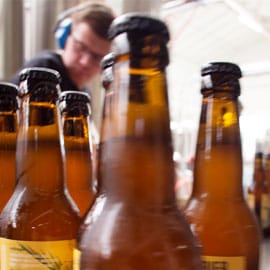 Van pils tot wild ale
Al die onderdelen in het brouwproces hebben invloed op het eindproduct. Bierstijlen verwijzen dan ook vaak naar een bepaald onderdeel in dat proces. Hoe hoger de temperatuur bijvoorbeeld bij het drogen van de mout, des te donkerder het bier en gebrander de smaak, waarbij zelfs tonen van koffie, karamel en toffee kunnen ontstaan – zoals bij dubbel of stout. Het soort vergisting is ook een grote smaakbepaler.
 Onder gistende bieren vallen onder de verzamelnaam lagers en worden op lage temperatuur vergist.
Kenmerkend is een clean smaakpallet en weinig aroma van de gist, waardoor er meer ruimte is voor graan- en hoparoma's. Bovengistende bieren worden op hogere temperatuur vergist waardoor kruidige en fruitige aroma's worden aangemaakt - denk aan kruidnagel of peper, peer, banaan en perzik. Daarnaast is er bier van wilde gisting, zeg maar het zuurdesem onder de bieren. Deze zogenaamde wild ales met zure tonen zijn nu in opkomst, hoewel de Belgische klassieker Lambiek ook onder wilde of spontane gisting valt.
Stijlen kunnen dus ook verwijzen naar smaak of soort. Om niet gillend gek te worden, stippen we hier de meest voorkomende biertypen aan. Te beginnen bij ongecompliceerd instapmodel pils, ons allen welbekend uit de kroeg. Onder tarwebier vallen zowel witbier als Weizen, met hun kenmerkende friszure tarwesmaak. Let wel: het betreft hier twee verschillende biersoorten. Aan witbier worden vaak smaakmakers als koriander en sinaasappelschil
toegevoegd, terwijl bij het Duitse Weizen de gist voor aroma's van banaan en perzik zorgt. Onder pale ales vallen de blonde tot zwaar blonde bieren, waaronder ook het nu zo populaire hoppige en kruidige Indian Pale Ale. Dubbel, tripel en quadrupel vallen onder de Belgische ales. Bockbieren zijn seizoensgebonden bieren met moutige en warmende smaken en tegenwoordig trouwens ook frisbittere varianten) Stouts en Porters tot slot, zijn sterk moutgebrande of gerookte bitterbieren.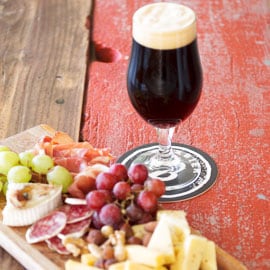 Sparren in de brouwerij
Om in je restaurant speels en kundig met al die bierstijlen om te gaan, raadt Jeroen het nodige veldwerk aan. Neem je personeel mee naar een brouwerij en proef vooral veel ter lering en inspiratie! Wil je met bier en spijs aan de gang, dan adviseert Jeroen een breed assortiment aan te bieden, dus in ieder geval een pils, een witbier, een dubbel bier, een tripel, een I.P.A. en een smoked porter.
 "Onze Ketter is een imperial smoked porter. Zwaarder in alcohol en hop is dit echt een winterbier dat je met mes en vork eet bij de open haard." Zijn belangrijkste tip: praat met de brouwers. Zij hebben de kennis van het bier en kunnen je bij jouw keuze een duwtje in de goeie richting geven. De mannen van Bax staan hier absoluut voor open: Zo gebeurt het regelmatig dat Bax spart met chefs, wat tot leuke samenwerkingen leidt zoals kook -en proefsessies met estaurants
in de omgeving. De bieren van Bax hebben dan ook een culinair karakter. Vanuit zijn koksachtergrond helpt Jeroen chefs op weg met bier-pijsadviezen,
of welk bier geschikt is om mee te koken. Zo past 'Koud Vuur' bijvoorbeeld goed bij gerookte vleesgerechten en is hun blonde 'Kon Minder' lekker bij kabeljauw en in de pompoensoep. Proost!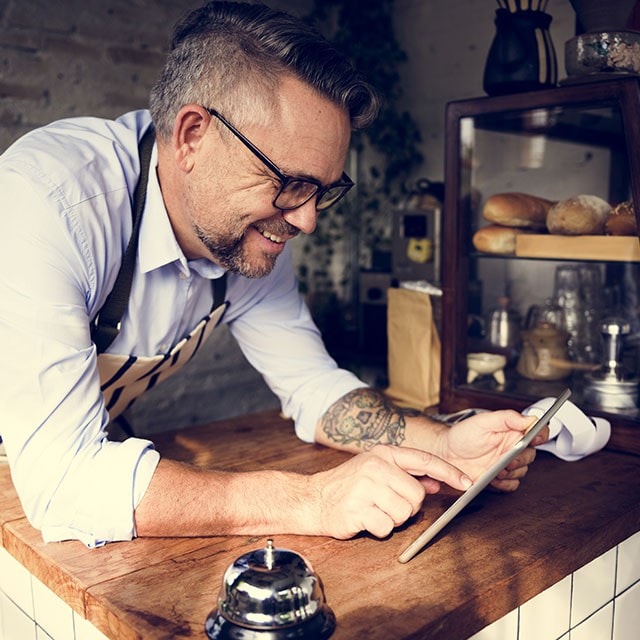 Op de hoogte blijven? Schrijf je in voor onze gratis nieuwsbrief.
Schrijf je nu in