Het is memorabel als alles goed en authentiek aanvoelt.
- Lucca, Influencer, Sao Paulo
Buiten het goede eten spelen de sfeer in het restaurant en de service een belangrijke rol in de totaalbeleving van een restaurant. Ook in burgerzaken is het ontzettend belangrijk een vrolijke bediening te hebben, mensen die het net zo leuk vinden in het bedrijf als de ondernemer. Dat is ontzettend belangrijk.
- Taj, Influencer, Sao Paulo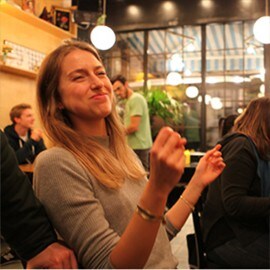 Een geslaagde combinatie
"Wat een diner voor mij onvergetelijk maakt is wanneer alles samenvalt. Als de service prettig en het eten geweldig is en als de andere mensen in de zaak het ook naar hun zin hebben, ja, waneer alles precies op zijn plek valt." - Kaja, Food Blogger, Duitsland
Alle onderdelen van je restaurant moeten samenvallen om een ervaring onvergetelijk te maken. Gasten kijken naar de kwaliteit van het eten, de service en de sfeer – en in die volgorde! (bron: 2017 Guest Understanding Research van Streetbees).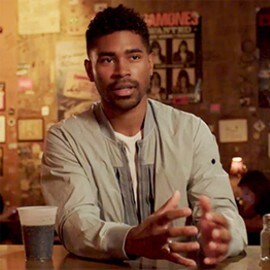 Geef je zaak een ziel
"Het is ontzettend belangrijk dat gasten zich net zo lekker voelen in een ruimte als de eigenaar zelf." - Taj, Influencer, New York City
Je denkt er ongetwijfeld goed over na welk gevoel je gasten van de inrichting van je restaurant moeten krijgen. Maar vind je het zelf mooi en prettig? Of je het nu simpel houdt of juist met veel details aankleedt, het gaat er vooral om dat het bij jou past. Want als jij je er thuis voelt, tot en met de kleinste details (of de gekste harde muziek), dan voelen je gasten dat ook.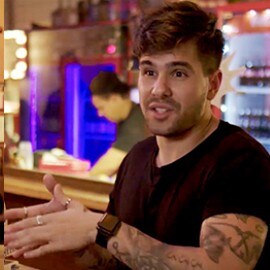 Weg met de middelmaat
"Het eten moet me verrassen. Een combinatie van ingrediënten die ik nooit had kunnen bedenken, die ik thuis nooit uit zou proberen… Ik wil dat de ervaring me iets nieuws biedt." - Lucca, Influencer, Sao Paulo
Als je er eenmaal achter bent wat jouw menu anders en uniek maakt, licht het dan uit en versterk dat. Daarmee zul je de eerste gasten trekken. En als je het goed doet, komen ze ervoor terug. Sommige zaken wisselen af, bijvoorbeeld met een maandelijkse burger. Anderen geven een nieuwe draai aan een klassieker. En een volgende combineert de ingrediënten op zo'n manier dat iets volstrekt unieks ontstaat met een geweldige smaak. Vind je eigen, unieke inspiratie en creëer een onvergetelijke eetervaring.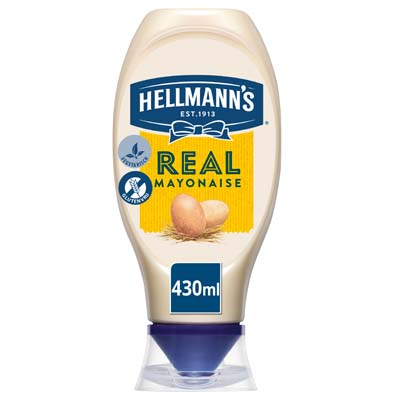 Hellmann's Real Mayonaise heeft een onmiskenbare smaak, een rijke, zachte textuur en is gemaakt van kwalitatieve ingrediënten. De herkenbare smaak gaat terug naar de creatie van Hellmann's Mayonaise in een New Yorkse deli in 1912. Ideaal voor salades en sandwiches en als basis voor sauzen: deze mayonaise geeft binding aan alle gerechten. Een lekkere saus voor bij friet, burgers en al je snacks, heerlijk ook als dip. Gemaakt met vrije-uitloopeieren, glutenvrij en geschikt voor een vegetarische voeding. Ook verkrijgbaar in een emmer van 5 liter, een handige knijpfles van 430 ml en een portieverpakking van 10 ml.
€ 2,37
Prijsindicatie (excl. BTW)