Unox
Dierenwelzijn wordt door Unox erg serieus genomen. Daarom heeft Unox de doelstelling om in 2020 100% gebruik te maken van diervriendelijker vlees. Inmiddels voldoet 80% van de vleesproducten van Unox aan deze richtlijnen. De Unox Rookworst Professioneel heeft, net als de Unox Rookworst Traditioneel, in 2016 het keurmerk Beter Leven 1 ster verkregen. Unox zet hiermee een grote stap in de verduurzaming van haar portfolio.
Het Beter Leven keurmerk
Om het dierenwelzijn van dieren in de vee-industrie te verbeteren heeft de Dierenbescherming het Beter Leven keurmerk in het leven geroepen. Het Beter Leven keurmerk bestaat uit het logo met 1, 2 of 3 sterren die de productie van diervriendelijker vlees ondersteund. De Dierenbescherming legt kwaliteitseisen vast voor de aanbieders van vlees. Zij controleren bovendien onafhankelijke instanties of zij zich aan de vastgelegde afspraken houden over het dierenwelzijn. Het Beter Leven keurmerk helpt zowel ondernemers als consumenten bij het maken en aanbieden van verantwoorde keuzes.
Wil je meer weten over Beter Leven? Kijk dan op de website van de dierenbescherming.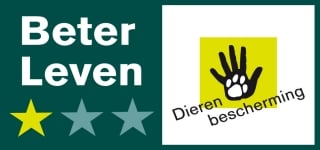 Een beter leven voor varkens
De aantasting van het dierenwelzijn verschilt per diersoort. Daarom zijn de criteria voor een Beter Leven 1 ster ook verschillend per diersoort. In het geval van varkensvleesproductie hebben de varkens onder andere meer binnenruimte, afleidingsmateriaal zoals strokokers, daglicht en een speciaal kraamhok. De biggen worden niet gecastreerd en aan de duur van transport van de vleesvarkens wordt een limiet gesteld. Hiermee doet Unox een stap in de goede richting om het leven van de dieren aangenamer te maken.