Plastic afval: een groeiend probleem

Iedere minuut lekt er net zoveel plastic afval weg in stroompjes en rivieren als de inhoud van één vuilniswagen. Dit afval belandt uiteindelijk in de oceaan en heeft een verwoestend effect op de flora en fauna in de zee. Er sterven elk jaar ongeveer 100 miljoen zeedieren als gevolg van weggegooid plastic. De onderliggende oorzaken van het plastic in de oceaan zijn complex. Eén van de oorzaken waar Unilever zich zorgen over maakt, is het feit dat slechts 14% van de plastic verpakkingen die wereldwijd worden gebruikt, terecht komen bij recyclingbedrijven. Een derde komt terecht in kwetsbare ecosystemen en 40% belandt op de vuilstortplaats.

Waarom gebruiken we plastic?
Plastic is tegenwoordig niet meer weg te denken uit ons dagelijks leven. Waarom is dat zo? Plastic heeft veelzijdige eigenschappen: het is sterk, stijf, flexibel, vormvast of juist vormvrij. Het houdt producten veilig en beschermt ze tegen verontreiniging. Bovendien kan het de houdbaarheid van een product verlengen.
Wat doen wij?
In januari 2017 hebben wij toegezegd dat we ervoor zullen zorgen dat tegen 2025 100% van onze plastic verpakkingen volledig herbruikbaar, recyclebaar of composteerbaar zijn. Om ook bij te dragen aan de ontwikkeling van een afzetmarkt voor deze materialen, hebben we in oktober 2019 toegezegd dat tegen 2025 onze verpakkingen uit minstens 50% gerecycled plastic zullen bestaan. Bovendien zullen we meer plastic inzamelen en verwerken dan we verkopen. Hiermee bouwen we voort op onze bestaande doelstellingen uit het Unilever Sustainable Living Plan.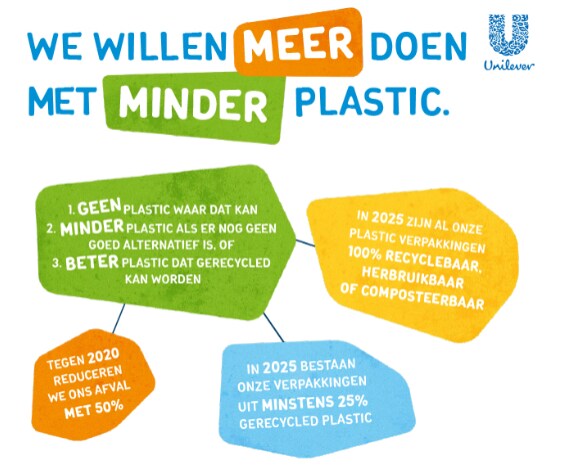 De strategie van Unilever is geen, minder en beter plastic. Dit houdt in dat er geen plastic wordt gebruikt waar dat kan, minder plastic wordt gebruikt als er nog geen goed alternatief is en beter plastic wordt gebruikt dat gerecycled kan worden. Zo worden de Hellmann's knijpflessen dit jaar van 50% gerecycled plastic gemaakt en in 2020 van 100% gerecycled plastic met gebruik van de innovatieve technologie van Ioniqa. Hiermee werkt Unilever aan een circulaire economie: een economie waarin de reststromen die bij de productie vrijkomen en de eindproducten na gebruik goed en veilig kunnen worden hergebruikt. Dit betekent dat materialen constant rondcirkelen in een gesloten kringloopsysteem in plaats van te worden weggegooid na gebruik. De voordelen van de circulaire economie zijn duidelijk: effectiever gebruik van materialen, lagere kosten, minder afval, nieuwe waardebronnen voor klanten en consumenten en meer zekerheid in de beschikbaarheid van grondstoffen.
Unilever Food Solutions draagt op haar eigen manier bij aan de strategie voor geen, minder en beter plastic:
1.       Zo zijn de Knorr eurocontainers erg veelzijdig: ze zijn hersluitbaar, herbruikbaar en stapelbaar en ze zijn beschrijfbaar op de voorzijde. Bovendien zijn ze vaatwasmachine bestendig!
2.       Al sinds 2011 gebruiken we geen plastic meer voor de omdozen van de Knorr soepen en sauzen. Hiermee besparen we ca. 600.000 kg plastic per jaar. Dat scheelt 5000 vuilniswagens met afval!
3.       Het doel is om tegen 2020 al onze Lipton theezakjes volledig biologisch afbreekbaar en de thee-envelopjes recyclebaar te maken. Dit geldt al voor Pure Leaf en Pukka! Daarnaast zal er geen gebruik meer worden gemaakt van plastic folie bij de omverpakkingen.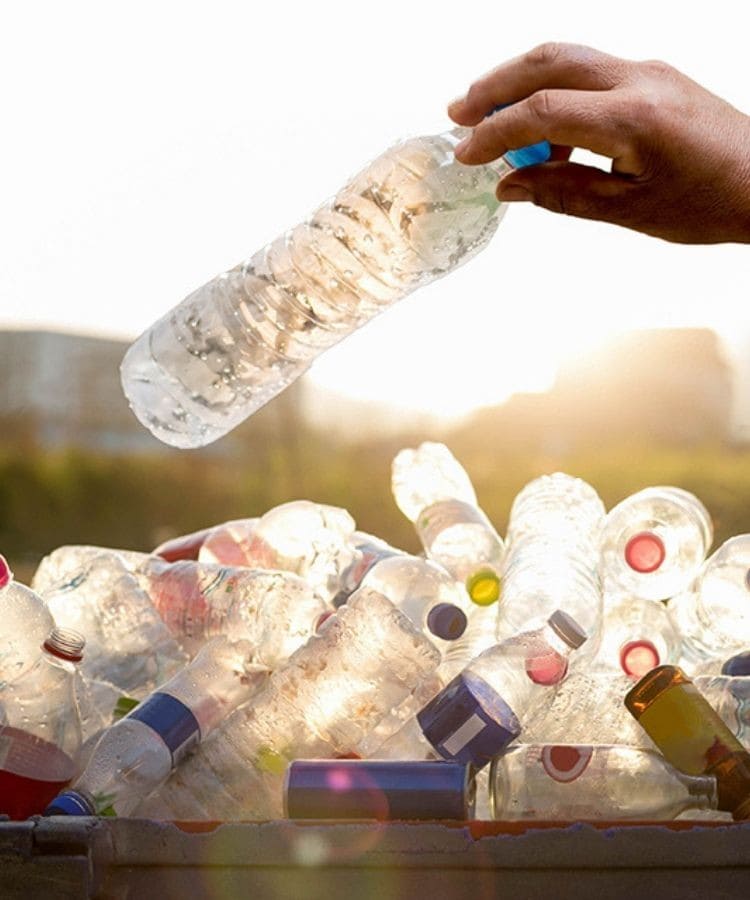 Download hier onze leaflet over plastic
Meer weten over wat wij met plastic doen of juist niet doen? Lees het hier!
Download