Met een slimme inrichting van je buffet kun je de consument (vaker) laten kiezen wat jij wil. Hoe pak je dat aan? Consumentenonderzoeker Wenda Kielstra deelt 10 tips & tricks.

1. Zet je signatuur centraal
Iedere chef heeft een eigen smaak, iedere keuken heeft een eigen identiteit. Dat willen de gasten terugzien en proeven. Maak je buffet uniek door jouw originele en onderscheidende recept op een voetstuk te plaatsen. Bied deze gerechten aan op ooghoogte en vestig extra aandacht met een buffetkaartje met de tekst: specialiteit van de chef. Dankzij die gerechten met eigen signatuur onderscheidt jouw buffet zich van de concurrentie.
2. Creëer een ideale routing
De indeling van je buffet is essentieel om de keuze van gasten te sturen. Gasten scheppen vaak hun bord vol met de gerechten die ze als eerste tegenkomen. Zorg dus dat producten met een goede marge een mooie plek hebben aan de start van het buffet. Daar zullen ze het hardst lopen.

3. Zorg voor een smakelijke omschrijving
De omschrijving van een gerecht beïnvloedt de keuze van de gast. Alleen de vermelding 'witlofsalade' op een buffet of menukaart verleidt niet echt. 'Knapperige verse witlofsalade met gekarameliseerde walnoten en een huisgemaakte limoendressing' zorgt er wel voor dat het water de gasten meteen in de mond loopt!
4. Verlicht je buffet 
Uit Amerikaans onderzoek blijkt dat gasten eerder gaan voor een product dat goed verlicht is. Het licht zou gasten alerter maken. Zorg er dus voor dat je de items die je het liefst aanbiedt mooi uitlicht met een extra spotje. Het is ook mogelijk om een product met leds uit te lichten op het buffet. De lampen of strips geven geen warmte af en kunnen dus echt óp het buffet staan.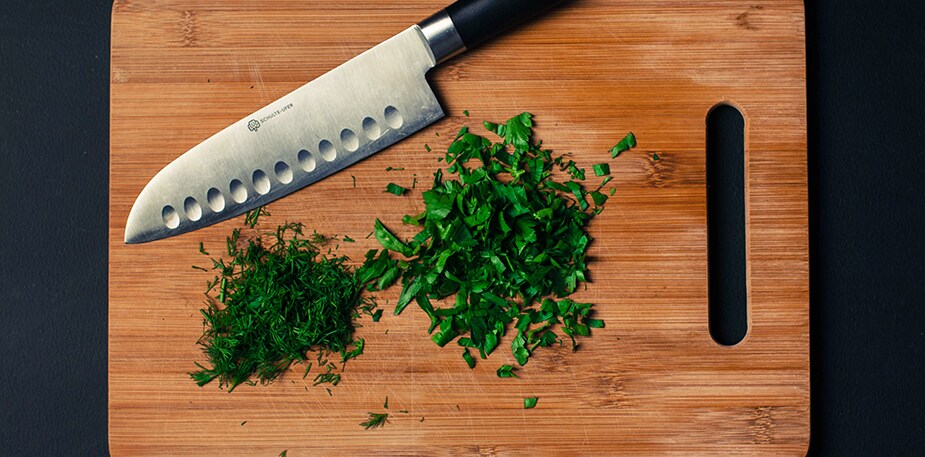 5. Bereid gerechten à la miute
Als je een chef achter het buffet de ham ziet snijden voor de broodjes warme beenham, denk je als vanzelf dat het vlees van de broodjes rosbief ook wel vers gesneden zal zijn. Ook al heb je dat niet zelf gezien. Gasten plaatsen een indruk onbewust in een breder patroon. Daarom straalt bijvoorbeeld live cooking zo positief af op de rest van het buffet. Als de gasten een kok zien die à la minute gerechten voor het buffet bereid, nemen zij onbewust aan dat het overige aanbod ook vers is.
6. Plaats margemakers op ooghoogte
Supermarkten weten het al lang: de positie in het schap is misschien wel de krachtigste manier om koopgedrag te beïnvloeden. Dat kan op het buffet ook. De items op het buffet waar de gasten weinig tot geen moeite voor hoeven doen, kiezen ze vaker. Zorg er dus voor dat de gerechten met de mooiste marge altijd voor het grijpen liggen. Bedenk dus heel goed wat je op deze AAA-locatie van het buffet neerlegt.
7. Herhaal producten
Veel items liggen maar op één plek op het buffet. Maar waarom eigenlijk? De gasten maken op iedere plek op het buffet andere keuzes. Wil je de keuze voor een bepaald product stimuleren? Bied het dan op verschillende plekken aan maar dan telkens iets anders gepresenteerd. Het product trekt dan telkens opnieuw de aandacht.
8. Kies matching materiaal
Met de uitstraling van je buffet kun je echt een wow-effect bij je gasten creëren. Mooie materialen die samen een geheel vormen maken daarbij alle verschil. Vorm en inhoud van je buffet moeten samen kloppen. Gebruik bij een 'ambachtelijk' buffet bijvoorbeeld mooie robuuste houten planken om je gerechten te presenteren en decoreer het met verse ingrediënten.
9. Speel met kleur
Kleuren beïnvloeden ons gedrag. Rood verhoogt bijvoorbeeld de hartslag. Gasten zullen daardoor sneller eten en minder lang blijven zitten. Zachte kleuren zorgen voor rust en ontspanning. Met bijvoorbeeld aangepaste verlichting kun je je gasten onbewust beïnvloeden tijdens een lange lunch of een korte break.
10. Durf te selecteren
(Te)veel keuze lijkt service, maar is het niet. De gast krijgt er stress van als hij moet kiezen uit een overweldigend aanbod. Want een keuze voor het één, sluit het ander uit. Durf dus te selecteren voor je gast én bied kleine gerechtjes aan zodat gasten veel verschillende items kunnen kiezen zonder meteen teveel te eten.