Gustavo verruilde zijn barbecuerestaurant BOSS in Sao Paolo voor vegan café SOIL in Amsterdam. Als iemand weet hoe je van een plant based bowl  in een handomdraai een bevredigende umamibom van het type sappige-kotelet-van-open-vuur maakt, is hij het.

Gustavo, wat zijn jouw tips voor een snel en soepel lopende vega keuken?

Benut je daluren optimaal
"Ik heb mezelf en mijn team getraind om meerdere dingen tegelijk te doen. Zo werken we tijdens de dienst niet alleen aan mise-en-place, maar ook aan pre-productie. Met dat laatste bedoel ik condimenten als sauzen en azijnen bereiden, maar ook pickles en andere gefermenteerde producten. Pre-productie vindt bij ons plaats tijdens de daluren. Je bent er misschien 1 à 2 uur aan kwijt, maar vervolgens kun je weken, zo niet maanden vooruit met een product en pimp je ik-weet-niet-hoeveel-maaltijden à la minute."

Combineer home made met slimme oplossingen
"Bij SOIL maken we veel zelf, maar wat sommige producten betreft, vertrouw ik op de ervaring en kennis van derden. Ik heb bijvoorbeeld pogingen gedaan tot het maken van een vegan currypasta, totdat ik een kant-en-klare ontdekte die beter was dan de mijne. Dan betaal ik liever iets meer voor een goed product, dan dat ik veel arbeidsuren kwijt ben aan in iets dat niet beter is. Zo werk ik ook met de kipstuckjes van de Vegetarische Slager. Ik bedoel, die zou ik zelf echt niet beter kunnen maken. Zo bespaar ik tijd en ik boet niet in op kwaliteit."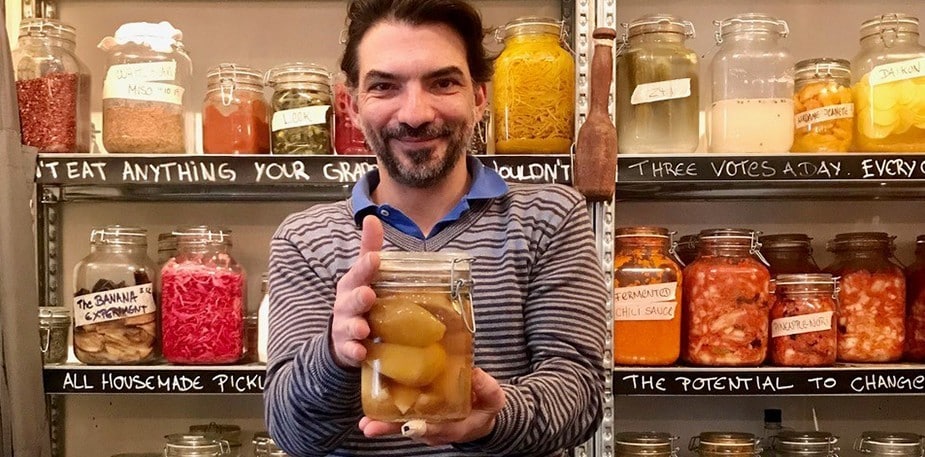 Consistentie in kwaliteit
"Ik merkte dat de bereiding van granen zoals rijst, quinoa en boekweit nogal verschilde al naar gelang de kok die ze maakte. De een kookt een droge korrel, de ander papperiger. Daarbij is het is lastig om in grote hoeveelheden een consistente kwaliteit te bieden, je moet er dan als kok bovenop zitten: doorroeren, op tijd afgieten, uit laten dampen. Om het aantal stappen te reduceren, ben ik overgestapt op de stoomoven. Het is niet de traditionele manier, maar wel sneller en ook nog eens beter!"

Snel smaak toevoegen
"Bijvoorbeeld door fermentatie het werk te laten doen. Ik grap altijd dat bacteriën extra werknemers zijn. Zij staan op de plank umami te ontwikkelen in gefermenteerde producten zoals miso en kimchi, terwijl jij groenten snijdt. Een ander smakelijk element is rook. Rook zorgt snel voor een diepe, hartige smaak. Denk aan gerookte paddenstoelen, kool, maar ook gerookt fruit. In het verlengde hiervan: vuur. Als barbecuechef weet ik natuurlijk als geen ander wat vuur voor je gerechten kan doen. Op hoge temperatuur roosteren laat je groenten blakeren en dat geeft een super intense smaak zonder dat je er allerlei fratsen voor uit hoeft te halen."

SOIL, plant based café voor lunch en diner zit aan de Bilderdijkstraat 141 in Amsterdam-West. SOIL kookt met respect voor de bodem en voert een vegan menu dat gezond, snel en to the point is: warme en koude bowls uit alle windstreken en vegan variaties op klassieke burgers en sandwiches.