Je hebt allerlei soorten zout: Himalayazout, zeezout, Keltisch zout, en het is allemaal gewoon zout. Het is niet zo dat 't ene zout beter is dan 't andere zout. In alle soorten zit ongeveer evenveel natrium. Voor het effect op je gezondheid maakt het dus niet uit waar het zout vandaan komt of hoe het is bewerkt.
Er is wel een uitzondering en dat is een speciaal soort zout dat echt anders is, namelijk Jozo bewust of Lo Salt. Hierin is een deel van het natrium vervangen door kalium en magnesium. Dit zout heeft alleen wel een iets andere smaak.

Etiket lezen 
Er zijn grote verschillen in zoutgehalte in producten. Het is belangrijk om vooral te kijken op het etiket, goed te vergelijken en dan te kiezen voor de producten die lager zijn in zout. De ene soep bevat bijvoorbeeld veel meer zout dan het andere. Het kan soms bijna 2g per kom soep schelen. Dat klinkt weinig, maar het is behoorlijk wat als je bedenkt dat een volwassene gemiddeld 9g zout binnenkrijgt, terwijl het aanbevolen maximum 6g is in Nederland.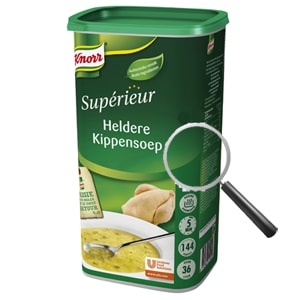 Zout productvergelijker
Deze handige productvergelijker helpt je alvast een eind weg in ons productassortiment
Download het overzicht

Vanaf december 2014 is het verplicht om de hoeveelheid zout op het etiket te vermelden. Eerder stond er vaak natrium of 'Na' vermeld. Natrium is een onderdeel van zout (NaCl): 1g natrium is gelijk aan 2,5g zout. 
Als je etiketten vergelijkt kun je al snel een betere keuze maken. Als je producten vergelijkt kun je dit het beste per 100g doen. Soms staan ook de voedingswaarden per portie op het etiket, maar de portiegroottes kunnen verschillen per fabrikant.
Op de verpakking staat soms ook de referentie-inname (RI) vermeld. De RI laat zien hoeveel van 1 portie product bijdraagt aan de dagelijkse voedingsstoffen (in %). Dit is handig om in één oogopslag een product te beoordelen op een aantal voedingsstoffen. De RI geldt voor een gemiddelde volwassenen.

De RI van alle Unilever Food Solutions producten is te vinden in de productsectie, in de uitgebreide productspecificatie die je kunt downloaden per product.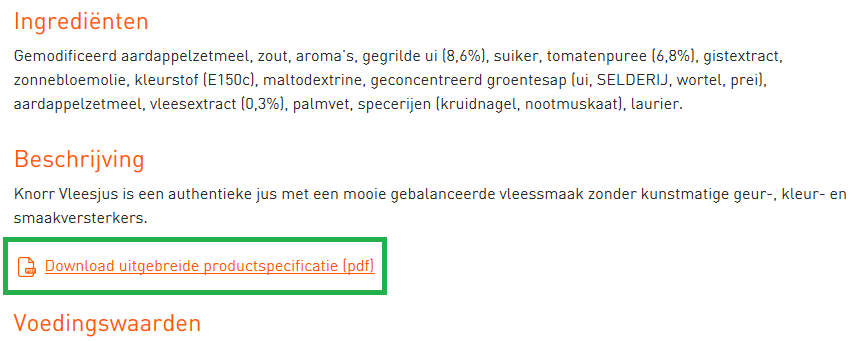 De RI betekent niet dat je 100% hiervan moet halen. Voor vitamines is het bijvoorbeeld prima als je 100% haalt, maar voor zout geldt juist, hoe minder hoe beter. Als in bijvoorbeeld één portie al 25% van de maximum hoeveelheid zout zit, is de kans groter dat je die dag te veel zout binnenkrijgt.