Met zout wordt in voeding vaak keukenzout bedoeld. En keukenzout bestaat uit twee delen: natrium en chloride. De scheikundige naam is ook natrium chloride. Natrium vermenigvuldigd met 2,5 = zout.
Zout wordt gebruikt op de volgende manieren:
Als smaakmaker, een zoute smaak is lekker
Voor de verbetering van de structuur van een product, zoals bij brood en kaas
Om de houdbaarheid van een product te verlengen
Zout is de belangrijkste bron van natrium in de voeding. Wanneer het gaat over de gezondheidseffecten van zout, wordt altijd gedoeld op de effecten van natrium. Het komt zelden voor dat mensen te weinig zout binnenkrijgen. Te veel zout eten is niet goed voor je.
De meeste mensen eten meer zout dan de door de Wereldgezondheidsorganisatie (WHO) aanbevolen 5g per dag of de aanbeveling van de Nederlandse Gezondheidsraad van 6g per dag. Gemiddeld eten Nederlandse vrouwen 7,5g en mannen 9,9g zout per dag.
Ongeveer 80% van het zout dat we binnenkrijgen in het eten en drinken dat we kopen in de winkel of in de horeca (i.e. bewerkte voedingsmiddelen). De overige 20% van het zout voegen we toe bij het koken of aan tafel met het zoutvaatje.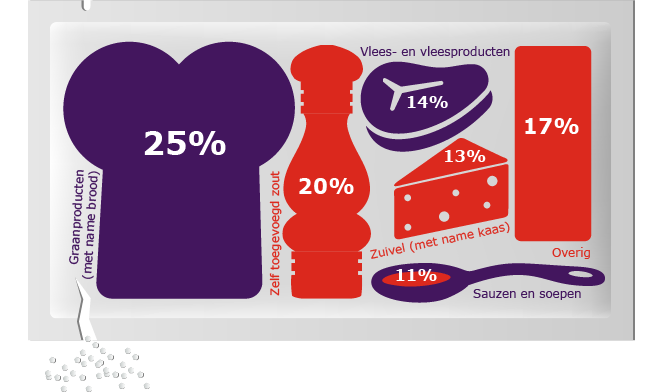 De belangrijkste bronnen van zout zijn brood, vleesproducten en kaas. Ook zit er veel zout in kant-en-klaarmaaltijden, pizza's, soepen, sauzen en hartige snacks. Zout zit niet alleen in producten waarbij het goed te proeven is, maar ook in bijvoorbeeld roomijs, koekjes of gebak.
(RIVM, Zoutconsumptie van kinderen en volwassenen in Nederland, Resultaten uit de Voedselconsumptiepeiling 2007-2010)
Hoeveel zout mag ik per dag eten? Waar komt al het zout vandaan? Lees snel meer in de infographic. 
Lees snel meer