Steeds meer gasten willen minder vlees, of zelfs helemaal geen vlees op hun bord. Daardoor kiezen een groeiend aantal chefs ervoor om groenten een hoofdrol te geven op hun kaart of op het buffet. In sommige horecagelegenheden verdwijnen vis en vlees zelfs volledig van het menu. Anderen kiezen er bijvoorbeeld voor om het als luxe toevoeging te serveren in plaats van standaardingrediënt. Welke kansen biedt dit jou als chef?

Speel in op de trends
Waar veganisme ooit gezien werd als iets voor geitenwollensokkentypes en gezondheidsfreaks is het tegenwoordig behoorlijk trendy. Vooral de jonge generatie omarmt eetgelegenheden die geen enkele vorm van dierlijke eiwitten serveren. Door in te spelen op deze vegan trend bied je niet alleen voor ieder wat wils, maar speel je ook in op deze drie trends in de foodservice.

1. Bied een bewuste keuze
Steeds meer mensen willen gezonder leven en eten. Ze gaan meer bewegen en maken verantwoordere keuzes voor bijvoorbeeld lichtere maaltijden, minder zware sauzen en kleinere porties. Groenterijke gerechten op het buffet sluiten hier perfect op aan.
2. Ontdek wereldse smaken
Consumenten zijn op zoek naar nieuwe belevingen, ook in hun eten en drinken. Ze willen verrast worden door nieuwe smaken, kleuren, texturen en culturen. Laat je daarom inspireren door kruiden en specerijen uit wereldse groentekeukens zoals in India, Thailand, Marokko, Libanon en Israël. 

3. Vertel een verhaal
Gasten willen het achterliggende verhaal. Wat eet ik nou precies? Wat maakt dit gerecht bijzonder? Met goede storytelling rondom je vegan gerechten vervul je de behoefte naar een goed verhaal over verantwoorde voeding. Plaats op het buffet bijvoorbeeld kleine bordjes met daarop informatie over je producten. Waar komen je ingrediënten bijvoorbeeld vandaan? Waar is een bepaalde groente goed voor? Deel het met je gast!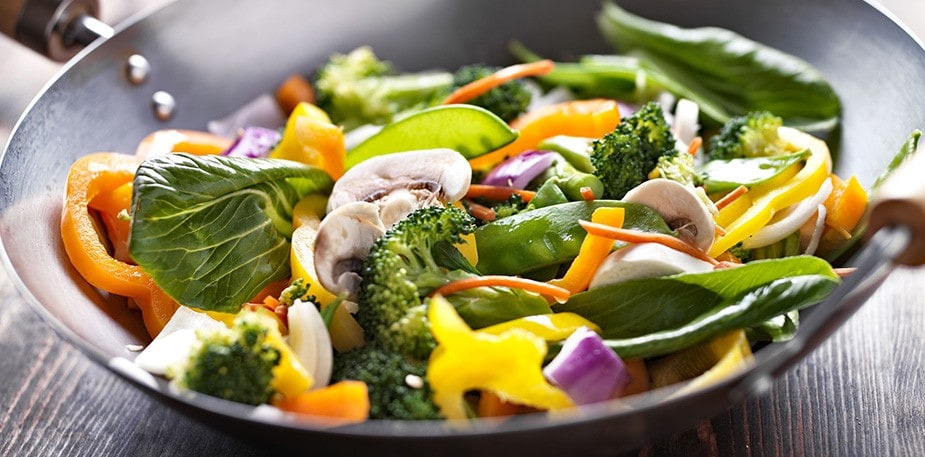 Vegan tips
Hoewel de vraag naar vegan gerechten in de horeca groeit, zit dit niet bij elke chef in zijn comfortzone. Veel chefs hebben namelijk geen zin in extra werk in de keuken, zijn bang dat een vegan gerecht saai is, of ze hebben niet de juiste inspiratie om een goed alternatief te bereiden. Gelukkig hoeft het niet moeilijk te zijn. Wij serveren drie tips.

1. Kies een vega(n) variant
Je hoeft zeker niet een compleet ander gerecht te maken voor vegetariërs of veganisten. Je kunt je bestaande gerechten ook een vegan twist geven door het vlees of de vis te vervangen door een plantaardig product zoals tofu en tempeh. Tegenwoordig zijn er ook vleesvervangers die bijna niet te onderscheiden zijn van echt vlees zoals vegetarische kipstuckjes van de Vegetarische Slager, ook perfect voor de vleesliefhebber. Of serveer de componenten los op het buffet zodat gasten zelf hun gerecht samenstellen.
2. Werk in het seizoen
Wees niet bang dat gerechten zonder dierlijke producten saai zijn; de natuur biedt veel variatie. Gebruik seizoensgroenten om te blijven variëren. Wat dacht je van een salade met gegrilde pompoen of een heerlijke aspergesoep? Werken met de seizoenen is margetechnisch ook nog eens hartstikke interessant. Je leverancier kan je voorzien van het juiste advies.
3. Bied voldoende voedingswaarde
Dat iemand geen dierlijke producten eet, wil niet zeggen dat je hem of haar met alleen sla blij maakt. Geef je gerechten voldoende voedingswaarde met volkorenproducten, vleesvervangers, peulvruchten en noten. Deze ingrediënten zijn ook geschikt om als toppings aan te bieden.