Unox Vloeibare Indonesische Pindasoep 2,5L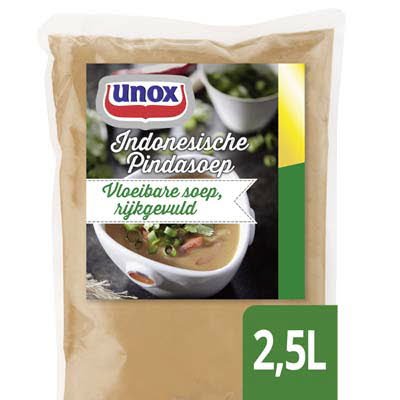 Unox Vloeibare Indonesische Pindasoep is een kant-en-klare basis voor een lekkere Aziatische soep. Deze oosterse soep heeft een volle pindasmaak en is licht pittig (mild). De pindasoep is direct klaar voor gebruik en hoeft enkel opgewarmd te worden. Personaliseer de soep door naar eigen smaak extra groenten, vlees of kruiden toe te voegen en serveer in een mum van tijd een heerlijk voor- of bijgerecht. Het product is vrij van smaakversterkers, conserveermiddelen en kunstmatige kleurstoffen. Deze soep is geschikt voor een vegetarische voeding. Verpakt in een zak van 2,5 liter. De vloeibare soepen van Unox zijn verkrijgbaar in westerse én wereldse smaken. Probeer ook eens een van de andere varianten.
Meer product- en allergeneninformatie
CE EAN:

8712100731723

•

DU EAN:

8712100248887
Verpakking
(Prijzen zijn excl. BTW en kunnen afwijken per grossier)
Complete productinformatie
Voedingswaarden en allergenen
Ingrediënten
Water, PINDA (9,3%), groenten (sjalot, rode paprika, taugé, waterkastanjes), suiker, plantaardige oliën (raapzaad, sojaolie), specerijen (spaanse peper, uipoeder, gember, knoflook, galanga, komijn), melasse, EIGEEL, zout, sojasaus (SOJA-EIWIT, TARWE, zout), gistextract, alcoholazijn, emulgator (E472e), TARWEZETMEEL, geconcentreerd groentesap (SELDERIJ, wortel, prei, ui), citroensapconcentraat, aroma's, gemodificeerd maïszetmeel, verdikkingsmiddelen (E415, E412).
Voedingswaarden
Download uitgebreide productspecificatie (pdf)
| Naam | Per 100g (onbereid product) |
| --- | --- |
| energie kcal | 114 kcal |
| vetten | 7.6 g |
| vetten wv. verzadigde vetten | 1.3 g |
| koolhydraten | 7.4 g |
| koolhydraten wv. suikers | 5.9 g |
| voedingsvezels | 1.0 g |
| eiwitten | 3.1 g |
| natrium | 360 mg |
Additieven
vrij van toegevoegde smaakversterkers, kunstmatige kleurstoffen en kunstmatige conserveermiddelen
Allergenen
bevat soja
bevat selderij
bevat gluten
bevat pinda's
bevat ei