Serveer de gasten in jouw café, restaurant of koffiebar het perfecte kopje thee met Pure Leaf. Kies voor losse thee en infusies of voor thee verpakt in de transparante, biologisch afbreekbare piramidezakjes van Pure Leaf Tea.

De voordelen van losse theemelanges 
Bij Pure Leaf® geloven we dat ieder kopje thee een aromatische, heelrijk en authentieke ervaring moet zijn voor je klanten. Onze verfijnde losse thee ruikt en ziet er net zo lekker uit als hij smaakt.
Een kopje losse thee met Pure Leaf is een zinnenprikkelende verwennerij voor de gasten in jouw café, restaurant of hotel. Met losse thee kiest jouw gast zelf de intensiteit en de smaak van het perfecte kopje.
De losse thee van Pure Leaf®, bereid volgens de regels van de kunst, zet je op de juiste weg naar het perfecte kopje en maakt van elk kopje thee een moment van puur genieten. 

Het perfecte kopje, met de losse thee en infusies van Pure Leaf®
Breng water aan de kook en laat even afkoelen.
Giet het water in de theepot zonder de theezeef.
Vul de theezeef van de theepot met de losse thee, volg de aanbevelingen op de instructiepagina van de melange.
Laat de thee 2 tot 4* minuten trekken voor je de thee uitschenkt.

* Kan variëren per theemelange.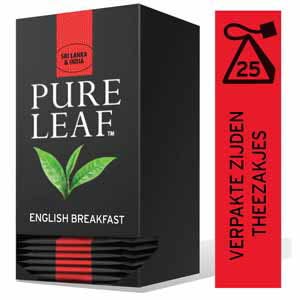 Pure Leaf English Breakfast is een gebalanceerde melange van Assam zwarte thee en Ceylon thee. De donkere zwarte-theeblaadjes zijn volgens de orthodoxe methode zacht gekneusd, zodat de natuurlijke essence van de thee naar boven komt zonder het blaadje zelf te beschadigen. Deze robuuste thee met lange blaadjes heeft een rijk aroma, diepe amberkleur en gedurfd mondgevoel. Smaak en kracht zijn in deze thee mooi in balans. De piramidevorm van het theezakje verzekert meer plaats voor de ingrediënten om te bewegen tijdens de infusie met een uitstekend aroma, smaak en kleur als gevolg. De thee is zeer geschikt voor cafés, koffiebars, restaurants en hotels, voor op het buffet of de theekaart. De doos bevat 25 theezakjes in individuele verpakking.
€ 9,62
Prijsindicatie (excl. BTW)

Pure Leaf thee is verkrijgbaar bij Sligro en Bidfood.