Matcha thee wordt gemaakt van Tencha groene thee bladeren uit Japan. Deze bladeren worden op de originele, Japanse manier geteeld waarbij ze een aantal weken in de schaduw groeien. Doordat ze dan even geen zonlicht zien, krijgen de blaadjes een felle groene kleur en een zachte smaak. Alle blaadjes worden met de hand geplukt en gemalen tot een fijn poeder.

Matcha Latte

Matcha Latte is een mooie combinatie van Matcha met melk. Hierbij klop je de matcha met heet water op met de Pure Leaf Bamboe Whisk™ tot er een schuimlaagje ontstaat. Hier voeg je melk aantoe.
Matha Shot

Voor de originiele variant voeg je water toe aan het zakje matcha in een kommetje. Dit klop je op met de Pure Leaf Bamboe Whisk™, waarna je hem kan serveren in een Pure Leaf glas™. 

Bereiding:
Gooi de inhoud van een zakje Pure Leaf™ Matcha poeder in een breed glas of kommetje
Giet er maximaal 50ml water van 80˚C overheen
Klop dit op met de bamboe whisk de bamboe whisk tot er een laagje schuim ontstaat (ongeveer 30 keer in achtjes)
Voeg naar smaak een scheutje honing toe en roer dit goed door
Giet 150ml opgeklopte melk over het shotje Matcha om er een latte van te maken
Serveer de Matcha in een Pure Leaf™ glas en decoreer eventueel met kaneelpoeder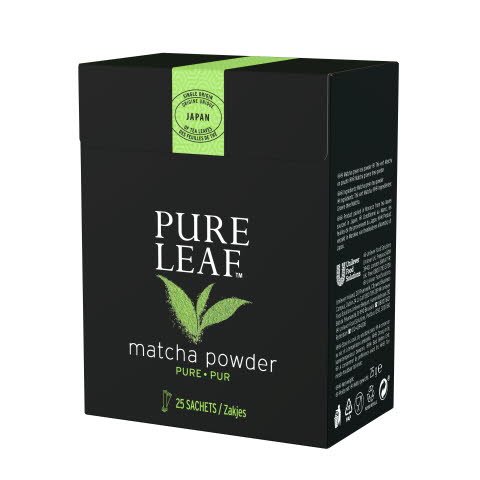 Pure Leaf Matcha poeder is gemaakt van Tencha groene thee van Japanse theeplanten. De thee kan puur of als latte worden opgediend voor een bijzondere beleving voor de gast. Ontdek de trainingen op de Pure Leaf website om een nog betere beleving te creëren voor jouw gasten. Pure Leaf Matcha poeder is te krijgen in een doosje met 25 zakjes poeder van elk 1 gram. Duurzaam geteelde Matcha poeder van Rainforest Alliance gecertificeerde theeplantages. Een gram Matcha poeder is goed voor 1 kopje pure Matcha thee of 1 Matcha Latte. 
€ 12,91
Prijsindicatie (excl. BTW)


Duurzaamheid
Wist je dat ook alle Pure Leaf Matcha duurzaam wordt geteeld op Rainforest alliance Certified™ theeplantages? Zo weten we zeker dat elk kopje thee bijdraagt aan een beter leven voor de boeren, hun families en de gemeenschap waar ze in leven. 
Ontvang bij een besteding van 25 euro aan Pure Leaf Matcha een gratis proefpakket!
Bestel direct