Deze voorwaarden zijn van toepassing op de actie "PURE LEAF Sumatran Orangutan Society (S.O.S) ", hierna te noemen: 'actie', die wordt georganiseerd door Unilever Nederland BV, gevestigd te Rotterdam aan de Nassaukade 5, hierna te noemen: 'Unilever'.

Artikel 1           Omschrijving

Deze actie loopt van 3 september t/m 30 september 2018.
Deze actie geldt uitsluitend bij alle Bakery Café filialen van Albron in Nederland die Pure Leaf losse thee verkopen.
Voor elke verkochte PURE LEAF thee in de actieperiode bij Bakery Café doneert PURE LEAF €0,10 per product aan de Sumatran Orangutan Society (S.O.S)
De donatie die PURE LEAF zal doen is € 1000,- .
Aan deze actie zijn voor consumenten verder geen kosten of verplichtingen verbonden.
Artikel 2           Aansprakelijkheid en vrijwaring

De organisator, de door haar ingeschakelde hulppersonen of derden kunnen niet aansprakelijk worden gesteld voor alle uit deze actie vloeiende handelingen en/of schade.
Artikel 3           Contact/Klachten

Als je vragen of klachten hebt over deze actievoorwaarden of deze actie, neem dan contact met ons op:

Unilever Food Solutions Service Center

Per e-mail: info@unileverfoodsolutions.nl
Telefonisch: 010-439 4308
Na ontvangst van uw klacht neemt Unilever zo spoedig mogelijk contact met u op.

Artikel 4           Diversen

Deze voorwaarden kunnen te allen tijde door ons aangepast worden. Wij adviseren daarom de voorwaarden regelmatig te bekijken
Indien en voorzover enige bepaling van deze voorwaarden nietig wordt verklaard of vernietigd wordt, zullen de overige bepalingen van de voorwaarden onverminderd van kracht blijven. Wij zullen alsdan een nieuwe bepaling vaststellen ter vervanging van de nietige/vernietigde bepaling, waarbij zoveel mogelijk de strekking van de nietige/vernietigde bepaling in acht zal worden genomen.
Op deze actie en elk ander gebruik van de website, zijn onze gebruiksvoorwaarden en privacyverklaring van toepassing.
Op deze voorwaarden is Nederlands recht van toepassing. Alle eventuele geschillen die hieruit voortvloeien of anderszins verband houden met de actie of de website worden voorgelegd aan de daartoe bevoegde rechter te Rotterdam.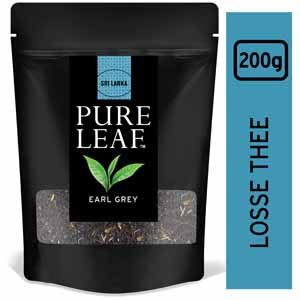 Pure Leaf Earl Grey is een zwarte Ceylon-thee uit Sri Lanka met bergamot, citrussmaken en bloemenaroma. De frisse en fruitige citrussmaken vormen een mooi contrast met de goudsbloem- en korenbloemblaadjes. De verfijnde losse thee is zeer geschikt voor cafés, koffiebars, restaurants en hotels. De gast kiest zelf de intensiteit en de smaak van het perfecte kopje thee. Zo verandert de thee-ervaring in een moment van pure verwennerij. De thee is verpakt per 200 gram. De hersluitbare verpakking biedt optimale bescherming, waardoor de geur en smaak goed behouden blijven.
€ 12,84
Prijsindicatie (excl. BTW)