Over het algemeen kun je denken aan het volgende:
1. Grotere tafels
Door grotere tafels neer te zetten met minder stoelen, vergroot je de afstand met andere tafels.  
2. Planten
Dat je minder tafels in je zaak kunt neerzetten om de 1,5 meter afstand te waarborgen is logisch. Om toch een intieme sfeer te creëren, kun je bijvoorbeeld meer planten of plantenbakken neerzetten. Ook op je terras. 

3. Schermen tussen de tafels
Plexiglas schermen worden nu al veel bij supermarkten ingezet en kunnen een uitkomst bieden. Is het wel zaak dat je ze op een aantrekkelijke manier weet op te hangen. 

4. Een looproute
Een route met duidelijk looplijnen (bijvoorbeeld met tape op de grond) voorkomt dat je tegen anderen op botst en het geeft meteen duidelijkheid. Dit geldt ook voor een eventueel terras.
5. Toiletten aanpassen
Ten eerste door desinfectiemiddelen in het zicht te plaatsen, maar denk bijvoorbeeld ook aan verlichting en kranen op bewegingssensors. Als dat laatste niet realistisch is op korte termijn, zorg dan in ieder geval voor desinfectiedoekjes, zodat gasten indien gewenst zelf even een doekje langs het lichtknopje of de deurklink kunnen halen. 

6. Contactloze service
Ga over op een contactloos afrekensysteem en een digitaal bestelsysteem. 
Denk ook na over een afhaalpunt waar gasten vervolgens hun digitaal bestelde drank of eten kunnen afhalen. Dat zou bijvoorbeeld ook een serveertrolley kunnen zijn.

7. Pas de routing aan
Maak ook in de keuken looplijnen op de grond en richt de keuken zo in, dat het personeel zoveel mogelijk op 'zijn eigen eilandje' kan blijven werken en veiligheid gegarandeerd kan worden. 

8. Maak een aparte afhaal/bezorgkeuken
Door de coronacrisis heeft de afhaal- en bezorgmarkt een vlucht genomen en zullen dergelijke maaltijden ook de komende tijd aan de omzet bijdragen. Richt er een aparte keuken voor in, of een aparte hoek. 

9. Terras
Denk na over hoe je dit zo slim mogelijk kunt inrichten. Bijvoorbeeld met een trolley waar gasten hun bestelling vanaf kunnen nemen en een centrale tafel waar je lege glazen en borden neer kunt zetten.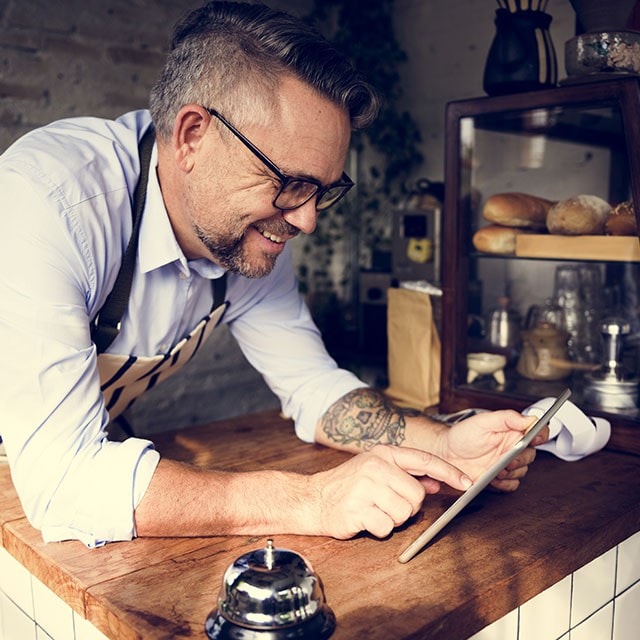 Blijf vooral in deze uitdagende tijden op de hoogte van de laatste tips & tricks. Ontvang automatisch verrassende receptinspiratie, trends en praktische tips, de nieuwste producten én unieke acties!
Inschrijven