Via social media, een nieuwsbrief of een bericht op je website. Begin op tijd met communiceren, maar ook niet te vroeg. Twee weken voor opening met een reminder een week van tevoren is een mooi uitgangspunt. Wees creatief en denk goed na over de vraag: 'Waarom moeten mensen juist bij mij komen eten?' Hieronder een aantal voorbeelden van hoe en wat je kunt communiceren:

Openingsactie
- Start een winactie en geef een etentje weg via sociale media. Laat mensen je bericht delen en anderen taggen, zodat je je bereik vergroot. 
- Geef korting op bijvoorbeeld de eerste tien reserveringen, of geef ze een fles wijn cadeau. Communiceer de kortingsactie in een van de onderstaande kanalen.
- Organiseer een aperitivo voor vroege borrelaars (een drankje en een hapje tegen korting, om zo al vroeg mensen in je zaak te krijgen).    

Op je website

- Plaats foto's van de nieuw ingerichte zaak en laat zien dat het een veilige omgeving is met genoeg afstand tussen de tafels. Hiermee laat je zien dat je serieus bent en dat je afstand en veiligheid kunt garanderen.
Zie ook ons artikel over hygiënemaatregelen
.
- Laat weten dat je je gasten gemist hebt, dit natuurlijk ook via je sociale media kanalen. Bijvoorbeeld met een tekst met de kop 'We hebben je gemist' of iets dergelijks, met een update over wat je gedaan hebt tijdens de sluiting en op wat voor manier je je gasten weer gaat verwelkomen.

- Als je je openingstijden hebt aangepast, laat dit dan duidelijk zien op je website. 

- Plaats je nieuwe menukaart zodat je gasten het nieuwe aanbod alvast kunnen bekijken.

In je nieuwsbrief

- Maak je nieuwe menu-plannen kenbaar en laat zien dat je er bovenop zit. Bijvoorbeeld dat je de kaart hebt verduurzaamd, dat groenten een grotere rol gaan spelen of dat je oude vertrouwde gerechten laat terugkomen die je gasten gemist hebben. Zet er eventueel foto's van de gerechten bij, die doen het altijd goed. 
- Laat weten dat je de openingstijden hebt aangepast

- Herinner mensen eraan dat ze nu al kunnen reserveren

- Om je vaste gasten te bedanken voor hun steun de afgelopen tijd, bied je hen de eerste weken van opening een loyaliteitsdiner tegen korting aan. Via de nieuwsbrief kunnen ze zich inschrijven. In dat diner kun je bijvoorbeeld klassiekers van de afgelopen jaren opnemen.
- Of bied degenen die een waardebon hebben gekocht via wwww.helpdehoreca.nl een speciaal menu aan. Met dat menu kun je bijvoorbeeld inspelen op seizoens-ingrediënten. Laat het een beperkte tijd lopen, zo blijft het iets exclusief waardoor het aantrekkelijker wordt voor mensen om erop in te gaan.  

Via social media
- Ga bijvoorbeeld via Instagram in gesprek met je gasten: vraag hen waar ze behoefte aan hebben als ze straks weer naar een restaurant gaan. Doe dat eventueel via een poll op Instagram stories met een multiple choice antwoordmogelijkheid, dat vergoot de kans dat ze reageren. 
- Maak een grappige of feestelijke video met je personeel waarin jullie aankondigen weer open te gaan of waarin je het personeel de zaak ziet poetsen.

- Maak video's van de voorbereidingen in de keuken, foto's van de nieuwe gerechten, laat je gasten raden wat een bepaald nieuw ingrediënt is dat je gebruikt. Of welk gerecht terug van weggeweest is, hoe je asperges het beste schoonmaakt, etc. Maak daarbij ook weer gebruik van multiple choice of poll opties op Instagram en Facebook.

Flyer

Maak een flyer. Klinkt in dit digitale tijdperk bijna ouderwets, maar een dergelijk tastbaar gebaar kan juist heel goed werken. Maak het met behulp van een drukwerkdienst, of schakel een creatieve medewerker in. Op die flyer kun je de nieuwe openingstijden melden, dat je ernaar uit kijkt weer gasten te mogen ontvangen, dat je kunt reserveren. Hou het positief en denk ook aan de presentatie: gekleurd papier, een illustratie en een smaakvol lettertype. Verspreid het een week voor opening in de brievenbussen van buurtbewoners. Zet je personeel in voor de verspreiding. Als je het extra persoonlijk wil maken kan je een handgeschreven boodschap toevoegen. Bijvoorbeeld: "Bedankt voor je support, team …."

Betaalde advertenties

Verken de mogelijkheden van adverteren via sociale media, dit kan je bereik vergroten en je kunt heel doelgericht de juiste doelgroep bereiken. Dat kan tegen relatief lage kosten, bijvoorbeeld met behulp van Facebook business manager.  

Belangrijk dat je van tevoren een duidelijke doelgroep voor ogen hebt en een doelstelling hebt: bijvoorbeeld dat je wilt aansporen tot actie, namelijk een reservering van mensen die binnen een straal van 3 km van je restaurant wonen.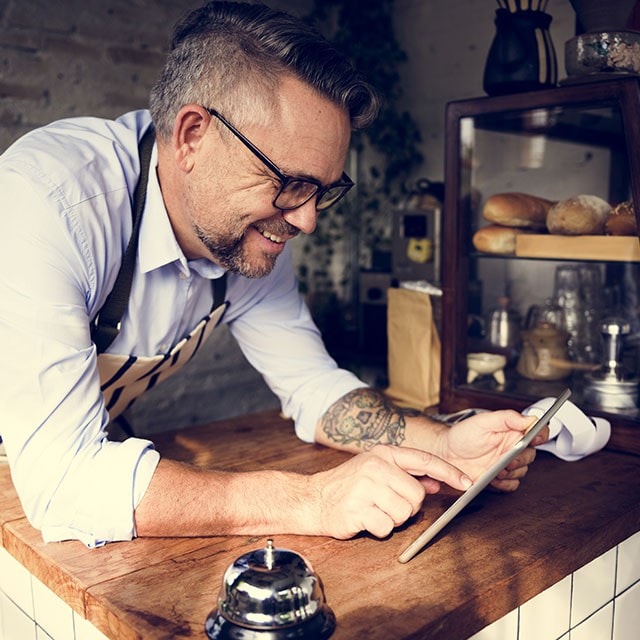 Blijf vooral in deze uitdagende tijden op de hoogte van de laatste tips & tricks. Ontvang automatisch verrassende receptinspiratie, trends en praktische tips, de nieuwste producten én unieke acties!
Inschrijven