We hadden het eerder al over een margerijk menu om je
omzet te managen
. Hoe kun je verder slim ondernemen om je zo goed mogelijk staande te houden in een anderhalve-meter-afstand-economie?
1. Ga met shifts werken
Geef aan dat je voorlopig in reserverings shifts gaat werken en leg uit aan je gasten waarom je dat doet, zodat je op begrip kunt rekenen. Je neemt maatregelen om minder mensen tegelijk in je zaak te hebben, maar je moet ook aan je omzet denken. Plan de reserveringen zorgvuldig en communiceer duidelijk naar je gasten. Zorg dat het hen aan niets ontbreekt, zodat ze zich niet opgejaagd voelen
2. Verruim de openingstijden met lunch of late night dining
De keuken begint vaak al rond het middaguur met mise-en-place. Overweeg of het rendabel is ook open te gaan tijdens de lunch, zodat je meer gasten verspreid over de dag kunt ontvangen. Nu het zomer is, zullen gasten langer willen blijven hangen, of later willen eten. Bij het merendeel van de restaurants sluit de keuken om 22.00.

Duik in dat gat en laat weten dat gasten bij jou ook later op de avond welkom zijn, zoals bijvoorbeeld bij het Amsterdamse Kannibaal Royale. Met het rekken van de openingstijden zou je drie shifts kunnen bieden: van 17.30-19.30, van 19.30-21.30 en van 21.30-23.00 of 23.30. Ook kun je eraan denken om meerdere dagen in de week open te gaan, bijvoorbeeld ook op de maandag.
3. Verhoog je marges
Pas je prijzen aan. Vermeld eventueel dat je dit hebt gedaan en waarom. Je gasten zullen je openheid waarderen.

4. Beloon personeel
Beloon personeel dat de meeste 3-gangenmenu's verkoopt bijvoorbeeld met een cadeaubon. Je kunt hier uiteraard ons Cook & Save spaarprogramma voor inzetten. Doe het op een speelse manier, zodat het als een spelletje voelt. Door actieve verkoop zal je omzet stijgen.  

5. Terugkerende gasten
Organiseer een wijnproeverij waarbij gasten de lekkerste huiswijn kiezen. Deze wordt dan bijvoorbeeld een maandlang geschonken. Op deze manier heb je kans op goed bezochte wijnproefavonden en terugkerende gasten.

6. Thema-avonden
Speel in op het seizoen en organiseer bijvoorbeeld een week lang een aspergemenu. Of doordeweekse 'saladedagen' voor wie gezond wil doen, maar toch buiten de deur wil eten. Of een 'voorjaarssoepavond'. Op deze manier blijf je je gasten uitnodigen om langs te komen. 

7. Samenwerken met andere zaken
Verzin een leuke actie met andere ondernemers waarbij gasten van restaurant naar restaurant kunnen hoppen en overal een verschillende gang kunnen doen. Of een wijn-spijswandeling langs verschillende restaurants. Het trekt mensen aan en bovendien hou je de omloopsnelheid in je zaak hoog. 

8. Extra inkomsten
Denk aan het aanbieden van thuispakketten, bijvoorbeeld met lekkere producten van leveranciers, zoals wijn, kaas en lekkere olie. Dat kan bijvoorbeeld door een deel van het restaurant als winkel in te richten. Of digitaal met een simpele webshop via een kant-en-klaar sjabloon. Of simpelweg via social media, waarbij je de betaling via een Tikkie laat lopen. Maak foto's van de producten en zorg voor een duidelijke productomschrijving.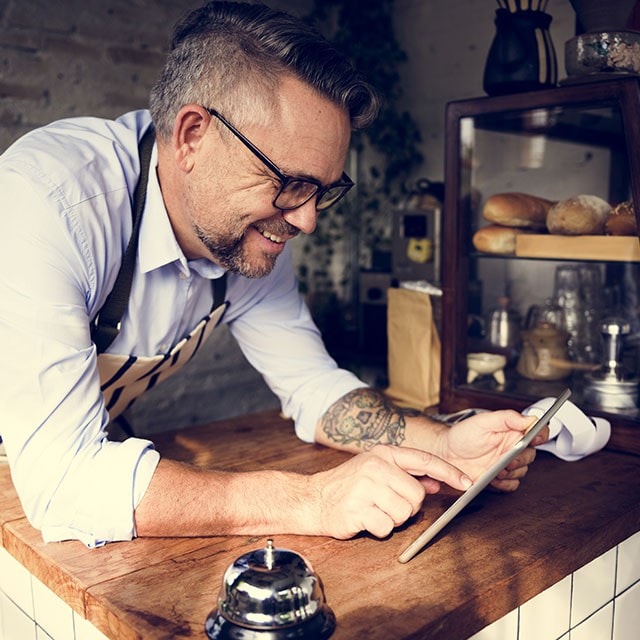 Blijf vooral in deze uitdagende tijden op de hoogte van de laatste tips & tricks. Ontvang automatisch verrassende receptinspiratie, trends en praktische tips, de nieuwste producten én unieke acties!
Inschrijven